Blue Devil of the Week: Duke Dining's Tastemaker
Executive Chef Mark Turner aims to please Duke's wide range of palates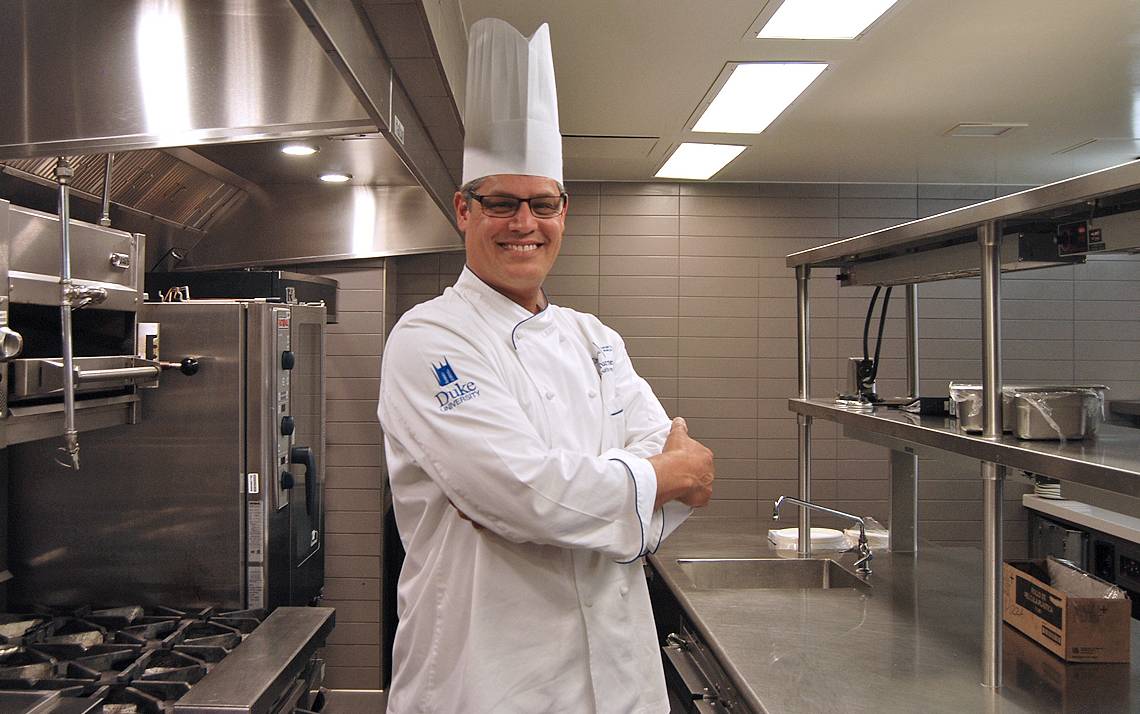 Mark Turner
Title: Executive Chef/Menu Development Specialist at Duke Dining
Years at Duke: Turner was hired roughly a year ago.
What he does: Turner oversees the operations at the Marketplace at East Union, Trinity Café and the Freeman Center for Jewish Life, the campus' only all-kosher eatery.
Turner estimates his facilities feed anywhere between 600 to 1,000 people during each meal shift. He said roughly 6-10 pallets of food come through his kitchens four times a week.
In addition to managing the purchasing of ingredients, overseeing a large staff, checking in with diners and making sure kitchens are efficient and clean, Turner designs menus that please a wide array of tastes with what ingredients he can get access to.
In order to master this balance, Turner said he calls upon three decades of restaurant experience and recipes he finds online and from a case full of cookbooks in his office.
"We tend to have a central core of ingredients that we can manipulate into any style of food at any given time incorporating different flavors from all of the world," Turner said.
What I love about Duke: "I really love the work/life balance that is afforded me here with this position," Turner said. "We work very hard, but we get some quality time with our families periodically through the year."
Turner said that when things slow down in the middle of the summer, around the holidays and for fall and spring breaks, he and his staff can appreciate some well-deserved breaks.
"In the rest of the restaurant world, that is unheard of," Turner said.
Meaningful object: On a shelf near Turner's desk sits a mandolin, a cutting tool featuring blade set in a flat surface. When food is slid across the surface, the blade cuts it into thin strips.
"I've probably had one of those in my hand every day for 30 years," Turner said. "… Some of the worst cuts I've ever gotten have been on that machine, but I truly like the way that it cuts vegetables. I like it so much, I named my son after one of the cuts."
His son, Julienne, is now 25 and lives in California.
First ever job: As a teenager in Staten Island, New York, Turner got a job busing tables at the Lum Chin Inn. The experience helped chart his career path.
"It was the finest Chinese restaurant that you could find in all of my hometown," Turner said. "The waiters used to do Peking duck tableside. They'd use what was called a 'duck knife,' which was a small clever. They were like surgeons in tuxedos, they were so technical in the way they carved the duck and then displayed it back on the plate. I really wanted to do that. I wanted to be a chef when I saw them do that."
Best advice ever received: "I learned many great things from my father," Turner said of his father Donald Mann. "But the single best thing I remember him saying to me was – I think they had gone away for the weekend and I was supposed to cut the grass and they came home and it wasn't cut – he looked at me and he said, 'Son, you need to make sure you're the best man that you can be in every opportunity that you have.' That still rings true to me today. You just need to be a good man."
Something that most people don't know about him: "I played drums in a rockabilly band in Raleigh for 10 years," Turner said. "It's actually psychobilly, so it's a little bit harder than rockabilly. It's kind of like punk-rock-meets-Jed-Clampett."
The band, Bubba Joe and the Bruisers, played in clubs and festivals around the Triangle before recently going on hiatus.
"For us, music was always an outlet," Turner said. "We weren't hurting anybody by playing loud music. It was just good clean fun for us."
Nominate a colleague to be the next Blue Devil of the Week.