Duke in Pics: A Culinary Cruise Around the World
Duke Dining serves 1,200 guests in annual customer appreciation dinner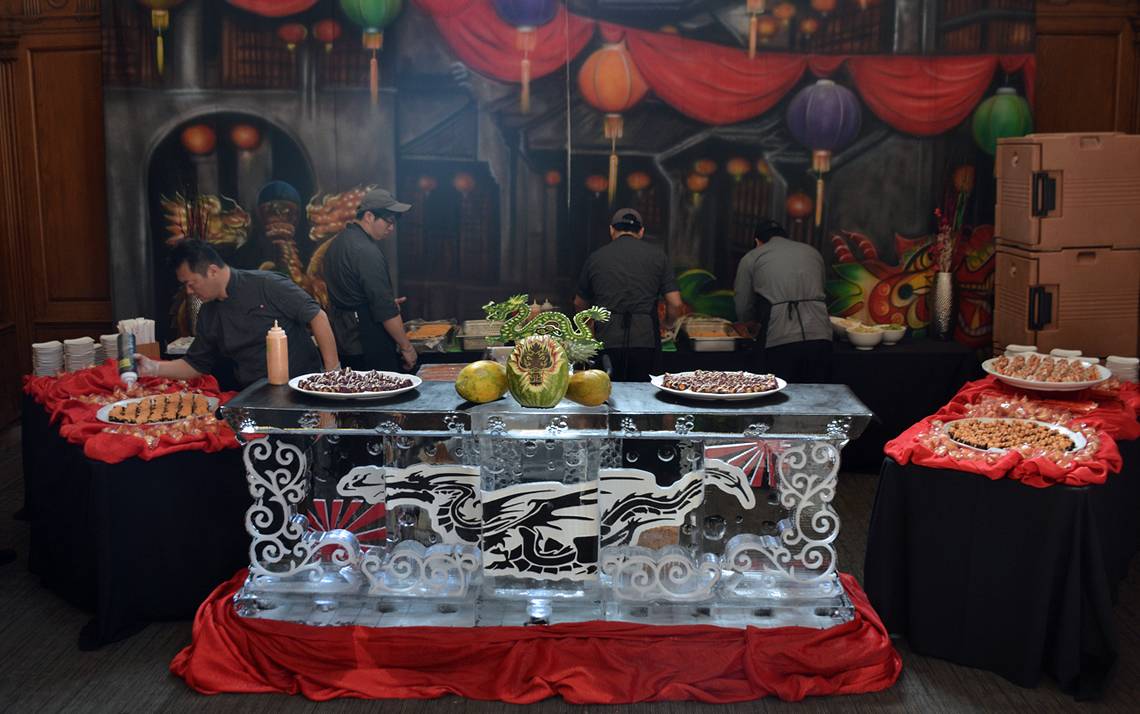 Minutes before the Marketplace opened for Wednesday's "Cruise Dinner," Mark Turner was cutting banana leaves to decorate a table covered with cantaloupe, oranges and strawberries.
When the doors opened, Turner watched as students streamed into the Marketplace, which had taken on a tropical theme for the annual customer appreciation dinner.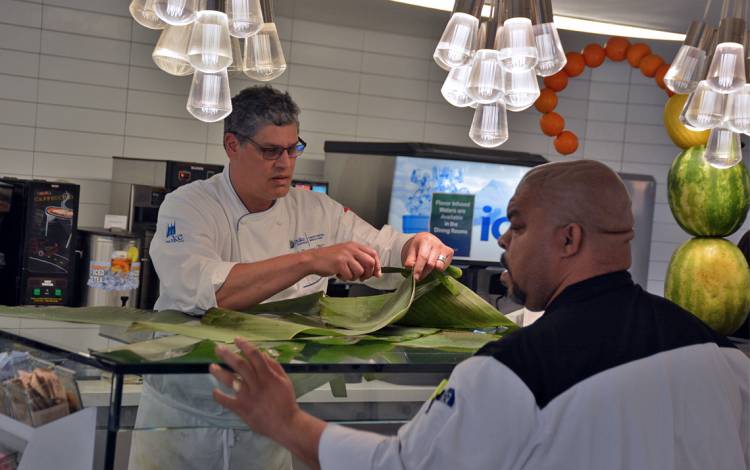 "It's the biggest party of the year for our guests and we want to make sure they're satisfied," said Turner, executive chef of Duke Dining. "Just seeing the students faces as they come in makes all this work worth it."
Duke Dining's dishes featured cuisine from popular cruise destinations around the world such as Asia, the Caribbean, Italy, Hawaii and South America. And to prep for the expected 1,200 dinner guests on Wednesday night, the culinary work began the weekend before and continued until the Marketplace opened at 5 p.m.
Feast your eyes on some of the food and work that went on behind the scenes to pull off the event.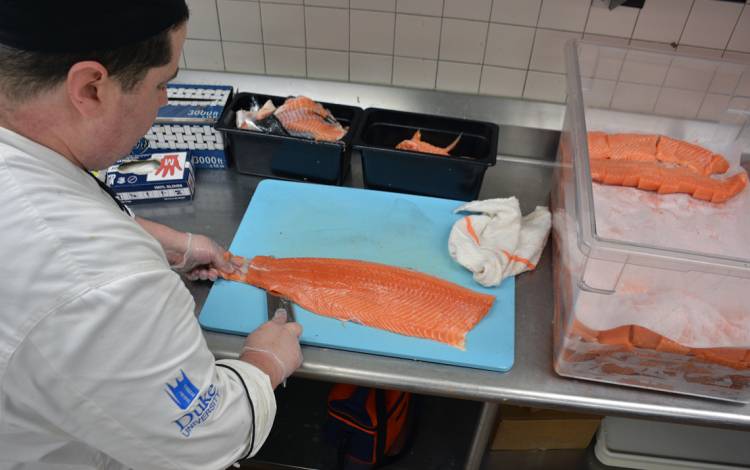 Sous Chef Sebastian Marcet slices salmon on Monday afternoon. Marcet and the Duke Dining staff cut about 175 pounds of salmon, which were grilled with lemon and served at the New Zealand table.
"We prep the fish early in the process because it can be safely refrigerated ahead of dinner," Marcet said. "On Wednesday, all we have to do is cook it."
Among the food prepared for Wednesday included: 200 pounds of chicken, 132 pounds of round steak, 25 different desserts, 15 different kinds of bread and 40 pounds of seaweed.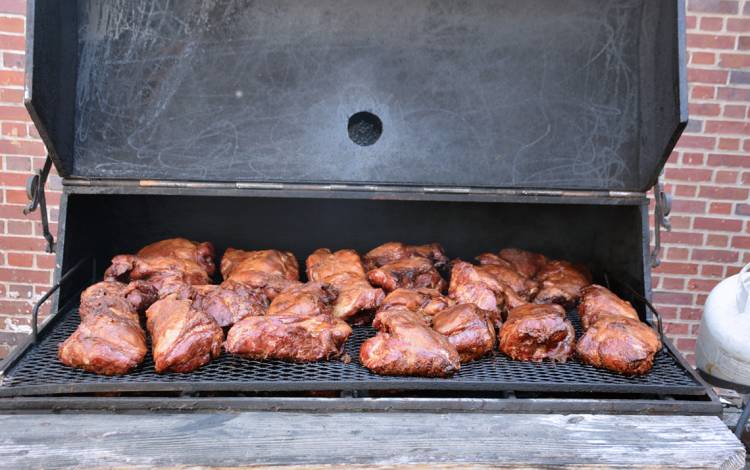 Twelve pieces of pork butt finish cooking on a smoker outside of the Marketplace at 2:45 p.m. Wednesday. Executive Sous Chef Todd Dumke arrived on campus at 5:30 a.m. to begin cooking the meat. The pork was lightly seasoned with salt and pepper before going in the smoker for nine hours.
"I love working with the smokers," Dumke said. "It doesn't even feel like work to be out here managing them."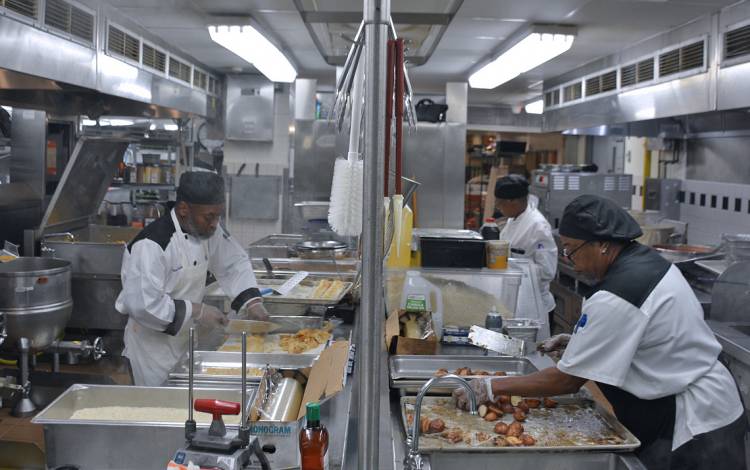 Vernon Dunnegan, left, slices sausage rolls about two hours before the dinner began on Wednesday. Patrice Rorie, right, moves potatoes sautéed in olive oil to a serving dish.
"Every little thing we can do to be organized is helpful for this dinner," Dumke said. "It helps keep a sense of calm."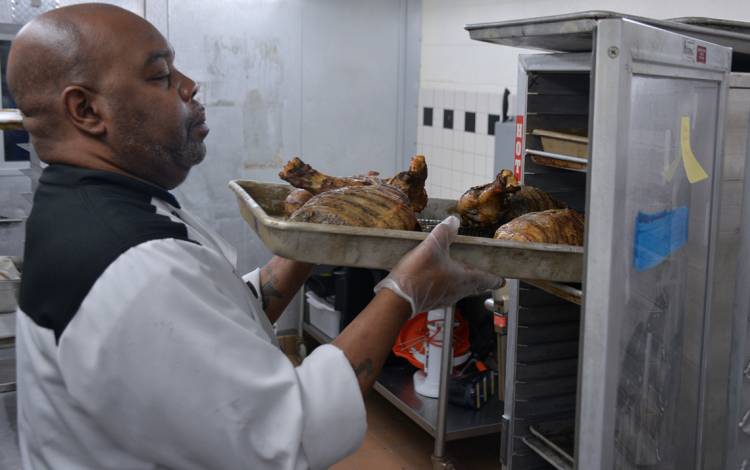 Tony Smith, production worker with Dining Services, loads bacon-wrapped turkeys on a shelf to be taken to the dining room. The turkeys were seasoned with salt and pepper before Turner wrapped them in bacon and roasted them in the oven for four hours.
"It makes you hungry just looking at them," Smith said.
Ahead of the dinner, every piece of storage in the kitchen had a list taped to it so the chefs explicitly knew where to keep the food.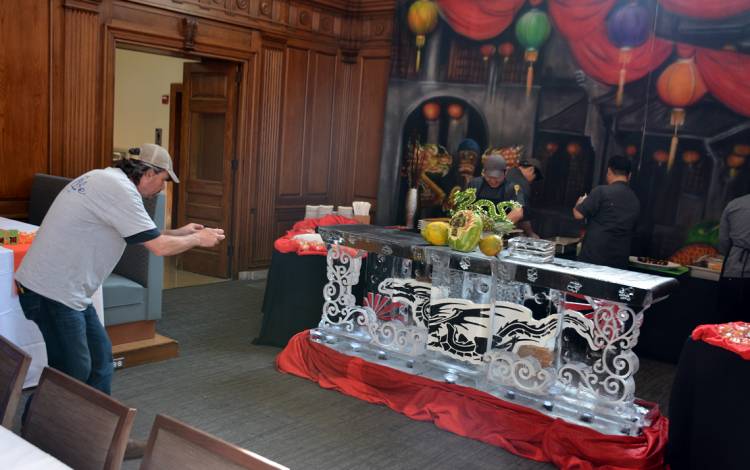 Todd Dawson, who makes ice sculptures, takes a photo of his creation shortly before doors opened. It took Dawson four days to design and construct the sculpture that features a carving of a black dragon inside. He used seven blocks of ice, each weighing about 300 pounds, to make the piece on which sushi platters sat.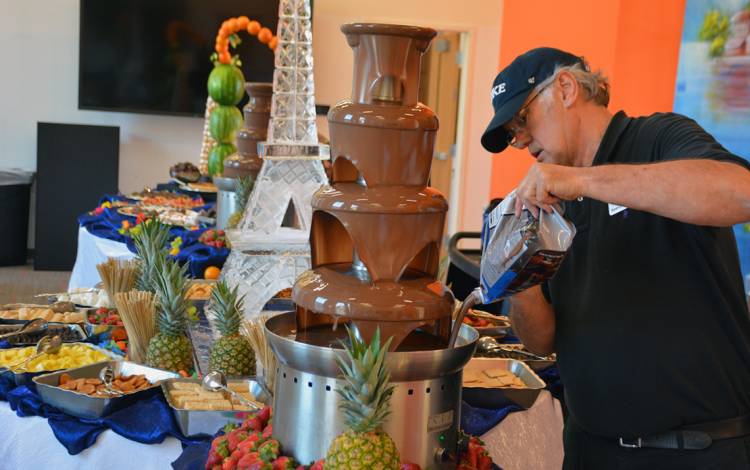 Karel Leemkuil, Dining Services manager, fills a chocolate fountain in the dessert room, on the second floor of Marketplace. Guests had a choice of fruit and cake to dip in melted chocolate along with other treats like cream puffs, tiramisu and an assortment of tarts.
Behind the fountain sits a three-tiered ice sculpture of the Eiffel Tower made by Dawson.
"This room looks just amazing," Leemkuil said.

Duke Dining staff member Valacey Bey, right, greets students with leis. Students were welcomed with live music and fruit punch.