Blessing the Peacemakers and Other Books This Spring from Duke Authors
Spring books make predictions about the sharing economy and the 'century of the photon'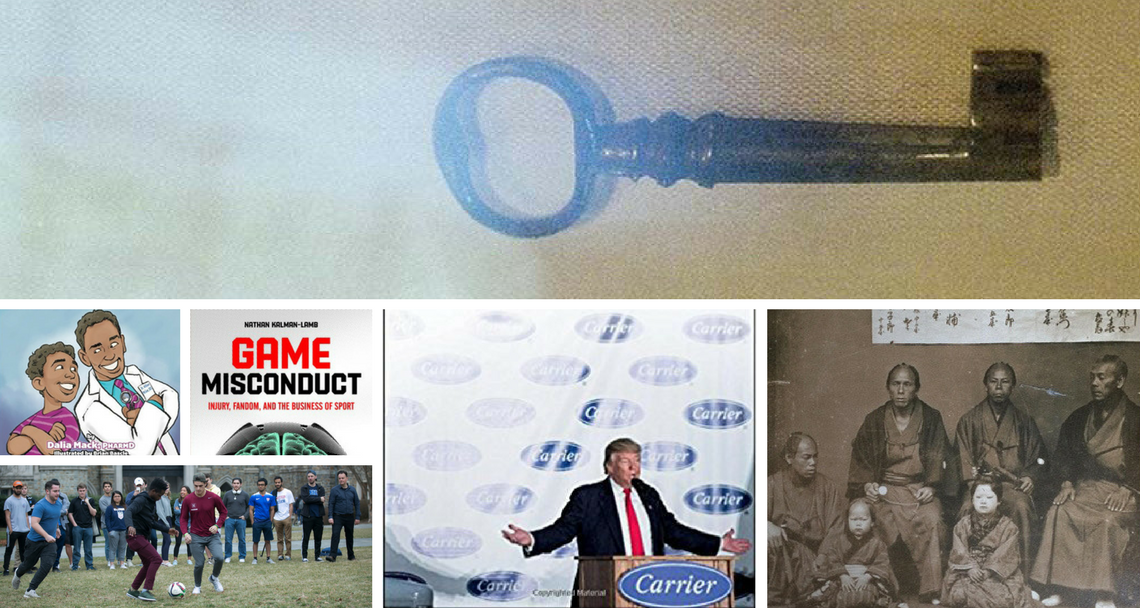 Looking to head outside this spring with a good read? From Warsaw's Jewish history to the "language" of soccer to U.S. party politics and lessons from 20th century peacemakers, Duke authors have a collection of tales to entertain and educate. This season, there's even a children's book.
Many of the books, including new editions of previous titles, can be found on the "Duke Authors" display shelves near the circulation desk in Perkins Library. Some are available as e-books for quick download. Most can also be purchased through the Gothic Bookshop.
[Duke Today will provide similar updates in the future. If you are a member of the Duke community who will be publishing a book of interest to a general audience, send us a message about it along with your publisher's brief description.]
Lamonte Aidoo: "Slavery Unseen: Sex, Power, and Violence in Brazilian History" (Latin America Otherwise) (Duke University Press)
In "Slavery Unseen," Aidoo, the Andrew W. Mellon Assistant Professor of Romance Studies, upends the narrative of Brazil as a racial democracy. Drawing on sources ranging from Inquisition trial documents to travel accounts and literature, Aidoo demonstrates how interracial and same-sex sexual violence operated as a key mechanism of the production and perpetuation of slavery as well as racial and gender inequality.
Gleb M. Akselrod and Maiken H. Mikkelsen, chapter contributors: "World Scientific Handbook of Metamaterials and Plasmonics" (World Scientific)
Electrical and Computer Engineering researchers Akselrod and Mikkelsen wrote the chapter, "Controlled Radiative Dynamics Using Plasmonic Nanocavities." The handbook describes artificial media with sub-wavelength structure for control over wave propagation in four volumes.
John Aldrich, co-author: "Why Parties Matter: Political Competition and Democracy in the American South" (The University of Chicago Press)
With "Why Parties Matter," Aldrich, a professor of political science, and co-author John D. Griffin of the University of Colorado, Boulder, make the case that competition between political parties is an essential component of a democracy that is responsive to its citizens. Tracing the history of the parties through four eras -- the Democratic-Whig party era that preceded the Civil War; the post-Reconstruction period; the Jim Crow era, when competition between the parties virtually disappeared; and the modern era -- Aldrich and Griffin show how and when competition emerged between the parties and the conditions under which it succeeded and failed.
Jeremy Begbie: "Redeeming Transcendence in the Arts: Bearing Witness to the Triune God" (Eerdmans)
Begbie, a Divinity School professor who is a leading voice on theology and the arts, explores how Christian involvement in the arts can be shaped by the distinctive vision of God's transcendence opened up through Jesus Christ.
Dr. Larry Burk, co-author: "Dreams That Can Save Your Life: Early Warning Signs of Cancer and Other Diseases" (Findhorn Press)
Burk, a co-founder of Duke Integrative Medicine, explores dreams as a spiritual source of healing and inner guidance for your health and well-being. Alongside case studies and research -- including Burk's own research -- the authors also include an introduction to dream journaling and interpretation.
Charles Campbell: "1 Corinthians" (Belief: A Theological Commentary on the Bible series) (Westminster John Knox Press)
Campbell, professor of homiletics at the Divinity School, looks at Paul's theological wrestling with the divisions facing the early church in Corinth. These divisions arose for many reasons, including over practices such as baptism, the Lord's Supper, preaching and the exercise of spiritual gifts. The contemporary church in North America is likewise dealing with divisions of various sorts. Who can preach? Who can celebrate Communion? Who can marry whom? With this commentary, Campbell helps preachers understand how to better respond to those questions in their own settings.
Laurent Dubois: "The Language of the Game: How to Understand Soccer" (Basic Books, March 27)
Dubois, a professor of romance studies and history who teaches the popular Duke course "Soccer Politics," has filled his new book with insights and stories -- both legendary and little known – about the world's most popular sport. Dubois describes how the game's low scores, relentless motion, and spectacular individual performances combine to turn each match into a unpredictable story. He also shows how soccer's global reach makes it an unparalleled theater for nationalism, international conflict and human interconnectedness.
Owen Flanagan, co-editor: "The Moral Psychology of Anger" (Rowman & Littlefield International)
Flanagan, the James B. Duke Professor of Philosophy, brings together essays exploring the nature of anger, explaining its resilience in our emotional lives, and examining what inhibits and encourages thoughts, feelings and expressions of anger. The volume also examines rage, anger's cousin, and examines in what ways rage is a moral emotion.
Deborah Rigling Gallagher, editor, "Innovation in Environmental Leadership" (Routledge)
Gallagher, associate professor of the practice of resource and environmental policy, helps make the case for rethinking environmental leadership as the pace of ecological, economic and social change quickens worldwide and new challenges emerge.
Gary Gereffi, co-editor: "Global Value Chains and International Development: Framework, Findings and Policies" (Shanghai Publishing House)
This collection of essays, published in Chinese, follows the 2018 publication of Gereffi's "Local Clusters in Global Value Chains." Both are of interest to researchers and policymakers studying the dynamic sources of competitive advantage in the global economy. Gereffi is a professor of sociology and founding director of the Center on Globalization, Governance, & Competitiveness at Duke.
Eric P. Green: "Global Health Research: Designs and Methods" (Creative Commons)
Green decided to write this book when he couldn't find an adequate text to cover his course on "Research Methods in Global Health." "One guiding principle of this book," Green says, "is that a student of global health needs to be a student of medicine, biology, statistics, economics, psychology, public policy and many other disciplines."
Beth Holmgren: "Warsaw Is My Country: The Story of Krystyna Bierzynska, 1928-1945" (Academic Studies Press)
Slavic Studies professor Beth Holmgren's new book tells the story of an acculturated Polish Jew's journey through the horrors of war and Holocaust, including Bierzynska's efforts as a 16-year-old participant in the Warsaw Uprising of 1944. Bierzyńska's story details her experience of two very different Warsaws: a cosmopolitan oasis of high culture, modern amenities and tolerance, and an occupied capital intoxicated and united by conspiracy, where the residents joined together to overthrow a common enemy.
Dr. Claude Hughes, co-editor: "Translational Toxicology and Therapeutics: Windows of Developmental Susceptibility in Reproduction and Cancer" (Wiley)
Hughes, a consulting professor at Duke and executive director in the Therapeutic Science and Strategy Unit at QuintilesIMS, aims to identify therapeutics that can safely and effectively mitigate potential harm from environmental exposures. Written by leading research scientists, the book also provides information on lifestyle choices that can reduce cancer risk.
Bruce Jentleson: "The Peacemakers: Leadership Lessons from Twentieth Century Statesmanship" (W.W. Norton)
With tensions running high among the major powers and transformational statesmanship in short supply, Sanford School professor Bruce W. Jentleson shows how 20th-century leaders of a variety of types -- national, international institutional, sociopolitical, nongovernmental -- rewrote the zero-sum scripts they were handed and successfully made breakthroughs on issues long thought intractable.
The stories are memorable: Henry Kissinger, Zhou Enlai, and the U.S.-China opening; Mikhail Gorbachev and the end of the Cold War; Dag Hammarskjöld's exceptional effectiveness as United Nations secretary-general; Nelson Mandela and South African reconciliation, and others.
Jentleson has also contributed a chapter, titled "Strategic Recalibration: A Palmerstonian U.S. Middle East Strategy," in the recently published "Order from Ashes: New Foundations for Security in the Middle East" (Brookings Institution Press/The Century Fund)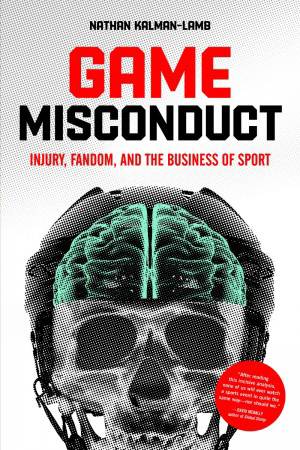 Nathan Kalman-Lamb: "Game Misconduct: Injury, Fandom, and the Business of Sport" (Fernwood Publishing, April 2018)
Drawing on extensive interviews with fans and former professional hockey players, Kalman-Lamb reveals the troubling dynamics and dangerous costs associated with the world of professional and semi-professional sport. Kalman-Lamb is a lecturing fellow in the Thompson Writing Program, where he teaches on social inequality and sport. He is also the co-author of "Out of Left Field: Social Inequality and Sports."
Jennifer E. Lansford, co-editor: "Handbook of Adolescent Development Research and Its Impact on Global Policy" (Oxford University Press)
With a positive framing of adolescence, this book represents young people as opportunities, rather than threats. Lansford is a research professor in the Sanford School of Public Policy. Of the 1.2 billion adolescents in the world today, 90 percent live in low- and middle-income countries, and the book focuses on issues that affect these adolescents. Co-editor Prerna Banati is chief of programs at UNICEF's Office of Research-Innocenti.
Dr. Jason Liss, contributor: "Operative Otolaryngology: Head and Neck Surgery" Third Edition (Elsevier)
Liss, an assistant professor of ophthalmology, is the author of the chapter titled "Eyelid Reanimation" in this comprehensive, two-volume reference.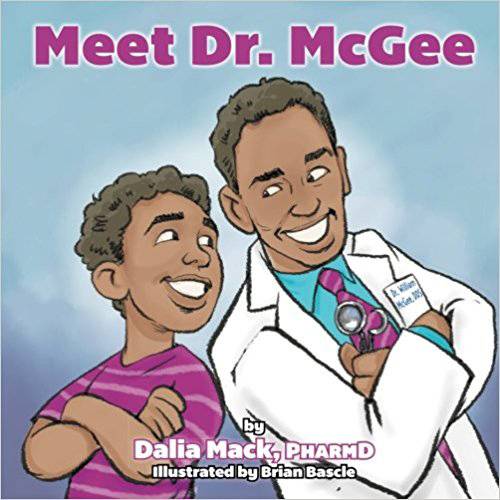 Dalia R. Mack: "Meet Dr. McGee" (CreateSpace)
Mack, associate director for Maestro Care Research for the Duke Office of Clinical Research, has published her first children's book, an illustrated story inspired by her husband, an orthodontist. The book aims to make children more comfortable with going to the dentist and inspire children of color to pursue careers in medical and dental fields.
Lisa McCarty: "Transcendental Concord" (Radius Books, May 22, 2018)
McCarty, a curator for the Archive of Documentary Arts at the Rubenstein Rare Book & Manuscript Library, documents the spirit of Transcendentalism in this collection of her photographs. Through this project, which involved equal parts photographing, walking and reading, McCarty pays homage to the Transcendental movement and its ideals by making images that bear witness to its philosophy through the New England landscape that nourished it.
Edmund Malesky, co-author: "Incentives to Pander: How Politicians Use Corporate Welfare for Political Gain" (Cambridge University Press, April 30, 2018)
Malesky, a professor of political science, and his University of Texas at Austin co-author present compelling evidence for how politicians use costly and inefficient investment incentives for political gain and show how such pandering appears to be associated with growing economic inequality.
Walter D. Mignolo, co-author: "On Decoloniality: Concepts, Analytics, Praxis" (Duke University Press, June 1)
Sweeping in their geopolitical reach, Mignolo and co-author Catherine E. Walsh explore the hidden forces of the colonial network of power, its origination, transformation and current presence. Mignolo is the William H. Wannamaker Professor of Romance Studies.
Michael Munger, Tomorrow 3.0: Transaction Costs and the Sharing Economy (Cambridge Studies in Economics, Choice, and Society)
Munger, an economist and political science professor at Duke, explores the growing popularity of apps such as Uber and Airbnb and how these represents a fundamental change in transaction costs. Written for both general and specialist readers, the books shows the far-reaching consequences of the "sharing economy" and how reduced transaction costs may reshape the value of owning many things that we now consider essential.
Simon Partner: "The Merchant's Tale: Yokohama and the Transformation of Japan" (Columbia University Press)
Partner's new book looks through entrepreneur Shinohara Chūemon's eyes at the upheavals following Japan's 1853 "opening" to the West. Chūemon's story is "essential reading for anyone with a serious interest in the origins of modern Japan," says Yale historian Daniel Botsman. Partner is a professor of history and the author of three previous books of Japanese history.
Carlos Rojas, series editor: "Someone to Talk To: A Novel" (Duke University Press) Originally published in China in 2009 and appearing in English for the first time, Liu Zhenyun's award-winning "Someone to Talk To" highlights the contours of everyday life in pre- and post-Mao China, where regular people struggle to make a living and establish homes and families. Rojas, a professor of Asian and Middle Eastern studies, brings the novel to Sinotheory, his new series for Duke Press.
Valerie Sabol, Benjamin Smallheer and Marilyn Oermann, contributors: "Advanced Practice Nursing: Essentials for Role Development" Fourth Edition. (F.A. Davis Company)
The School of Nursing professors are co-authors of the chapter, "Basic Skills for Teaching and the Advanced Practice Registered Nurse."
Omid Safi, editor and translator: "Radical Love: Teachings from the Islamic Mystical Tradition" (Yale)
At a time when the association of Islam with violence dominates national discourse, this collection presents a radically different face of the Islamic tradition. Safi, a professor of Islamic studies, brings together the passages of the Qur'an sought by the Muslim sages, the mystical sayings of the Prophet and the teachings of the path of "divine love" by Rumi and other key Muslim mystics.
Kristine Stiles, contributor: "Günter Brus, Unruhe nach dem Sturm/Unrest After the Storm" (21er Haus, Museum für zeitgenössische Kunst)
Stiles, a professor of Art, Art History, and Visual Studies, wrote the essay "Günter Brus, Between Who and What," for this Austrian exhibition catalog about the work of pioneering 60s performance artist Günter Brus. Stiles has also contributed an essay, "Dan Perjovschi's Stockpile," in the new book, "Dan Perjovschi: The Book of Notebooks." (Bucharest: P+4 Publications)
Timothy J. Strauman and Angela Z. Vieth, co-authors: "Self-System Therapy for Depression: Therapist Guide" (Oxford University Press)
Tim Strauman and Angela Vieth of Duke's Department of Psychology and Neuroscience, have written two companion volumes outlining a new treatment for depression called self-system therapy or SST. Along with co-authors from the University of North Carolina-Greensboro and the University of Wisconsin, their therapist and client guides provide the essentials for therapists to learn how to deliver the treatment effectively and for clients to get the maximum benefit from SST. SST is a motivational approach to treating depression that helps decrease feelings of disappointment and failure and increase feelings of pride and accomplishment, by improving the process of self-regulation.
Kishor Trivedi, co-author: "Reliability and Availability Engineering: Modeling, Analysis, and Applications" (Cambridge University Press)
Do you need to know what technique to use to evaluate the reliability of an engineered system? Trivedi, the Hudson Professor of Electrical and Computer Engineering, draws on examples, case studies and problems to help readers put knowledge into practice. This self-study guide is designed for students, researchers and practitioners in engineering and computer science.
Tuan Vo-Dinh, chapter contributor: "Light Beyond 2015/Luz más allá de 2015" (UNAM)
Biomedical engineering professor Tuan Vo-Dinh has penned the opening chapter of this new book, intended as a reference and chronicle of the U.N. International Year of Light. Tuan's chapter, "Research in Optics and Photonics: Shaping Human Destiny," provides an overview of the current status and future potential of research in optics and photonics, light-based technologies that Tuan says will make the 21st century "the century of the photon."
Laceye Warner and Gaston Warner: "From Relief to Empowerment: How Your Church Can Cultivate Sustainable Mission" (Wesley's Foundery Books)
Divinity Faculty member Laceye Warner and the Rev. Gaston Warner, chief executive officer of a non-profit Christian organization, examine how churches can engage in sustainable mission work. The couple supports the idea that mission flourishes when relationships are characterized by mutuality -- a difficult but important balance to sustain -- and mission work that moves beyond relief to empowerment. According to the book, this opens ways to address systemic forms of oppression and poverty.