Where Powerful Technology Meets Human Touch
Duke's hyperbaric chambers provide a half-century of unique care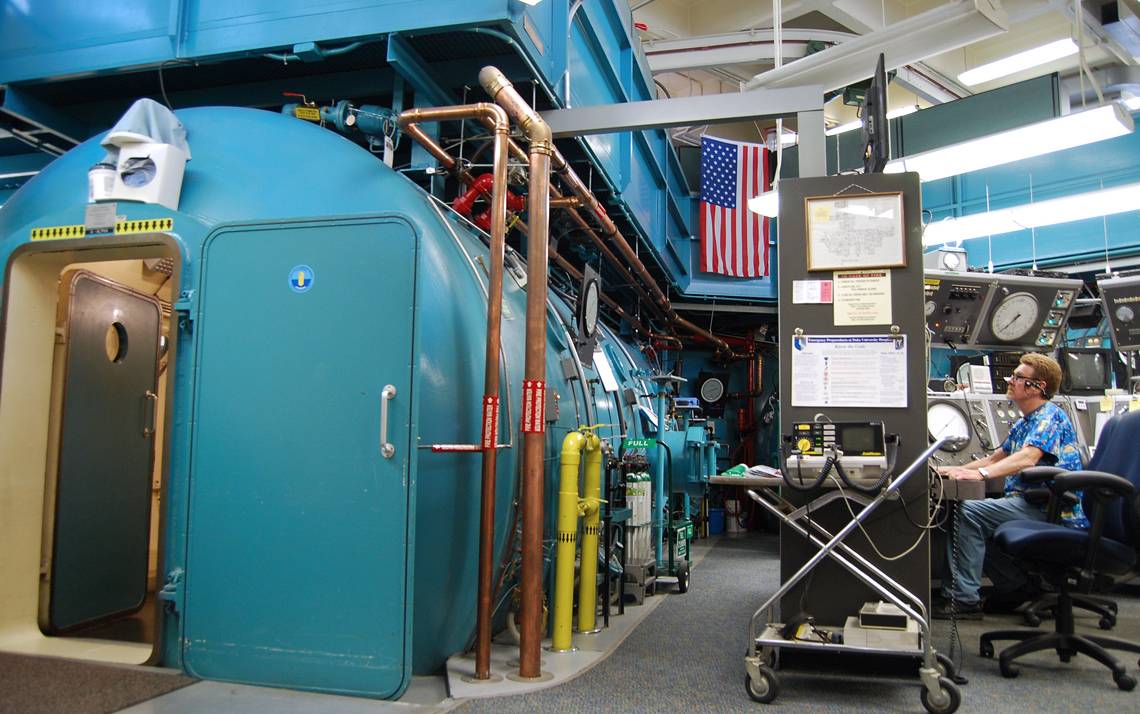 Just before the doors close on the massive steel chamber in Duke's Center for Hyperbaric Medicine and Environmental Physiology, Robert Brown recites the items forbidden during treatment.
"Can't have any lighters, cell phones …" said Brown, a hyperbaric chamber specialist, before adding levity to the routine. "… bottle rockets, cattle prods ..."
The patients and staff inside the chamber have heard that before, but they still crack up. Nearby, Clinical Nurse Frank Turcotte asks if anyone needs anything, especially gum, which helps clear ears as the pressure increases. He's got peppermint, cinnamon and Juicy Fruit among the seven flavors.
The procedure happens twice a day in the 50-year old facility, tucked deep inside Duke Clinics. The center, a Duke Hospital-based clinic that's part of the Anesthesiology Department in the School of Medicine, is where impressive technology combines with deft human touch for high-level care. About 250 patients are treated in the chambers each year. Built in 1968, the F.G. Hall Laboratory features seven hyperbaric chambers, ranging from the roomy Charlie chamber to the small, sturdy Golf chamber, which housed three volunteers for 43 days in 1981 for a then-world record simulated dive, equivalent to being 2,250 feet below the ocean's surface.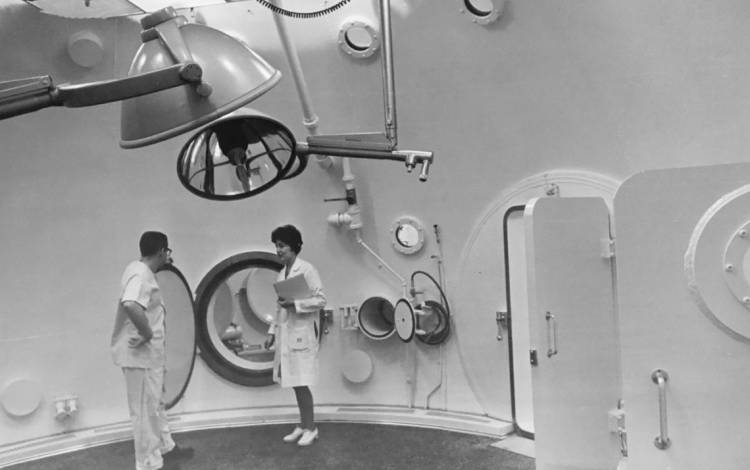 Much of the early history involves ground-breaking research around how the human body functions under extreme atmospheric pressure. Now, in addition to emergency treatments for carbon monoxide poisoning or decompression sickness, the facility is primarily used to treat patients who breathe 100 percent oxygen in a pressurized environment to heal wounds. A treatment can increase oxygen concentration in the lungs ten-fold, which improves the circulatory delivery of oxygen
to compromised tissues.
That's what brings Bob Amos here.
While the 64-year-old has beaten cancer five times, radiation treatments from the last bout damaged muscles in his jaw, leaving him unable to open his mouth more than a fraction of an inch. Prior to remedying the problem with surgery, he's undergoing 30 sessions in the chambers to increase blood flow so muscles can heal.
During these sessions, nurses – who are in the chamber during treatment – develop bonds with patients such as Amos, while dispensing hands-on care.
With no electronic devices allowed, nurses take pulses by touch. And with more than two-hours for each session, they keep patients at ease any way they can, whether through marathon UNO card games or wide-ranging conversations.
"We have to make sure their boredom doesn't turn into anxiety," said Nurse Manager Kevin Kraft.
When patients leave, they talk not just of the center's hulking metal chambers but also the caregivers.
"The procedure is a tiny part of it, the biggest thing is the people," Amos said. "They are delightful to be around."