Blue Devil of the Week: Caring for Breast Imaging Patients
For nearly 30 years, Judy Mickens has been an empathic face in Duke Radiology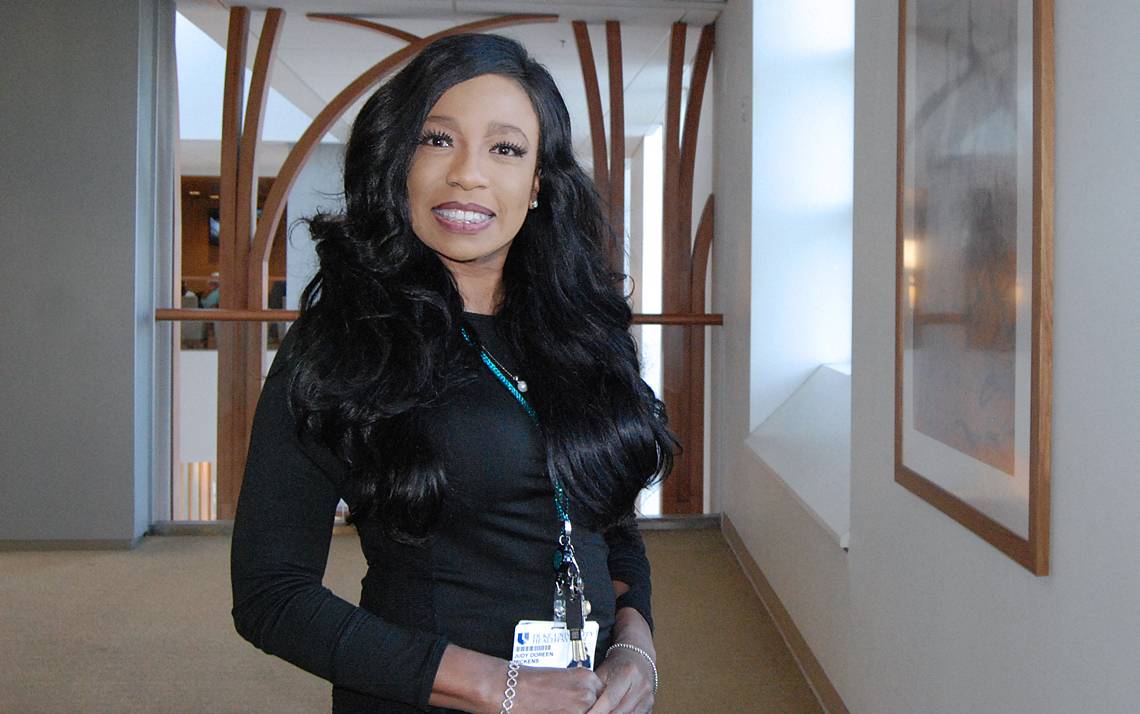 Name: Judy Mickens
Title: Supervisor of Breast Imaging, Duke Radiology
Years at Duke: 28
What she does: For nearly three decades, Mickens has been an empathic face in the Breast Imaging units of Duke Radiology. Now overseeing the unit, which features around 15 employees, Mickens helps with mammograms and tries to create a buoyant, supportive atmosphere for co-workers, and especially, patients.
"Some of them may come in for a mammogram and leave with a different story for their life," Mickens said of the people who come through her unit. "They might see the scope of their life change right then and there. You need to be understanding and help them through it."
During her time at Duke Radiology, she's seen the methods of capturing mammograms change. At first, images were captured on film contained in plastic cassettes. The cassettes were then taken to dark rooms within the clinic to be developed in a process that took several minutes. Now, Mickens uses a digital machine that can display results in moments.
"It's a little bit different now," Mickens said. "Technology is forever changing and that's exciting."
While her job has seen changes, the way she approaches it hasn't. She credits that to her father, who was an obstetrician and gynecologist in Chicago. She said in going into the medical field, she tried to emulate what she saw her father do.
"I understood the importance of medicine and delivering excellent patient care," Mickens said.
What she loves about Duke: Mickens said she's constantly inspired by the passion her colleagues bring to her job. She singled out the ones that, like her, have worked at Duke for many years. She said she's grateful there are so many long-term employees she encounters at Duke Health.
"We don't have a high turnover rate in our department," Mickens said. "I always say, 'Enjoy doing what you do.' When you reach the point in your life when you're not doing that anymore, then you need to look at life in a different direction. But as long as you're doing what you love, it keeps you coming back."
Memorable day at work: In March of 2017, Mickens came in for what she thought would be a routine mammogram. But when her radiologist noticed something different from the year before, Mickens was immediately concerned.
There was a cancerous mass, which was removed roughly a week later, and, with the help of medication, she is now cancer free.
"I am fine," Mickens said. "But I went in for what was supposed to be a normal day and suddenly everything changes. I thought 'OK, this is happening to me. What's my next step?'"
She'd long valued the tight-knit atmosphere of the caregivers she works with, but when she found herself in the role of the patient, she gained a new appreciation for how it affects patients.
"I have an amazing family here," she said. "I was able to bounce right back."
First job: Mickens was still in her early 20s when she got her first job as a technologist in a radiology clinic run by a friend of her father.
Her stint there lasted one day. Mickens had come across an opening at a hospital that paid more and decided to pursue that. She ultimately landed that job, beginning a career in radiology that's continues for more than three decades.
"That job lasted two years," Mickens said. "They treated me well."
Something most people don't know about her: When at work, Mickens said she tries to inject an upbeat energy into each day. Life in her unit can be stressful, but she believes that with enough positivity and camaraderie, it can still be fun.
But when she's away from work, Mickens values peace and quiet.
She enjoys dining out and traveling, especially with her husband Charlie Mickens, a veteran multimedia sports journalist with WTVD-11. But she doesn't need much excitement.
"Our job here can be stressful, we can see 100 people per day," Mickens said. "When I'm away from here, I just like to unwind."
Is there a colleague at Duke who has an intriguing job or goes above and beyond to make a difference? Nominate that person for Blue Devil of the Week.