Commute for $25 a Year
With a GoPass, you get unlimited rides on public transit
Duke employee Cassandra Dean and a coworker spend their work commutes catching up on their day, recounting the latest Netflix binge and discussing weekend plans.
They pay no attention to traffic on 15-501 as they ride the GoTriangle Route 400 bus to and from Duke.
"I don't lose any time to the hubbub of traffic by riding the bus. I can be on my phone, reflect on my day or talk to friends," said Dean, clinical research specialist for Duke Child and Family Mental Health Developmental Neuroscience.
Dean, who doesn't own a car, rides a bus to work from her home off U.S. 15-501 near the Durham-Chapel Hill border. Her commute costs $25 a year because of GoPass, a swipe card that allows eligible Duke employees to take unlimited rides on GoDurham, GoTriangle and GoRaleigh buses.
About 7,200 employees and students currently use a GoPass to get around the Triangle. Nationally, commuting by bus has grown just slightly among the U.S. population, rising to 3.8 million bus commuters in 2017, compared to 3.7 million in 2010, according to the U.S. Census Bureau.
At Duke, staff and faculty who work on or within a half mile of East, West, Central, or the Health System campuses, or at the American Tobacco Campus, are eligible for a $25 GoPass. Passes renew on Sept. 30, 2019.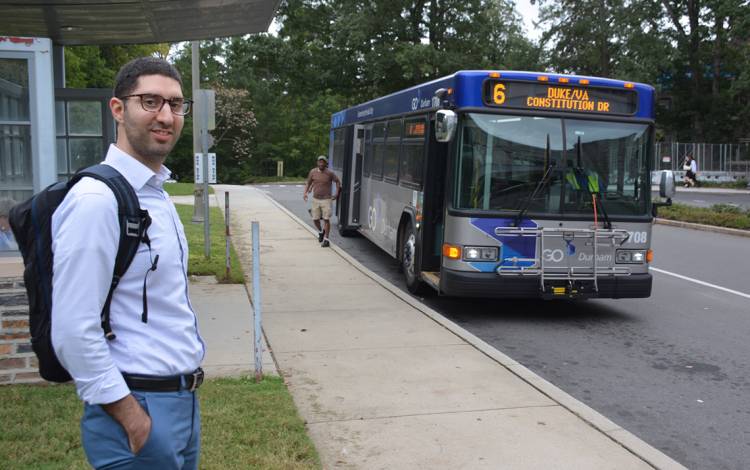 Mark Yacoub began using a GoPass about five years ago to commute from his home in Raleigh to graduate school at the University of North Carolina at Chapel Hill. He now rides GoTriangle to get to work at Duke.
Each work day, Yacoub rides the Durham-Raleigh Express bus from the Carter-Finley Park and Ride to Erwin Road at Emergency Drive. He then walks to his office at Gross Hall. By the time he arrives at his desk, his commute time is 50 minutes.
He usually passes the time listening to NBA podcasts.
"I very much dislike driving and find it to be extremely stressful," said Yacoub, a database analyst for Duke Population Research Institute. "The GoPass makes the commute from Raleigh to Durham a much more palatable option."