Department Spotlight: Putting Duke Inventions on the Map
Office of Licensing & Ventures helps inventors get their product to the public
Department: Duke Office of Licensing & Ventures
Years at Duke: 33
Number of Employees: 21
History: The Office of Licensing & Ventures works with industry partners to enable Duke inventions to reach the public.
The office formed in 1986 as a response to the 1980 Patent and Trademark Law Amendments Act, also known as the Bayh-Dole Act. The Act enabled universities to own, protect and commercialize inventions developed under federally funded research programs.
When people develop an idea as part of their position at Duke, before disclosing to the public or publishing anything they should notify the Office of Licensing & Venture (OLV), which will work with them to determine the appropriate protection and licensing strategy which may include start-up formation.
Employees at Duke have developed quantum computers faster than anything Google currently has, launched genome editing experiments into space and discovered a way to convert human waste into clean water and electricity.
Robin Rasor, executive director of Duke OLV, said taking a novel idea and turning it into a commercial product has no set path. It requires faculty and staff to work together as a team and partner with existing companies or to help in the creation of new companies for further development of an idea.
"OLV is here to help plot the right course through each step of the innovation process by connecting you with the right people both within and outside of Duke," she said.
How the office makes a difference: When OLV is notified of an invention, they help the Duke staff or faculty member develop a strategy for getting their innovation from idea to market.
Depending on the invention, OLV will help conduct safety trials, get approval from the Federal Drug Administration, organize clinical trials and obtain patenting, which gives the owner the right to exclude others from making, using or selling the object.
Depending on the invention, OLV will help move an idea along to the next stage in the process for the benefit of the region, the state and the rest of society. OLV's team of licensing representatives will evaluate an innovation's stage of development and the size of the market, determine if there is a commercial opportunity, assess the options for intellectual property protection, establish funding requirements, grow industry relations, and then ultimately develop a path to commercialization. OLV also collects and distributes revenues resulting from commercialization of the ideas.
Last year alone, OLV helped issue 103 Duke-owned patents and negotiated 114 licensing agreements.
Karthik Gopalakrishnan, associate director of life sciences for OLV, works with patenting and marketing inventions in immunology, neurobiology and chemistry.
"It's rare that you have a new invention immediately ready for the marketplace," Gopalakrishnan, said. "You have to study the market to see if that is an emerging space of interest for investment."
As the director of new ventures for OLV, Rob Hallford helps innovations faculty entrepreneurs wishing to pursue forming a new entity or startup to commercialize the invention. That can mean assisting an inventor with their initial pitch or business plan, finding investors and management. Hallford keeps a Salesforce database of thousands of people his team has met as well as their companies and their investment interests.
"Our job is to help people get from where they are now to the point where they have a team in place and enough capital to make meaningful progress," Hallford said. "It starts by creating a product that fills an unmet need."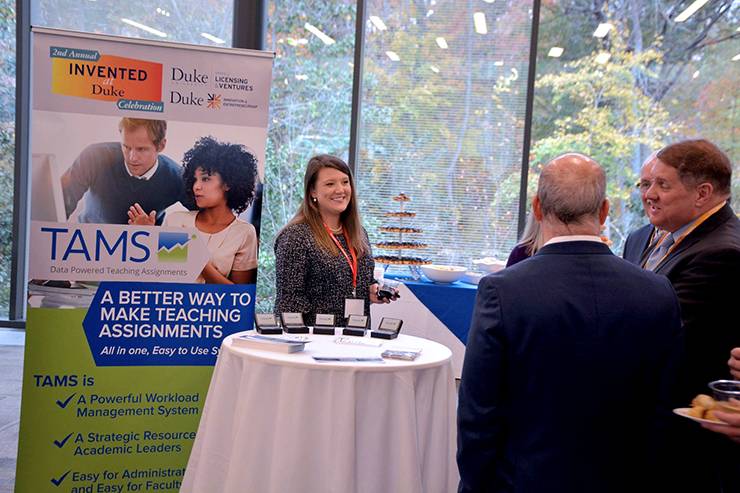 The Duke University School of Nursing worked with OLV to determine if they should seek outside investors for TAMS, a teaching assignment software that schedules courses and faculty to teach them. TAMS launched in 2017 is currently being used by 19 universities around the country.
"OLV has been good to us," said David Bowersox, associate dean of finance and administration for the School of Nursing. "They're very good at providing ongoing advice for our future strategies. They advised us to focus on building up our client base and return to finding outside investment down the road."
By the numbers: OLV has helped form roughly 200 companies since its founding in 1986. For the 2018 fiscal year, OLV assisted in creating 16 start-ups and licensed technologies resulting in $51 million in revenue.
Significant achievement: Duke OLV created the Mentor-in-Residence and New Venture Fellows programs two years ago.
Mentor-in-Residence are entrepreneurs who have successfully built, sold or invested in start-up companies. New Venture Fellows are Master of Business Administration students in the Fuqua School of Business who are responsible for assisting Duke OLV with creating investor pitches, business plans and corporate strategies.
The office pairs the mentors and fellows to work on various projects over the course of a semester.
"It's a powerful combination," Hallford said. "The students get to work on real companies under the guidance of experienced executives, providing real impact on the strategy and success our start-ups."
Have a suggestion for a Department Spotlight? Let us know here.