See How Duke Employees 'Get Moving'
Jo Leicester ran 48.6 miles during Disney World Marathon weekend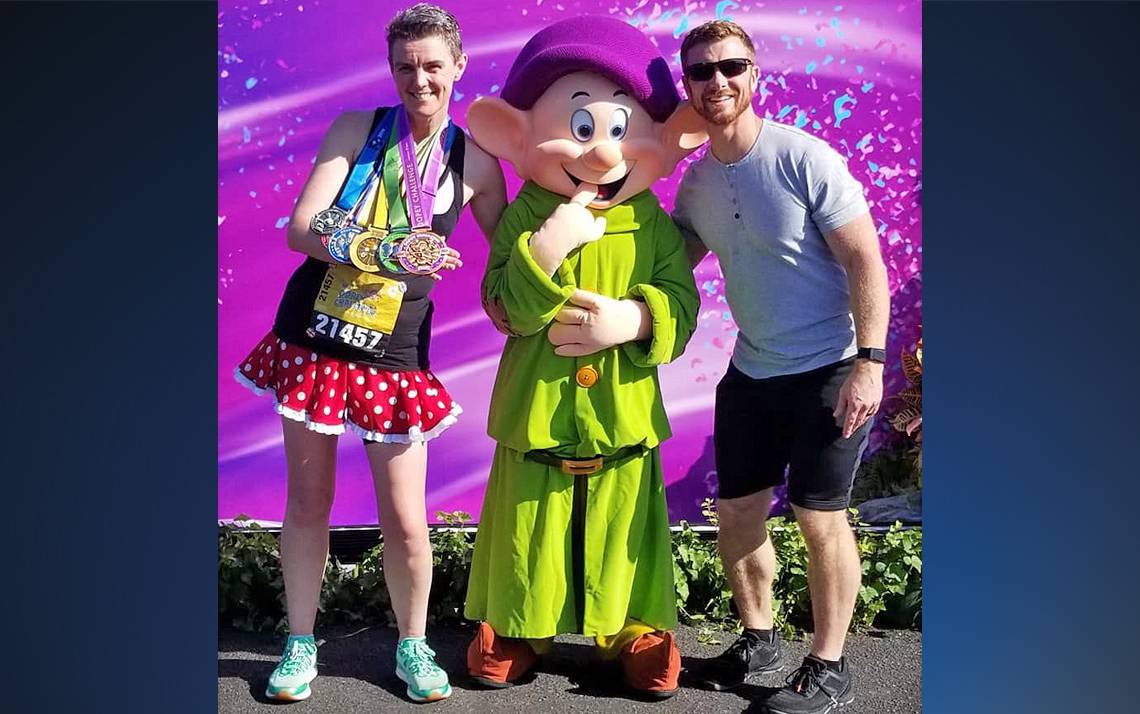 Jo Leicester cried as she crossed the finish line of the last race, the Walt Disney World Marathon, in 4 hours and 36 minutes.
She competed in the "Dopey Challenge" in which participants run a 5K Thursday, 10K on Friday, half marathon on Saturday and marathon on Sunday, for a total of 48.6 miles over four days in January.
"I was looking for a challenge," said Leicester, clinical research coordinator at the Duke Cancer Institute. "It was one of those once-in-a-lifetime opportunities. People and Disney characters were cheering you on non-stop."
Leicester, who is 67th in the individual category for most steps so far in Duke's Get Moving Challenge shared a photo of her and her trainer, Ryan Flannery, with Dopey, one of the seven dwarfs from "Snow White," after the marathon. She'll receive a "Proud to be Working@Duke" T-shirt for sharing a photograph of her fitness activity during the Get Moving Challenge.
We'd love to see your exercise and wellness pictures during the challenge, which runs to March 17. Photos can be a selfie or more organized picture, but the image must reflect your participation in the challenge and note why fitness and wellness are important to you.
As of Jan. 25, "Medicine_IM_Pheidippides" is in first place on the team leaderboard with 338,423 steps. Beverly Hester leads the individual competition with 1,135,271 steps.
Here are some photos from the first several weeks of the Get Moving Challenge.
Bodybuilding before dawn

Regina McCallum is training for her fifth bodybuilding competition. McCallum, talent acquisition sourcing analyst for Duke Nursing and Patient Services, wakes up at 4:30 a.m. every weekday morning to workout. She hits the gym again on her way home from work.
"Fitness is very important to me," she said. "It's a lifestyle."
Achieving a personal record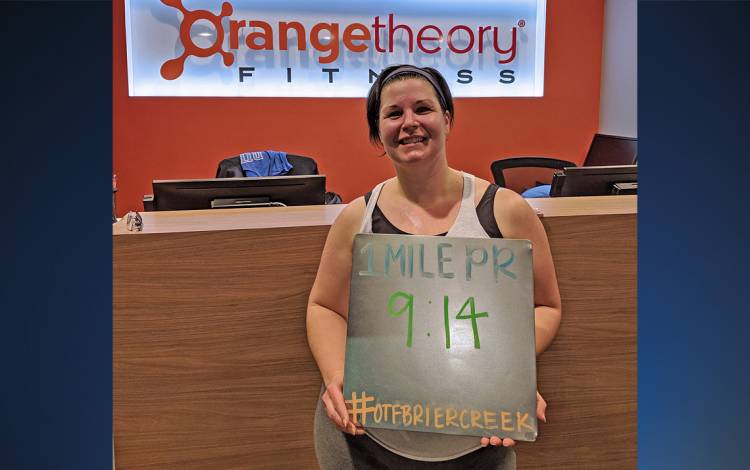 Colleen Bauer, program coordinator for Duke Institute for Brain Sciences, achieved a personal record for running a mile at 9 minutes and 14 seconds.
"I joined a gym in July and have never in my life described myself as a runner," she said. "Six weeks later, I actually ran a benchmark one mile. Tonight I ran that same benchmark mile, but beat my time by 23 seconds. I'll likely still never call myself a runner, but I'll take these improvements every time."
Competing for 1 million steps

Duke Surgery communications and research departments split to compete against one another in the Get Moving Challenge. Scott Behm submitted this photo to show how the teams are tracking to see who gets to 1 million steps first.
"We're measuring progress along the office wall with Bitmojis in exercise gear," said Behm, publications specialist for Duke Surgery. "The added fun is helping the office to get motivated to get in a few extra steps each day."
Climbing to new heights

Brock Woodis, clinical pharmacist for Duke Family Medicine, broke up his gym routine with rock climbing at the Triangle Rock Club in Morrisville.
"It was something new for me to try," he said.
Here's how to share your Get Moving Challenge picture:
Post the photo and use #HealthyDuke on Twitter, Instagram or Facebook. Note what you're doing and why fitness and wellness are important to you. Remember, use #HealthyDuke so we see your snapshots on social media;
Post a photo and caption on the Working@Duke's Facebook page: facebook.com/workingatduke;
Or, upload your picture here.