Employees Recognized For Work With LGBTQIA+ Community
Center for Sexual and Gender Diversity honors employees at Lavender Graduation
Two Duke employees have earned special recognition from Duke's Center for Gender and Sexual Diversity for their work championing the LGBTQIA+ community.
The center on Friday presented Janie Long with the "Outstanding Faculty/Staff" award and J. Clapp, with the "Campus Impact" award during its Lavender Graduation. The Lavender Graduation is an annual event on college campuses across the country that honors LGBTQIA+ and ally students, staff and faculty.
"Lavender Graduation highlights the unique journey of queer and trans students and employees, the important allies and a supportive community," said Nick Antonicci, director of the center. "Duke may have been the first place where students and employees came into themselves, felt affirmation or found community who accepted all of who they are."
Janie Long

The award was a full circle moment for Janie Long, who started the Lavender Graduation shortly after she became director of Center for Gender and Sexual Diversity in 2006. She worked at the center until 2014, when she began her current position as associate vice provost for undergraduate education.
Long is a former member of Duke's LGBT Task Force, which makes ongoing assessments of conditions throughout the university regarding LGBTQIA+ community members and issues. The CSGD also credited Long with her work advising "Queering Duke History," an exhibit that highlighted the struggles and successes in Duke's LGBTQIA+ history, and overseeing the center's move from the former West Union to the Bryan Center.
"She always finds time to connect with individuals who need her wise counsel," said Steve Nowicki, professor of biology and psychology & neuroscience, who nominated Long.
Long said she started crying when she learned of the recognition.
"For me, it's all about relationships," she said. "Seeing students and employees find a community at Duke is the highlight of my career. It's an amazing honor."
J. Clapp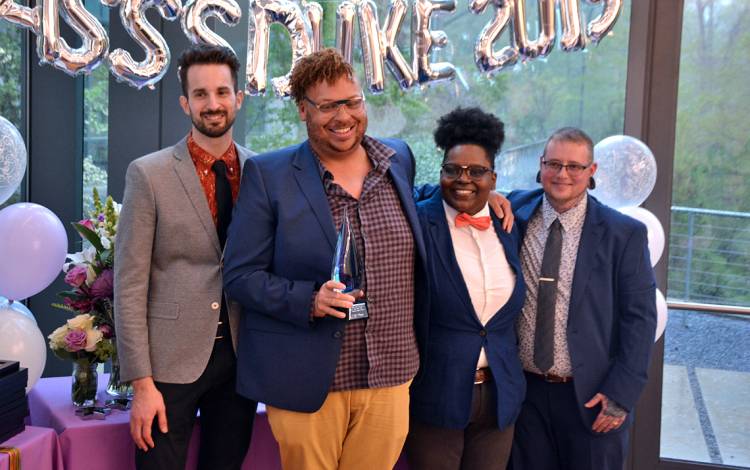 Last year's Pride celebration in Durham would not have happened without J. Clapp.
After previous organizers canceled their permit to hold the celebration, the LGBTQ Center of Durham and Clapp stepped in. Clapp, director of Duke's Office of Access and Outreach, lead planning efforts for Pride, which celebrates inclusion, community, family, pride and activism.
Clapp organized the Pride parade, live music and drag queen performances on East Campus.
"He gave me a vision into the beautiful future I can have as a young queer person," said junior Neil Rogers, who nominated Clapp for the award.
Clapp said it brings him great joy knowing his actions can empower Duke students.
"Receiving this honor means the world to me," he said. "My intersecting identities have made me quite invested in the lives of our students."
Have a story idea or news to share? Share it with Working@Duke.