Space at Duke in DC Office Named after Rubenstein, Woodruff
When it comes to the relationship between a university and its alumni, you get out what you put in, argued David Rubenstein and Judy Woodruff at a reception April 15 unveiling two new spaces named in their honor at the Duke in DC office.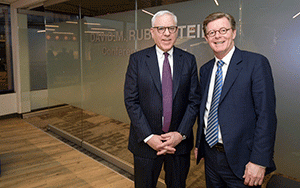 Both Rubenstein, co-founder and co-CEO of The Carlyle Group, and Woodruff, a respected national broadcast journalist, are former university trustees. To honor their contributions to Duke University, Duke in DC named their main conference space and media studio after Rubenstein and Woodruff, respectively. President Vincent Price hosted the reception and welcomed David and Judy's friends and family to the Washington, D.C., office for the celebration.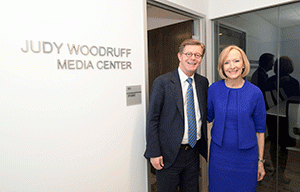 In their remarks, Rubenstein and Woodruff both noted how their time at Duke and subsequent relationships with the university have opened doors for them, enriched them academically and helped build lifelong friendships.
Several members of the Duke Board of Trustees, prominent members of the media, and heads of performing arts centers and museums attended the reception.
Price, in his remarks, noted the time and support Rubenstein and Woodruff have shared with the university and how their focus on supporting the Duke community furthers Duke's mission as a whole.