Duke in Pics: Opening Day at Duke Farmers Market
Strawberries, microgreens and goat cheese are popular among shoppers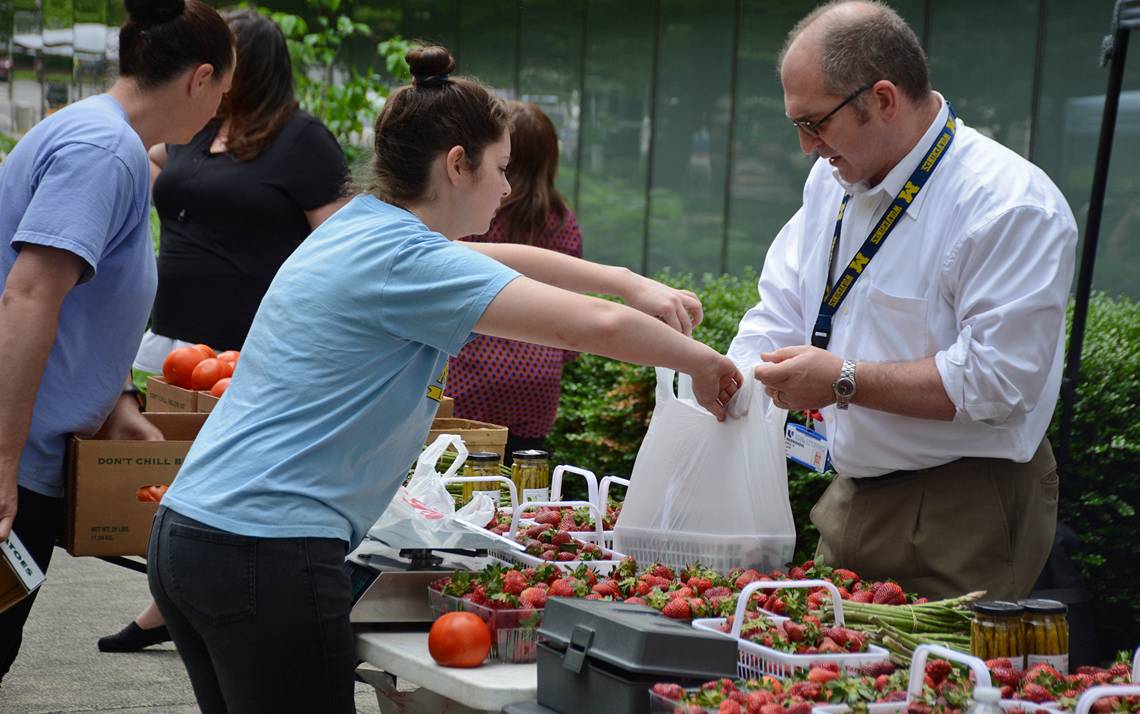 Shoppers circulated around farmers and vendors selling plump red strawberries, goat cheese, fresh-baked bread and other goods during opening day of the market on April 26.
The Duke Farmers Market, now in its 19th season, runs from 11 a.m. to 2 p.m. every Friday through Sept. 27 at the Duke Medicine Pavilion Greenway, outside of the Trent Semans Center for Health Education.
Here's what you can see, smell and buy at the market this Friday.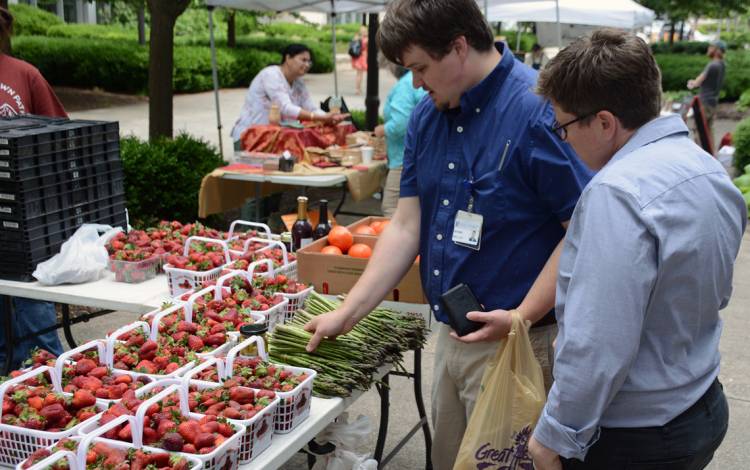 Duke social workers Nathan Amos, left, and Kristen Russell, right, bought asparagus and strawberries from Lyon Farms at the Duke Farmers Market. Lyon Farms, located in Creedmoor, sells seasonal produce like asparagus, peppers, strawberries, sweet potatoes and cucumbers.
Amos and Russell enjoy walking around the market during lunch on Fridays.
"It's great to get some fresh air and see all the colorful fruits and vegetables," Russell said.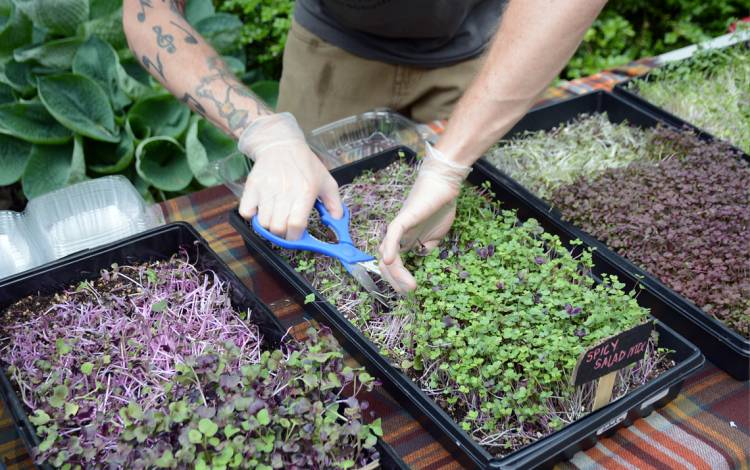 Rick Woods, owner of The Microgreenery, cuts some of his spicy salad mix. Microgreens are young vegetables with a high amount of nutrients.
The Microgreenery, based in Durham, sells rainbow chard, sunflower, pea shoots, basil, radishes, mustard and more types of microgreens.
I bought the spicy salad mix – a combination of broccoli, arugula, kale, kohlrabi, cabbage and mustard greens – to have with dinner. It packed a punch of flavor.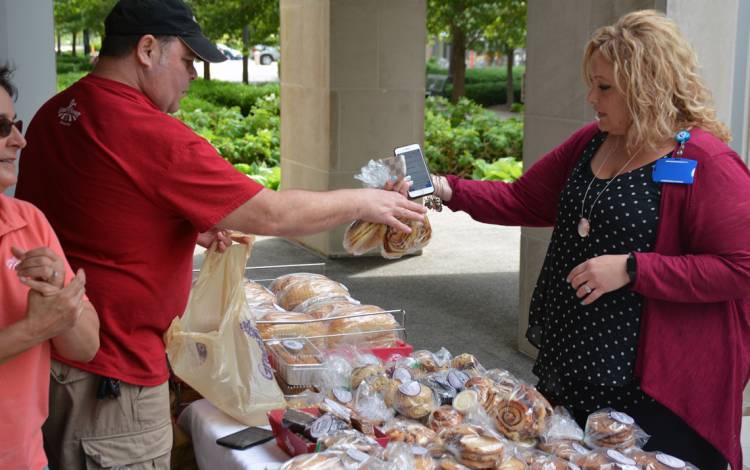 Jill Fiorella, administrative assistant with the Duke Division of Plastic, Maxillofacial and Oral Surgery, had her husband and daughter in mind when she bought pumpkin chocolate chip muffins and other goods from Great Harvest Bread Co.
The Chapel Hill vendor sells types of bread like apple crunch, spinach feta and orange blossom, in addition to cookies, cinnamon rolls and scones.
"My family was so excited the market was coming back today," Fiorella said. "We love to treat ourselves with fresh baked goods."

Elodie Farms offers samples of its goat cheese for market guests to try. Elodie is located in Rougemont and sells jalapeno, sour cherry, fig and honey, garlic and herb and plain varieties of goat cheese.
"The cheese is just amazing," said Deloris Scott, community health worker for the Duke Division of Infectious Diseases. "I tried the jalapeno and had to walk away so I wouldn't take another bite."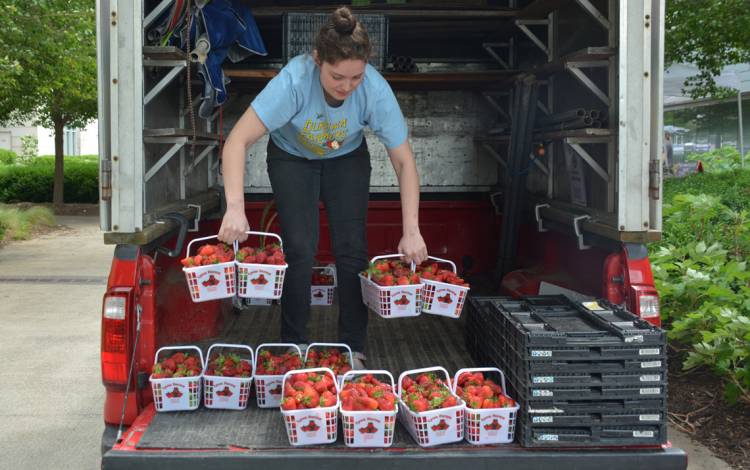 Amanda Sullivan, a sales associate with Lyon Farms, removes baskets of strawberries late Friday morning to sell at the market.
Get to the market early if you want strawberries. The fruit is one of the fastest selling items.

Helen Bowman, a nurse with Employee Occupational Health & Wellness, blends a drink of strawberries and unsweetened soy milk on Sustainable Duke's smoothie bike.
The bike has a blender on the back that operates when someone pedals the stationary bike.
"It was very efficient, just like if I plugged in the blender," Bowman said. "The smoothie was delicious too."
Got a personal fitness or #HealthyDuke story, please share it with us