Sharing the Home Garden Bounty at Work
Productive home gardens pay off for Duke employees and their colleagues
Several times a week this summer, Akma Kasmaganbetova returns home from work with a helping of fresh vegetables. Her family's favorite has been the cucumbers. Produced using organic methods, the cucumbers grow freely, twisting and contorting into wild shapes.
The regular supplier of cucumbers is co-worker Marion Pratt, lifelong gardener and director of global careers in the Career Services Office at Sanford School of Public Policy.
"My daughter loves them," said Kasmaganbetova, academic services coordinator for Sanford's Master of International Development Policy. "Sometimes they look like little animals."
For Pratt, the vegetable garden provides a way to connect with co-workers by sharing the healthy food and offers a relaxing pastime and satisfying challenge. Combining physical activity and mental relaxation, home gardening promotes overall wellness.
"There's the restorative quality to gardening," said Jan Little, director of education and public programs at Sarah P. Duke Gardens, which hosts educational events aimed at home gardeners. "There's also a meditative quality to it, particularly if you're doing ongoing maintenance. I, for one, love to weed. It becomes this mindless Zen thing."
Here are the stories behind some of Duke's prolific home gardeners.
Marion Pratt came to Duke in earlier this year from a similar job at Vanderbilt University in Nashville. When she was looking for places to live in Durham, a top prioritity was finding a house with the kind of big, sunny backyard that could be home to a garden.
"It's my first growing season in a long time," said Pratt, who found her sunny backyard in Durham. "My house in Nashville didn't get much direct sunlight, so you couldn't grow much of anything."
Thus far, her garden, which consists of a pair of raised beds, has produced around 40 cucumbers, roughly 10 pounds of peas and loads of tomatoes and green peppers.
And with Pratt growing more produce than she can eat at home, co-workers like Akma Kasmaganbetova have been recipients from the overrun.
For Pratt, the allure of gardening has just as much to do with the work than the results.
"I think it's such basic human connection because we used to have to grow things," Pratt said. "This whole process of preparing soil, putting something in the ground and watching it come up is unmatched. I love it. I couldn't imagine not growing things. I can have a salad at the end of the day and it's all from my garden. It's hugely satisfying."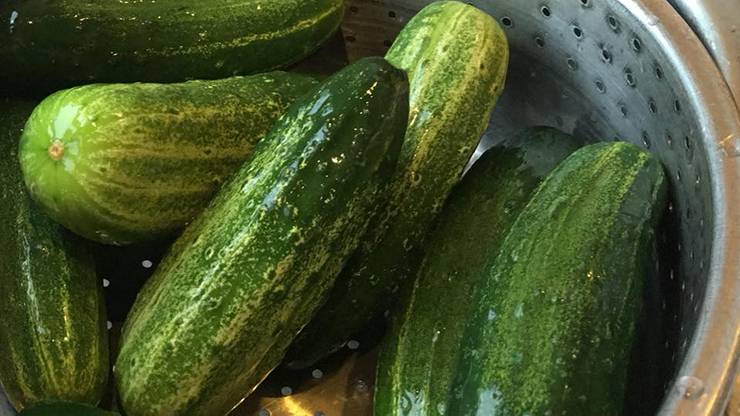 This summer, the garden in the side yard of Karl Leif Bates' home in Chapel Hill has been producing Swiss chard, green beans, three kinds of peppers, four varieties of tomatoes, carrots that have taken on a range of colors and cucumbers that seem to know they're bound to be pickled.
"It's a really cool variety, they grow to just the right size for a quart jar and then stop," Bates said.
Over the course of the summer, Bates' co-workers in University Communications, where he's the director of research communications, have enjoyed the bumper crop of vegetables he's brought in from time to time.
The roots of Bates' gardening habit go back to childhood, when his father grew vegetables in his family's yard. Bates said that as long as he's had a house of his own, he's had a garden, too.
"It is my health club and my therapist," Bates said about his garden, which is where you'll find him after work most days during the summer growing season. "I spend as much time outside as I can and the garden helps me do that."

Jane Bahnson, a senior lecturing fellow and head of research and instruction at Duke Law School, hasn't brought much produce in yet for her colleagues.
That's because, up until this summer, the deer, rabbits and squirrels that inhabit the area around her Durham home have taken more than their fair share.
But Bahnson expects that to change.
Bahnson came to Durham from San Diego in 1997 Back in California, the brutal sun and lack of water made growing anything tricky.
"I used to plant geraniums in a window box," Bahnson said. "I used to joke and call it 'death row,' because they'd eventually burn up."
Once in North Carolina, Bahnson found more success with growing plants but ran into major trouble with wildlife.
"I planted this great garden with tomatoes and zucchini," Bahnson said. "And the deer just ate it to the ground. So I kind of gave up for a while."
This summer, she built a raised bed enclosed in a cage and has yielded plenty of zucchini, tomatoes, peas, green beans, onions, peppers and squash.
"There's tons of stuff in there, it's really prolific," Bahnson said. "I've given tomatoes to neighbors, but they'll start coming to work soon."
Comment on Facebook with your home garden tips and tricks:
Have a story idea or news to share? Share it with Working@Duke.