Towerview Road Access Limited Overnight
Safety measure reduces through traffic near new residence hall
A section of Towerview Road will close nightly to limit through traffic near the new Hollows residence hall, which will house about 700 undergraduate students beginning this week.
Beginning last weekend, access to Towerview Road is being closed from Duke University Road to the traffic circle at the intersection with Wannamaker Drive from 10 p.m. to 5 a.m. each night. The time for closure may be modified for athletic or special events.
"The Hollows represents the largest concentration of students in a single residence hall on campus," said Kyle Cavanaugh, vice president for administration and Duke's emergency coordinator. "This addition will create much more pedestrian traffic in this area, so limiting vehicular traffic at night will help provide a safer environment for our students."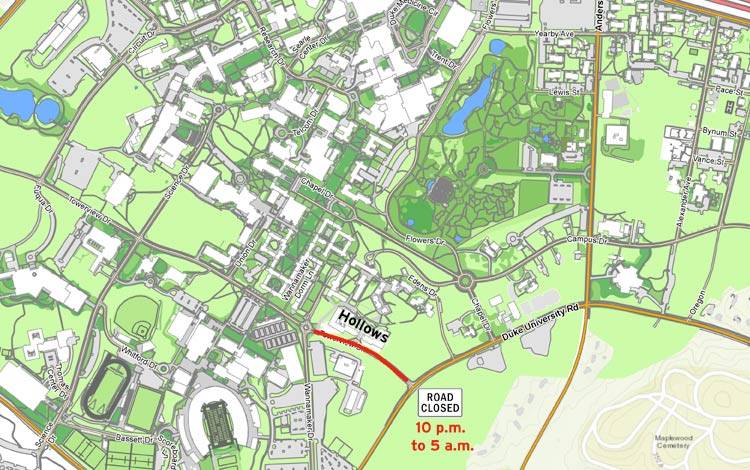 Cars will still be able to access the Blue Zone parking lot on Wannamaker Drive directly from Duke University Road or by accessing Towerview Road from Erwin Road or Research Drive and driving southbound to the traffic circle.
A security guard will be on site to allow emergency vehicle access, if needed.
Cavanaugh said officials would continue to assess the area to determine if any future changes would be needed.