Blue Devil of the Week: Teaching the Fun Side of Serious Science
Eric Spana helps students connect biology to the real world and fantasy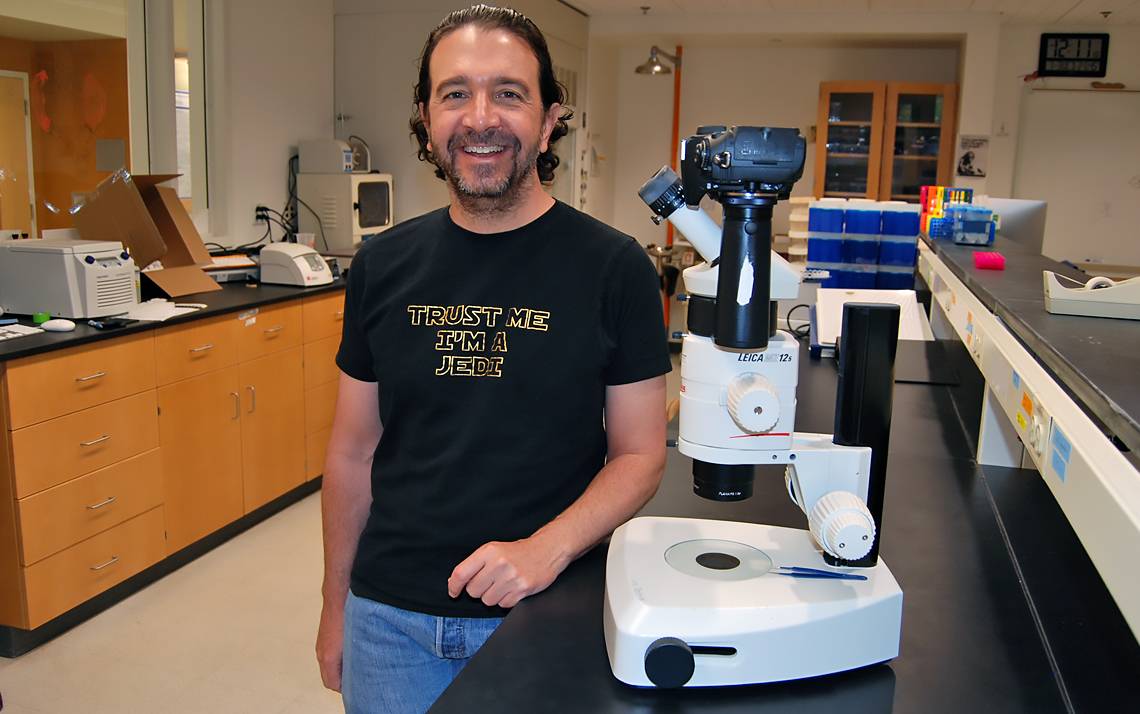 Name: Eric Spana
Position: Associate Professor of the Practice of Biology
Years at Duke: 16
What he does at Duke: Whether investigating the colors of fruit flies, or piecing together the science behind superheroes, Eric Spana's goal is to help undergraduates unlock the beauty of biology.
Spana's courses on cell, molecular and developmental biology often give students their first taste of real research, using basic scientific skills and state-of-the-art equipment to analyze DNA from, among other things, fruit flies. The goal is to figure out the ways the genetic code translates into observable differences.
"It's a lot about technique," Spana said. "We want you to learn the technique you're going to use when you join a research lab."
The classes can be both fun and frustrating as students often encounter science's messy conclusions and hard-to-decipher data.
"Actual research is kind of like batting in baseball," Spana said. "You fail a lot."
Spana also taught a four-day course for Duke's 2019 Spring Breakthrough – which gives students a quick, fun educational experience over spring break – on the science behind science fiction. Spana and his students explored the superpowers depicted in the film "Captain Marvel" to see how they might be created.
"It's doing research for the fun of learning," Spana said.
What he loves about Duke: Spana enjoys Duke's strong academic and athletic traditions, which give students a full college experience.
Last winter, a student did her lab work in full Cameron Crazies attire, complete with blue face paint, before heading to that night's home again against University of North Carolina at Chapel Hill.
"Where else are you going to get that level of enthusiasm from such spectacular students?" Spana said.
A memorable day at work: Earlier this year, students in one of his lab courses used a powerful DNA sequencing device to examine genetic material from a fruit fly. In a somewhat rare turn of events, the sequencer was able to piece together the fly's entire genome, essentially delivering its complete genetic blueprint.
Spana recalls students being especially amazed at the show of computing power. He said their excitement was contagious.
"It was the thrill of victory," Spana said.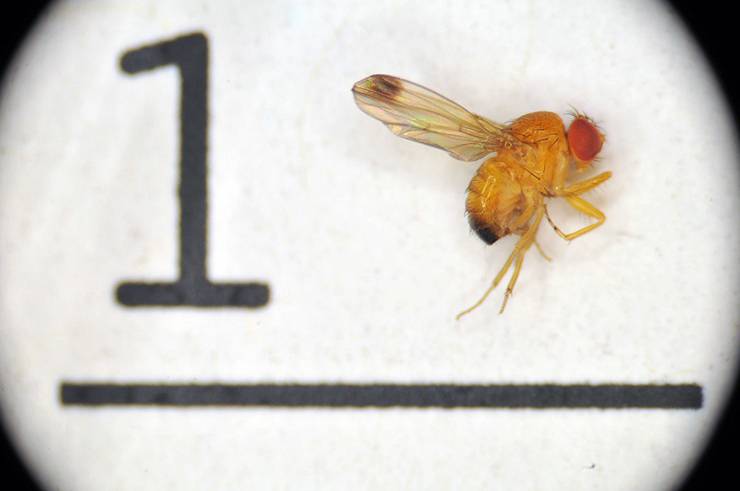 He couldn't do his job without: While his lab is filled with microscopes and computers, Spana said the tools he appreciates the most are the small, red paintbrushes he uses to sort fruit flies.
After anesthetizing flies with a small dose of carbon dioxide, he sorts the flies – several dozen at a time – into vials based on a variety of traits.
"You have to sort them and move them around," Spana said. "That's where the paintbrushes are used."
First ever job: Growing up, Spana worked as a caddie at Hill Crest Country Club in Lower Burrell, Pennsylvania. The biggest takeaway from his experience was seeing the variety of ways people treated him. Those lessons still shape his every day interactions with people.
"If people are helping you, be kind, thank them," Spana said. "It makes the world a better place."
Something most people don't know about him: With their biology background and love for science fiction, Spana and Trinity College of Arts & Sciences Dean of Natural Science Mohamed Noor have become experts in how real science would work when applied to the fantasy universes of Harry Potter, Star Trek or Star Wars.
This has led Noor and Spana to science fiction conventions where they've held debates about which pop culture franchise has sturdier science, Noor's beloved Star Trek or Spana's preferred Star Wars.
"We're trying to use our particular fandoms to show the good parts of the science and biology and make fun of the bad parts of the other one," Spana said. "The audience learns and is entertained."
Is there a colleague at Duke who has an intriguing job or goes above and beyond to make a difference? Nominate that person for Blue Devil of the Week.