Show Your P.R.I.D.E. At Work
Center for Sexual and Gender Diversity leads LGBTQIA+ workshops for Duke community members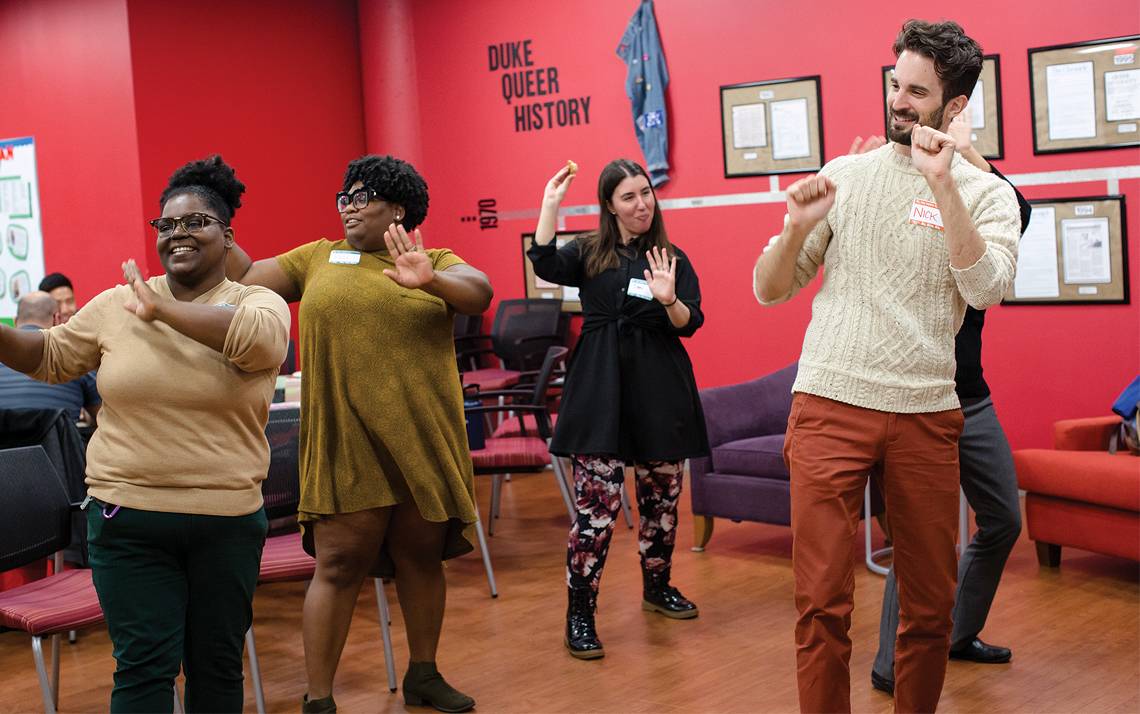 Antwan Lofton starts every meeting off with the same introduction: "Hi I'm Antwan. He/Him/His."
Lofton's been repeating the line in which he stats his gender pronouns since attending the Duke Center for Sexual and Gender Diversity's "Duke P.R.I.D.E. Training" and "Trans 101" workshops last year.
"If I introduce myself with my pronouns, it allows people to be comfortable with identifying the way they want to be addressed," said Lofton, assistant vice president of Staff & Labor Relations in Duke Human Resources. "It tears down what could be an uncomfortable moment for them."
The Center for Sexual and Gender Diversity (CSGD) workshops taught Lofton tips like stating his gender pronouns at introductions and choosing meeting locations with access to gender-inclusive restrooms.
CSGD's workshops are available to all Duke students, staff and faculty. The CSGD introduced P.R.I.D.E. and Trans 101 in 2015. A third workshop, Asexuality 101, was added in 2017. About 1,200 people collectively attend the workshops annually.
Here's information on each free workshop:
P.R.I.D.E.: Sept. 24 from 9:30 a.m.-1 p.m., Oct. 17 from 5-8:30 p.m. and Nov. 18 from 1-4:30 p.m. P.R.I.D.E. stands for "Pursuing Respect, Inclusion, Diversity and Equity." The training aims to increase awareness of issues that affect LGBTQIA+ communities by covering topics like language, identities and creating inclusive communities. Hypotheticals are also discussed, like what to do when someone's name and gender expression don't match one's identification.
Trans 101: Sept. 25 from 9:30-11:30 a.m. and Nov. 11 from 11 a.m.-1 p.m. Trans 101 is a two-hour workshop that focuses on identities and dives into the experiences and challenges the transgender community faces. Attendees participate in an activity in which they find out how easy or difficult navigating life can be with a particular gender or sexual identity.
Asexuality 101: Oct. 23 from 6-8 p.m. Asexuality 101 teaches students and employees about identities on the spectrum that do not experience physical or romantic attraction. Participants learn how to create welcoming spaces for the community.
"The trainings provide a toolbox of concrete actions one can take to guarantee employees and students are working with the best possible policies and practices to ensure a full welcome for members of the community with marginalized sexual orientations, gender identities and gender expressions," said Angel Collie, assistant director of the CSGD.
Departments, offices, classes and individuals can also request their own Trans 101, Asexuality 101 or P.R.I.D.E. training at no charge. A certain number of participants is needed for each training. Contact Angel Collie at angel.collie@duke.edu to schedule a workshop.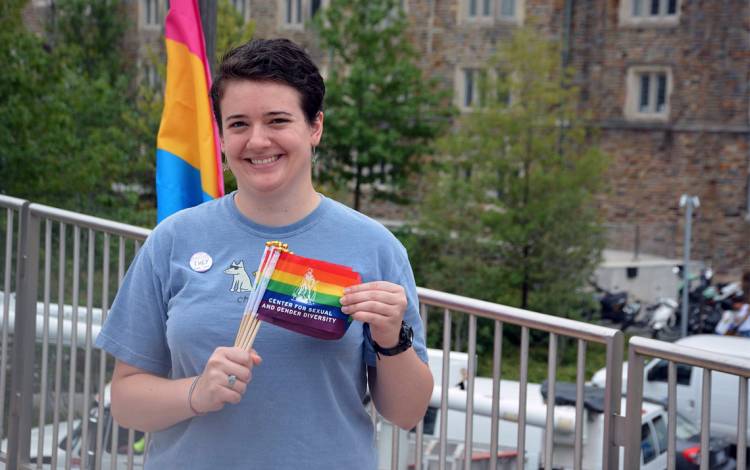 Eulena Jonsson attended the P.R.I.D.E. workshop three years ago after returning to work in higher education as associate director of assessment for Campus Life at Duke. She wanted to know how to be a better ally. In her role, she consults with staff who survey students about their campus experience. The workshop taught her the importance of including open-ended questions in surveys to allow students to write-in how they identify.
"If I have to ask about sexual orientation, I don't use 'other,' which can be very exclusionary," Jonsson said. "I ask respondents to 'please specify.' Such small changes can have an immense impact."
Read the Working@Duke story, "Out at Work."
And get more information about Durham's Pride celebration on Sept. 28, 2019, here.
Have a story idea or news to share? Share it with Working@Duke.