Several Hundred Spread the Word about the LiveSafe App
Duke's "Refer A Friend" challenge yields around 700 new users and several winners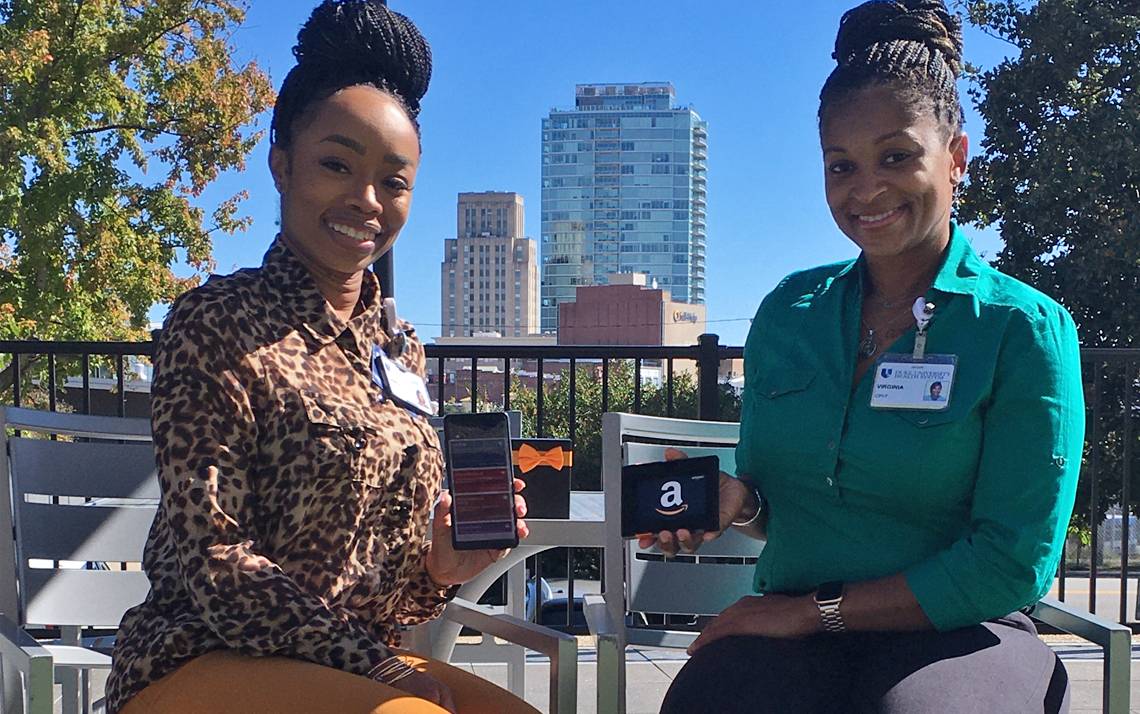 Around 700 members of the Duke community downloaded the LiveSafe mobile app during this month's "Refer A Friend" contest, which was part of Crime Prevention Month.
The contest encouraged staff, faculty and students with the LiveSafe app to invite friends and colleagues to download the app, too. Through a special report tip in the app, new users entered the name of their referrer, which put both individuals in the running for a chance to win a $100 Amazon gift card.
The LiveSafe app, offered at no charge to Duke community members, is available for Apple and Android devices.
The app provides easy 24/7 access to Duke University Police, the ability to summon a Duke van or track a campus bus, and a feature that uses GPS technology to allow family or friends to virtually escort you to your destination.
Here are the winners:
Colton Ortiz
Duke First-Year Student

By getting six of his classmates to download the LiveSafe app, Colton Ortiz earned the honor as the contest's top referrer. He won a $100 Amazon card.
Ortiz, a first-year student from Colorado, downloaded the app this summer but didn't log in until this month's contest. After, Ortiz convinced classmates to give the app a try.
"I looked through it and there's a lot of stuff in there that I didn't know was included," Ortiz said about the app. "Calling a Duke van is probably what I'll use it most for because that's something I do fairly often, like during fall break when the buses weren't on their normal schedule."
Ortiz said he also thinks he'll use the SafeWalk feature to help keep tabs on friends who need to walk on campus at night.
Virginia McQuillan and Shinita Monger
Certified pharmacy technicians, Duke Population Health Management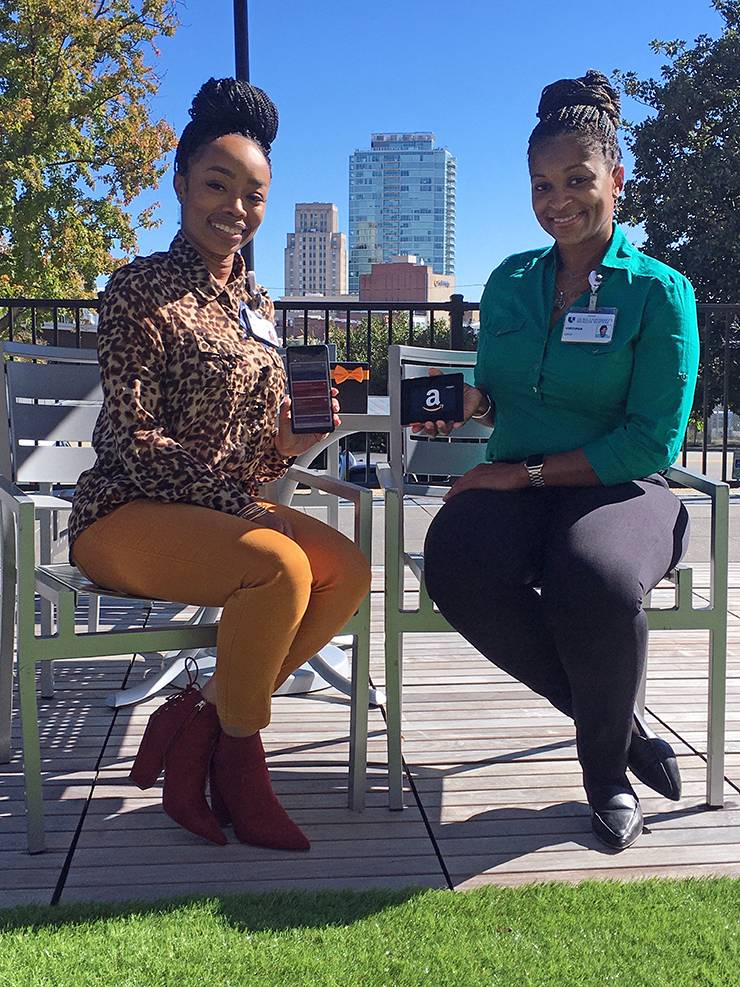 Duke Population Health Management Certified Pharmacy Technician Virginia McQuillan got fellow pharmacy technician Shinita Monger to start using the app. They won the employee drawing for a pair of $100 Amazon gift cards.
McQuillan, who has been at Duke for 21 years, said she's been a longtime user of the LiveSafe app, occasionally using it to request a Duke van to take her to her car after late-night shifts.
"It's very easy to use," McQuillan said. "It makes me feel very safe and secure."
Monger said she will likely use the LiveSafe app for van service and to provide an extra dose of confidence moving around campus, especially after dark.
"I feel safer knowing that I have it there, just in case," Monger said. "I won't have to go fumble around and try to find a phone number. I have immediate access to Duke Police."
Tyler and Sam Speers
Duke Law School
Many days, it feels like Tyler and Sam Speers, spend more time on Duke's campus than in their home in Old North Durham.
The couple takes walks around East Campus and morning strolls through Sarah P. Duke Gardens.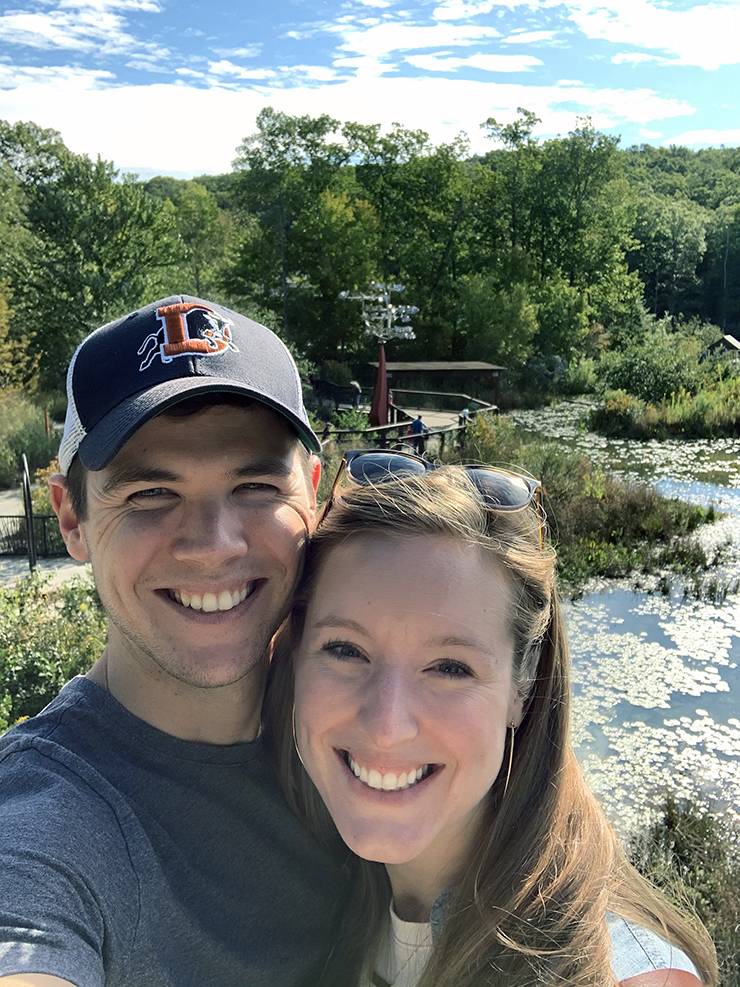 "We're on campus so often that Duke-related safety feels incredibly relevant to both of our lives," said Sam Speers, a second-year Duke Law student.
His wife, Tyler Speers, downloaded LiveSafe a couple of years ago during her first year as a Duke Law student. She referred the app to her husband during the contest.
"It's nice to have a separate app that will alert you to breaking news and important information," Sam Speers said.
He'll use the app for push notifications about weather-related incidents, to track Duke transit and to virtually escort each other to destinations with the real-time GPS technology.
Watch this video to learn more about how to use the LiveSafe mobile app.
Have a story idea or news to share? Share it with Working@Duke.