Duke Leadership and Management Academies Welcome New Graduates
51 employees complete year-long programs to sharpen leadership skills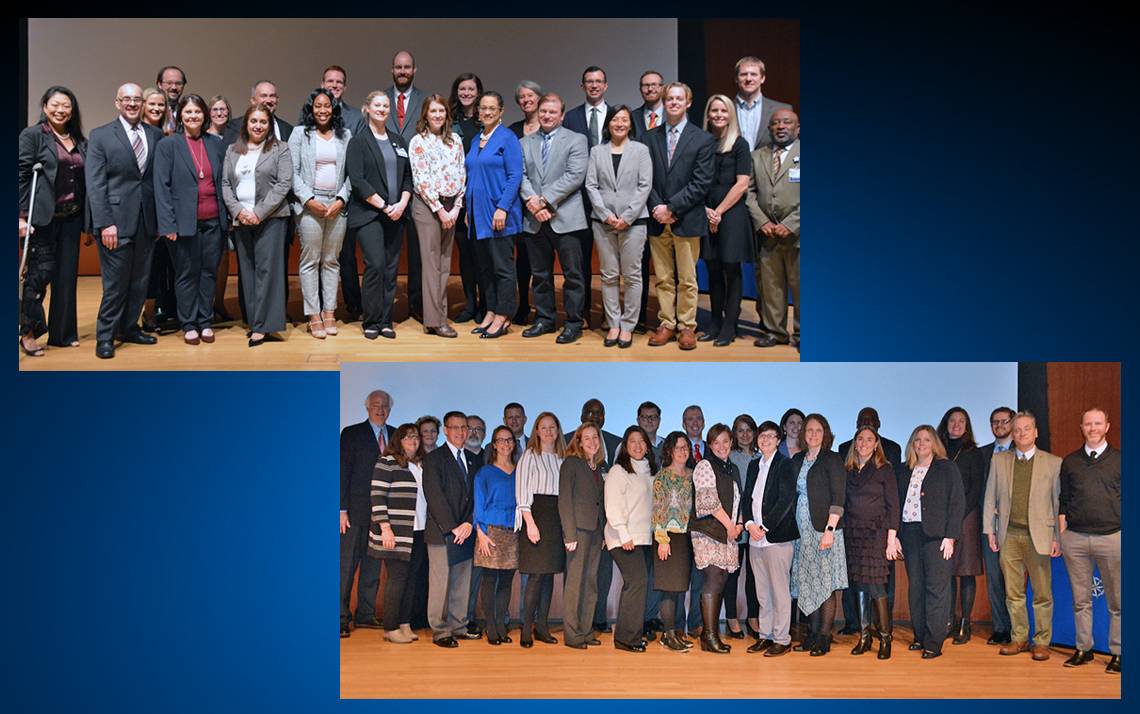 It was a day of milestones for Duke Leadership Academy and Duke Management Academy participants during last week's joint graduation ceremony.
The ceremony at the Nasher Museum of Art marked the 10th Duke Leadership Academy class graduation and the first for the Duke Management Academy.
"As you know from completing this program, there are many skills that you can learn, tools that you can acquire and approaches you can take that will make leadership easier," said Provost Sally Kornbluth, who was the keynote speaker at the ceremony. "You have all been fortunate to learn about these."
Duke Learning & Organization Development, a unit in Duke Human Resources, runs the Duke Leadership Academy and Duke Management Academy. Learn more about the two programs and the recent graduates.
Duke Leadership Academy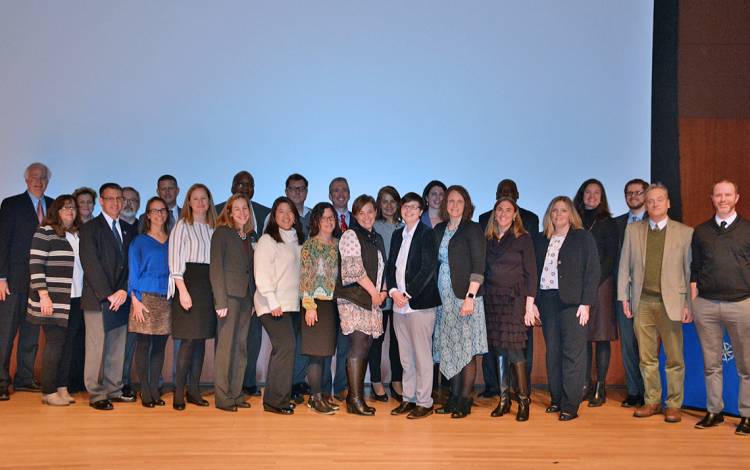 The Duke Leadership Academy is a year-long program based on ideas from the Fuqua/COLE Leadership Model.
The class of 26 participants, who were selected from nominations from Duke deans and vice presidents, took part in discussions with senior leadership, underwent analysis of their work and personality styles, received coaching and collaborated on group projects offering solutions to real-world concepts at Duke.
Projects focused on topics like finding and rating vendors used at Duke, advancing sustainability and increasing participating in Doing Good in the Neighborhood, Duke's employee giving campaign.
"For me in applying to this program, this was the first step in that journey of 'What does it mean to lead well? What can I do to become a better leader?'" said Miranda McCall, senior associate director of Duke Financial Aid. "My hope for all of us is this is the next step to become those who lead well.
Duke Management Academy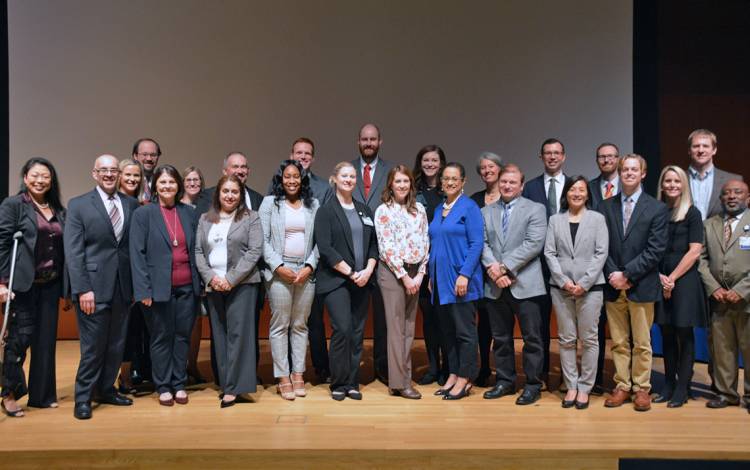 The Duke Management Academy began in January for middle managers across Duke University and Health System.
Participants learned leadership training and lessons in human resources, finances, business strategy, communication and situational leadership. The class of 25 scholars was nominated by supervisors.
Jeff Harris, a member of the Duke Management Academy and director of Duke In DC, delivered remarks at the ceremony. Harris said all of the lessons were valuable, but his biggest takeaway will be making connections with the other graduates.
"I have found getting to know each and every one of you to be reaffirming, not just to the value that Duke provides in North Carolina but beyond," he said. "This program has provided us with a network of peers who we can seek advice and grow as we face new challenges as managers."
Below are the 2019 employee graduates for both programs.
Duke Leadership Academy:
Paula Batton – Director of Customer and Technology Support, Office of Information Technology
Todd Blandford – Director of Alumni & Development Systems, University Development
Jill Cordell – Director of Financial Aid, Duke University School of Nursing
Kurt Cumiskey – Associate Director of Development, Duke University Libraries
Jennifer Gallina – Senior Executive Director of Foundation Relations and Corporate Giving, Duke Health Development and Alumni Affairs
Gwen Hall-Difabio – Director of Financial Training, Financial Services
Doug Heron – Associate Vice President for State Relations, Public Affairs & Government Relations
Oleg Kobelev – Assistant Dean for International Studies, Duke Law School
Todd Maberry – Senior Director of Admissions, Recruitment and Student Finance, Duke Divinity School
Nate Martinez-Wayman – Director of the Office of Sponsored Programs, Financial Services
Doreen Matters – Program Director, Duke University School of Nursing
Miranda McCall – Senior Associate Director of Duke Financial Aid
Mary McKee – Director of Identity Management, Office of Information Technology
Shila Nordone – Director of Research Development, Nicholas School of the Environment
Amanda B. Parrish – Director of Regulatory Affairs and Quality, School of Medicine's Office of Regulatory Affairs and Quality
Anneli Richter – Associate Dean of Admissions, Duke Graduate School
Sean Saunders – Assistant Director of Building Systems, Facilities & Maintenance
Nicole Schramm-Sapyta – Chief Operating Officer, Duke Institute for Brain Sciences
Katherine Stanley – Chief Administrator, School of Medicine's Department of Surgery
Victor Taylor – Associate Director of Corporate Relations, University Development
Ana Valverde Vidal – Administrative Director, School of Medicine's Marcus Center for Cellular Cures
Kent Wicker – Assistant Director of the Graduate Liberal Studies Program, Duke Graduate School
Emily Wiegand – Director of WaSH-AID, Pratt School of Engineering
Dudley Willis – Assistant Director for the Office of Project Management, Facilities & Maintenance
Jack Winters – Executive Director of the Iron Dukes Annual Fund, Duke Athletics
Deb Wojcik – Director of Graduate Students Programs & Services, Pratt School of Engineering
Duke Management Academy
Anthony Asciutto, Clinical Team Lead, Respiratory Care Services
Jamiyla Bolton, Senior Research Program Leader, Duke Digital Health
Hilary Bouton-Verville, Director of Research Development, Duke Human Vaccine Institute
Stephen Carrow, Project Manager, Facilities Management
Ceci Chamorro, Information Systems Manager, Duke Office of Clinical Research
Tammy Crane, Senior Manager/Director, Health Information Management
Curtis Dunn, Technical & Administrative Laboratory Supervisor, Transfusion Services
Vince Dunnegan, Accounts Receivable Manager, Finance
Joseph English, Senior Business Manager, OB/GYN
Holli Gall, Senior Director MC Development Programs, Duke Health Development & Alumni Affairs
Peter Haman, Information Technology Manager, Centralized Device Services & Support
Jeff Harris, Director of Special Events, Government Relations
Mandy Larew, Finance Manager, Duke Network Services
Erica Lobaugh-Jin, Infection Control Nurse, Infection Prevention
Coral May, HR Department Manager, HR Centralized Service
Joseph Miller, Senior Manager, Facilities Operations Planning
Coleman Mills, Research Program Leader, Duke Cancer Institute
Renee Morell, Nurse Manager, Duke Ambulatory Surgery Center
Dana Sanders, Senior Grants and Contracts Manager, Research Administration Support Resource
Culver Scales, Executive Director for Development, Duke Health Development & Alumni Affairs
Paige Smith, Administrative Coordinator, Dean's Office of School of Medicine
Will Thompson, Assistant Director of Duke Proteomics and Metabolomics, Center for Genomics & Computational Biology
Kim Thompson, Administrative Manager, Duke Occupational Health & Wellness
Mike Wilson, Clinical Team Leader, Respiratory Care Services
Yeu-Li Yeung, Patient Care Ergonomics Coordinator, Duke Occupational & Environmental Safety Office
Learn more about the Duke Leadership Academy: