The Perks of Having an Office Mate
Meet some staff members who share a campus office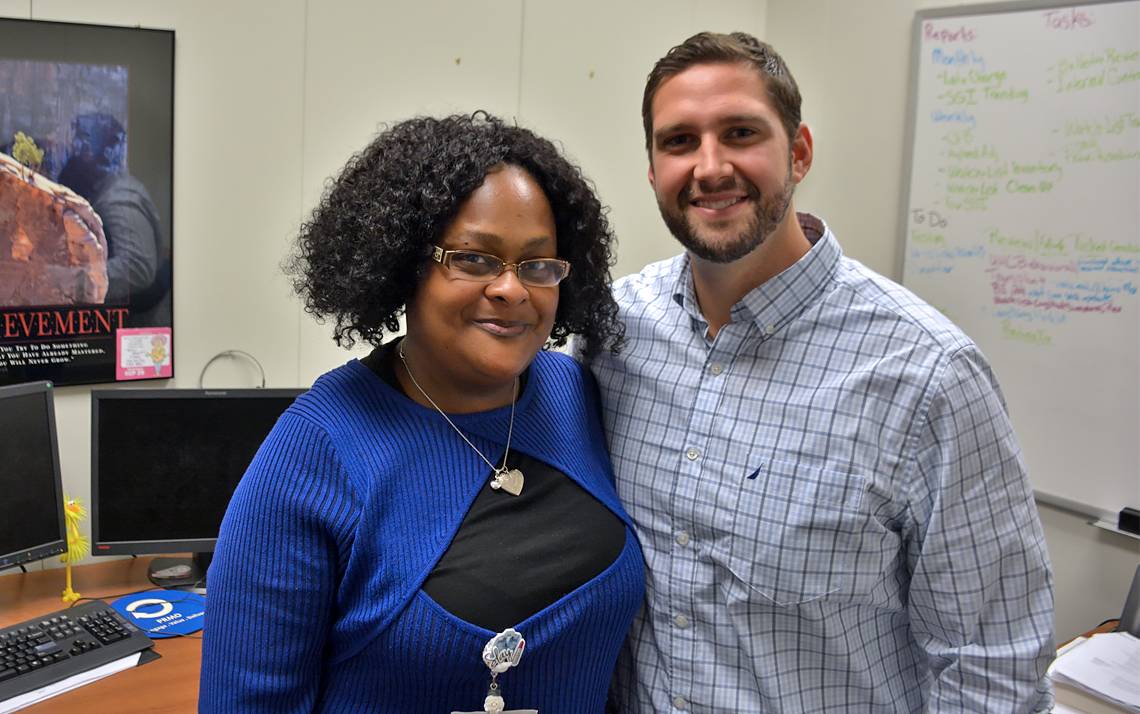 Joshua Roberts thought some of his reports looked like a foreign language when he started his position at Duke's Patient Revenue Management Organization.
Joshua, a patient account analyst who came from a Nationwide, didn't know how to read UB-04s, a form sent to insurance providers for the billing of medical claims. His office mate, Ina Shippy, explained.
Ina, a patient account analyst for the Patient Revenue Management Organization, had a background in health insurance. She explained how to find the "national provider identifier," a 10-digit code used by providers for financial transitions on UB-04s.
"Because we share an office, it felt easy and comfortable to ask her questions," Joshua said. "She taught me a lot about the language we use in processing invoices and financial claims. I had the skills. I didn't know the phrasing. Ina made the transition smoother."
According to Gallup's 2017 "State of the American Workplace" report, employees surrounded by their team members "collaborate and connect with each other and accelerate innovation, creativity and productivity."
At Duke, employees build camaraderie and find benefits in sharing an office with colleagues. Here are some of their stories.
Emily Frachtling and Ashley Wolf
University Communications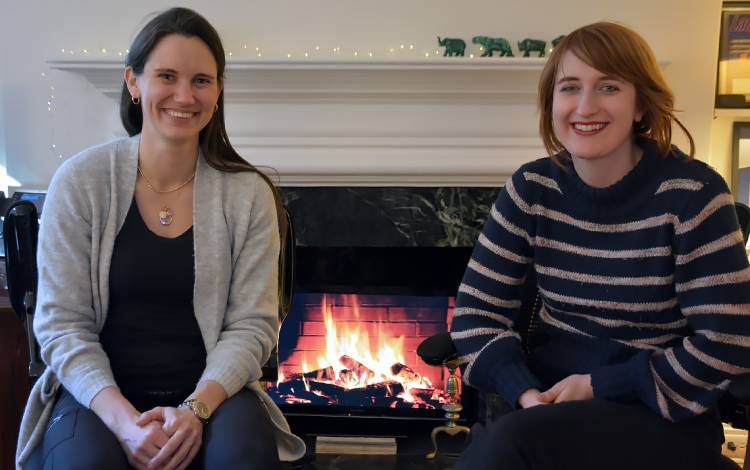 The focal point of Ashley Wolf and Emily Frachtling's office is an everlasting fire in a striking green marble fireplace.
Just don't expect any heat to emit from the flames. Ashley and Emily set up a small television screen to play a 10-hour YouTube clip of a crackling fire in the fireplace.
"People get a kick out of the digital fireplace," said Ashley, social media coordinator for Duke University. "In the winter, some people in our office actually come to warm themselves by the fake fire. I guess it has a placebo effect."
Emily joined the University Communications team in 2019 as a video producer. Since then, she has shared an office with Wolf at 614 Chapel Dr.
The two initially bonded over a shared love of film.
"Out of that was born an idea to have lunchtime movie viewings." Emily said "We started with 'Neverending Story,' 'Short Circuit' and then 'Hocus Pocus.'"
The lunchtime movie viewings helped the two colleagues use the proximity of their 10-foot-by-10-foot office to their advantage. The duo has collaborated on projects like "Duke Origins," a video series about the campus' history.
"It goes back to just being able to have that collaborative atmosphere and having somebody to bounce ideas off of who gets what you're trying to do," Ashley said. "We're able to work together to get something that's actually usable and really cool and that we're proud of."
Shashika Bandara and Beth Stringfield
Duke Global Health Institute

Shashika Bandara became more familiar with the music from the "Pitch Perfect" movie series than he thought possible thanks to Beth Stringfield.
Wanting to see what the fuss was about, Shashika asked Beth play the music out loud a couple of times shortly after the two started working in the same office in 2018.
"Beth's love for 'Pitch Perfect' is so infectious that I had to listen to it myself. It's growing on me," said Shashika, associate in research with the Center for Policy Impact in Global Health and the Center for Health Policy and Inequalities Research (CHPIR) at the Duke Global Health Institute.
Beth and Shashika, being from two different parts of the world and generations, have found a lot of common ground in the one and a half years they've shared an office in Trent Hall. They both love spicy food, the 1970s band Chicago and are passionate about their work improving global health policy and access to care for people living with HIV.
Beth, a research program leader at CHPIR, showed Shashika how to budget research projects and introduced him around the office when he started. Shashika lends an ear when Beth needs to talk through a problem and brings in homemade Sri Lankan meals, like shrimp curry, to share.
Beth said that having an office mate enhances her mental and emotional well-being, a core area of the Healthy Duke initiative.
"It's nice to have someone to feed ideas off of or even talk to when you need a distraction from staring at the computer," Beth said. "Shashika helps me to keep things in perspective and is someone I can share my success with."
Have a story idea or news to share? Share it with Working@Duke