Eating Healthy at Home During COVID-19
Duke nutrition experts share advice for grocery shopping during stressful times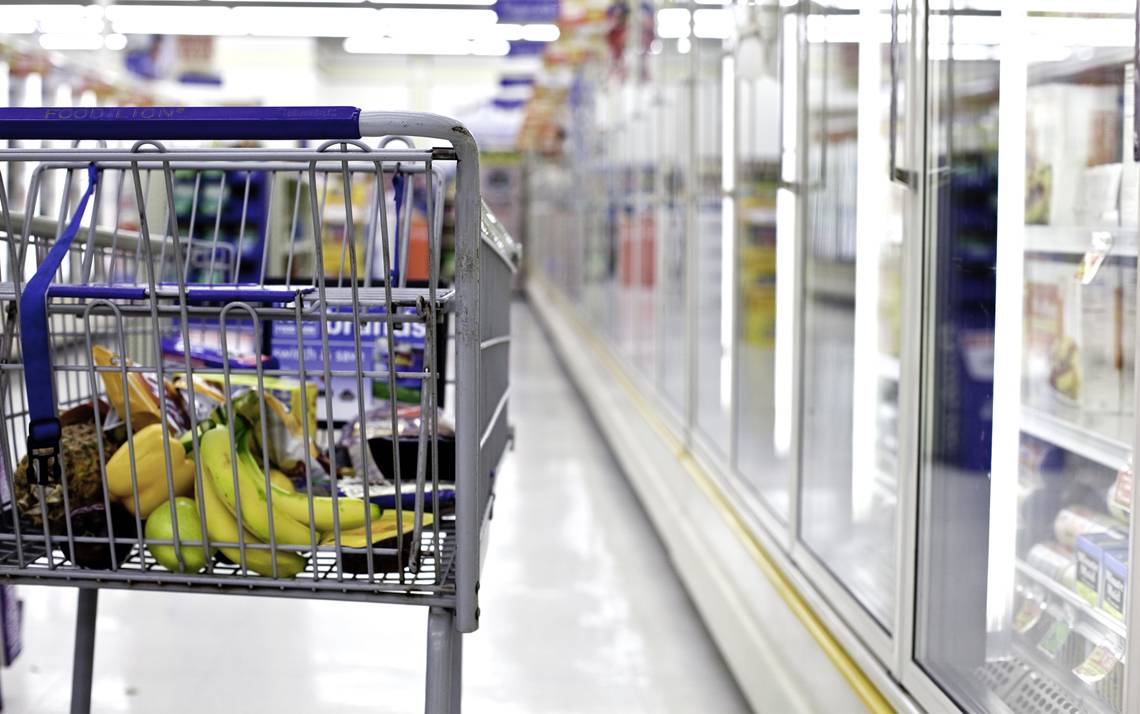 Wendy Perry's trips to Food Lion have typically been a more spontaneous adventure than planned excursion.  
Perry only shopped when supplies ran low or if her daughter, Coya, requested a certain dish such as pork chops on the grill for dinner.
"I didn't have any sort of routine with shopping," said Perry, an operations coordinator for the Duke University School of Nursing. "COVID forced me to be more strategic about my trips to the grocery."
In search of strategies for successful shopping during coronavirus-prompted social distancing and isolation, Perry participated in a new live webinar series, "Food Matters." The weekly session is hosted by dietitians with LIVE FOR LIFE, Duke's employee wellness program. Nutritionists share information about grocery shopping, healthy eating and other food-related concerns. 
The next session, which is April 15, will focus on alternative ways to shop for food. Sign up here to participate in any upcoming webinar. 
"We're going to the grocery store less often, and when we get there we find that many items are out of stock," said Esther Granville, manager of health coaching and nutrition programs for LIVE FOR LIFE. "It can be very challenging. We're going to help."
Here are some strategies for healthy eating and shopping at a grocery store.
Make the most of your trip to the store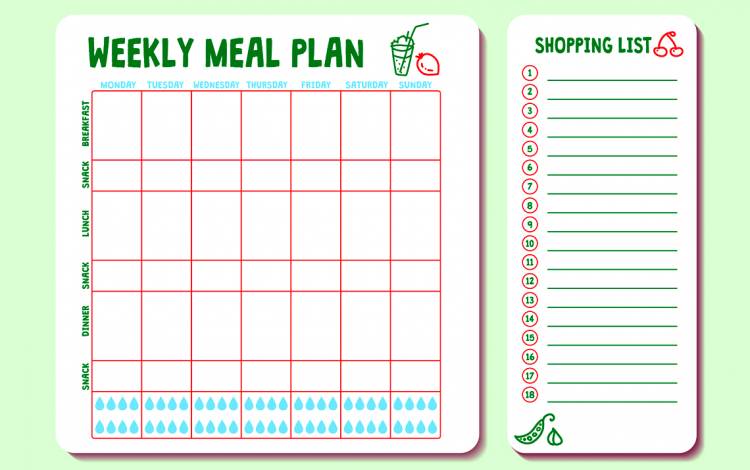 Preparation is key to grocery shopping and should begin before you leave the house.
Each week, take stock of your pantry, fridge and freezer and write a list of supplies you need to feed yourself or you and your family for a week. Create the shopping list from a meal plan and include back-up ingredients on your list in case your first choice is out of stock.
When making plans, Granville suggested asking yourself how long it might take you to go through a dozen eggs and to stock up on items responsibly to limit food waste and to leave items for other shoppers.
"The point of planning right now is to limit the amount of time you spend in the store and how many stores you visit," Granville said. "Get as much done in as little time you can."
Wendy Perry, with the School of Nursing, has been taking stock of everything in her kitchen before going to the store. She buys enough food in one trip to feed the four other people in her house for a week.
"I write down a list of all the ingredients I need to make something," Perry said. "I am now much more focused shopper."
Stock up on staples and non-perishable items

A typical meal for Esther Granville includes a combination of vegetables, protein and starch for energy and fiber. 
Knowing the base for many meals, Granville usually has a supply of her kitchen staples, seen above, on hand to enhance her cooking. She has salsa, tomato paste and hot sauce for a dash of flavor; eggs and canned beans for protein; olive oil for salads; and vegetable oil for cooking food over high heat.
"If you have chicken with no cooking oil, then your options to prepare it are limited," Granville said. "My staples are things I always have in the kitchen to support a simple and balanced meal."
With certain supplies low during current conditions, LIVE FOR LIFE dietitian Lauren Kruse uses frozen and canned foods and dried beans as healthy alternatives to fresh produce and meats. 
"Frozen and canned produce are picked at peak freshness," she said. "They can be just as healthy as fresh alternatives." 
Lentils and dried and canned beans are replacements for meat and make for protein-packed meatless meals. If you can't find low sodium versions of canned beans, rinse and drain the beans to remove sodium. 
"Some aisles are almost empty so it may require thinking out of the box," Kruse said.
For bean recipes, LIVE FOR LIFE suggested reviewing options on The Bean Institute and has started providing a Healthy Duke recipe of the day.  
Follow good hygiene and safety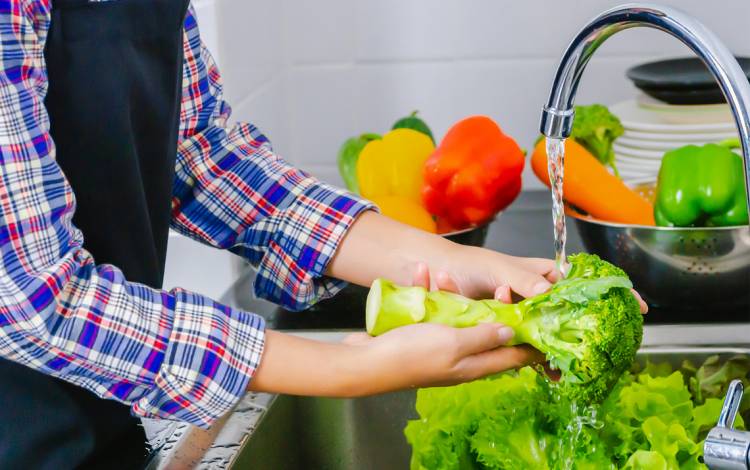 If you go to a grocery store, follow guidelines from the  Centers for Disease Control and Prevention, which include staying at least 6 feet away from other shoppers, wearing a cloth face mask and washing your hands, among other practices. 
"We also encourage you to wash your fruits and vegetables under warm water," Granville said. "Do not use detergent or bleach. That will make you sick." 
Practice mindful eating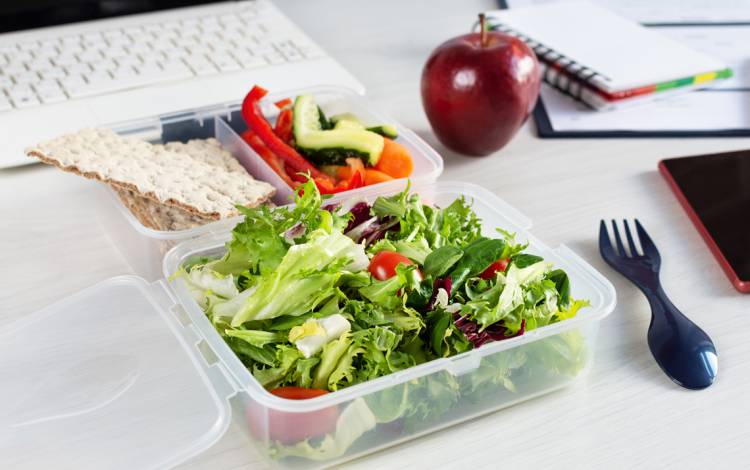 Tommy Eakes replaced his favorite sugar cookies with a snack of oranges, celery or stringed cheese. 
Eakes avoids carb-loaded snacks, which has helped him lose nearly 50 pounds since January. 
"I haven't gone on a diet, per se," said Eakes, a staff assistant for Duke's Cardiovascular & Thoracic Surgery. "I'm being more mindful about what I'm eating and shopping for. The easiest way to stay away from unhealthy things is by not having them in the house."
Being mindful when you shop is a tip Franca Alphin shared during a discussion on Duke Dining Services' Instagram about food habits in stressful circumstances. 
Alphin, director of nutritional services for Student Health and associate professor with the Family Medicine and Community Health, said to avoid buying large quantities of your guilty pleasure. 
Alphin also recommended watching serving sizes and being conscious of eating meals away from a work area and not while working to prevent overeating. 
"You are less mindful about how much you eat if you're focused on working," she said. "We don't feel as satisfied when we eat mindlessly because you aren't paying attention to how hungry or full you feel."
Help us share the proactive and extensive work being done by all Duke community members during the COVID-19 outbreak. Send ideas, shout-outs and photographs here or write us at working@duke.edu.