Kitchen Pantry Hacks during COVID-19 Distancing
Duke experts share strategies for staples that make healthy, low-maintenance meals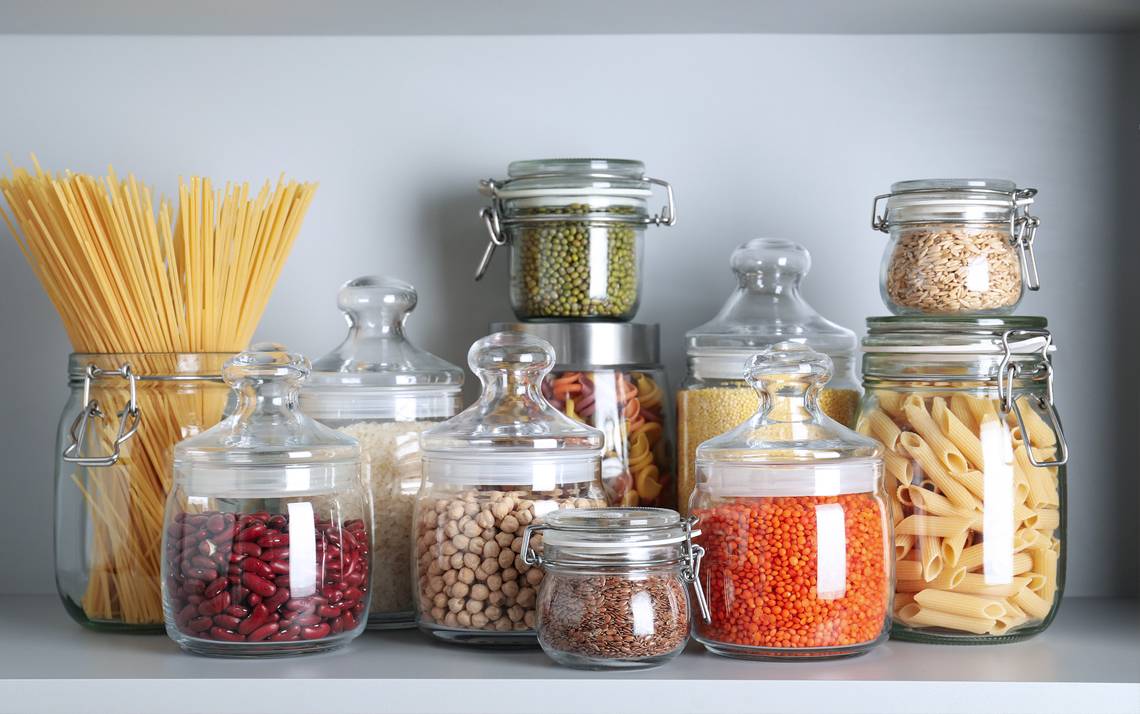 Peggy Luu, who hadn't been to a grocery store in two weeks, was down to kitchen staples when it came time to fix dinner.
Luu looked in her pantry and used chicken broth, rice noodles, frozen broccoli, frozen sausage, chili oil and frozen ginger to make noodle soup, a meal that would hold her over until the next trip to the store. 
"Before COVID-19, I was someone who went to the grocery store each time I made a meal," said Luu, an application analyst for Duke Health Technology Solutions. "I now go maybe once every other week. I want to be purposeful about using all the food I have at home to reduce my grocery shopping."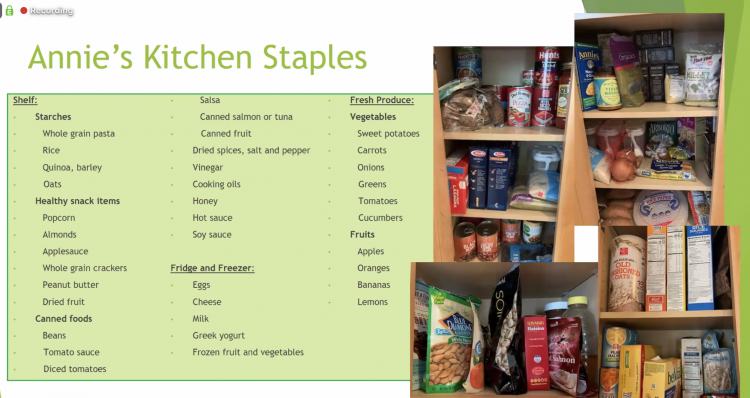 Luu is not alone in scraping together a meal with what's around her kitchen. During last week's "Food Matters" webinar, 53 percent of the nearly 120 participants said they are likely to cobble together dinner using pantry staples when they don't have a meal planned during distancing times due to COVID-19. 
"Staples are items you cook with on a regular basis and that last a long-time on the shelf, frozen or refrigerated," said Annie Scott, a dietitian with LIVE FOR LIFE, Duke's employee wellness program. "As we reduce our trips to the grocery, our staples are what we can turn to for making easy and healthy meals."
"Food Matters," a weekly webinar series hosted by LIVE FOR LIFE, provides grocery tips and healthy guidance during stay-at-home orders. The next webinar on May 6 is about eating well on a budget. Sign up here to participate.
Meanwhile, here's how to use your pantry staples to make quick and nutritious meals. 
Prepare a balanced plate

LIVE FOR LIFE Dietitian Lauren Kruse follows the U.S. Office of Disease Prevention and Health Promotion's guidelines for making meals, especially when she dips into her pantry to cook from staples such as pasta, beans and frozen vegetables. 
The Office of Disease Prevention's "2015-2020 Dietary Guidelines for Americans" recommends half of your plate be fruits and vegetables; one quarter be grain and the other quarter of the plate be a lean, low-fat protein. The guidelines also suggest eating low-fat or fat-free milk or yogurt; proteins such as chicken and beans; and making half of grains consumed whole grains. 
"Filling up half your plate with fruits and vegetables is going to make you full for very few calories," Kruse said. "Think of a serving of grains or protein as being the size of the palm of your hand. It helps you with moderation."
Tracy Stell has reduced the amount of meat he consumes after subscribing to "Blue Apron," a meal kit service that sends ingredients and recipes for meals to your home. Blue Apron provides smaller portion sizes for meat. 
"Now, when I'm cooking chicken breasts or thighs on my own, I cut it in half before serving," said Stell, assistant director of staff education and development for Duke Regional Hospital. "I leave more room on my plate for vegetables."
No recipe required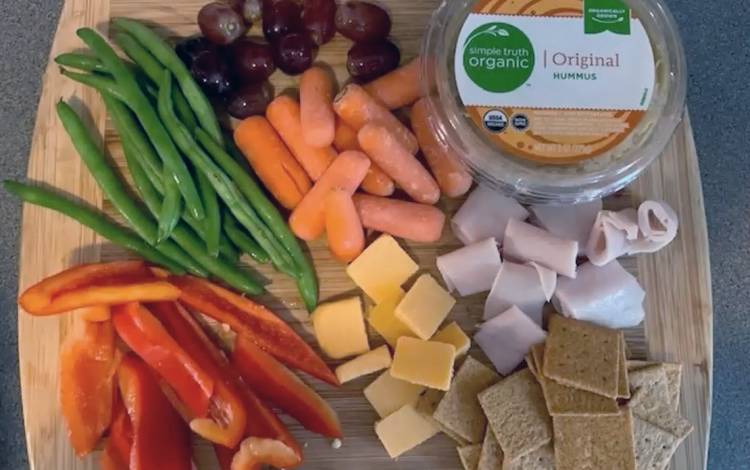 One of Jane Shealy's and daughter Maggie's favorite meals is "snack supper."
The two get out a giant wooden board and fill it with raw vegetables, olives, cheeses, cured meats and fruit and take it to the couch to eat while watching classic movies like "Pride and Prejudice."
"No cooking and very little dishes are involved," said Shealy, communications manager for the Duke Global Health Innovation Center. "Our cooking style is whipping things up in the spur of the moment."
LIVE FOR LIFE Dietitian Annie Scott recommends recipe-free meals that use three to five of the "2015-2020 Dietary Guidelines for Americans" food groups: vegetables, fruits, dairy, protein and grains. 
Scott's no-recipe meals include pasta with tomato sauce and frozen vegetables; stir fry with protein, rice and vegetables; and breakfast for dinner.
"Dinner doesn't need to be anything that takes a lot of time or is fancy," Scott said. "You can make a well-balanced meal in a matter of minutes." 
For her go-to, no-recipe meal, Kruse, the LIVE FOR LIFE dietitian, creates a mini pita pizza in about 10 minutes. She spreads tomato sauce, sautéed spinach, mushrooms and shredded mozzarella and microwaves or bakes it. 
"It wasn't a gourmet meal by any means, but I got it on the table fast," Kruse said. 
Use wilting greens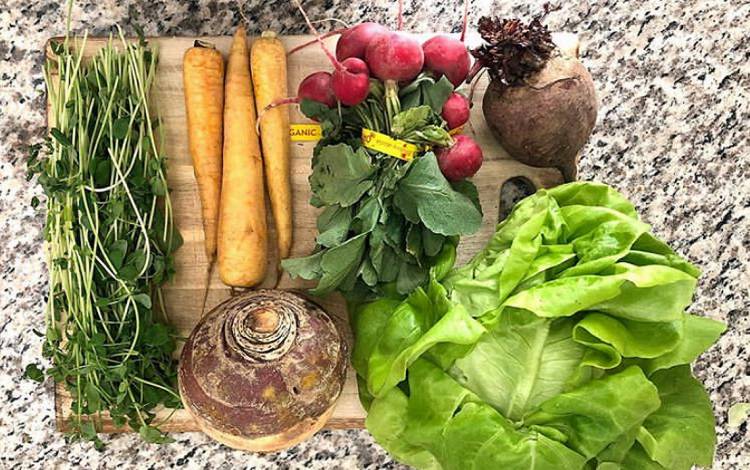 There are ways to save wilting greens, overripe bananas and cooked rice. 
Steaming or sauteing spinach, kale and collard greens that are on the verge of wilting brings the greens back to life. Store vegetable scraps – carrot and potato skins, outer layers of onions and celery – in a container in the freezer for vegetable stock. And very ripe bananas are always delicious in smoothies or pancakes.
"We're trying to keep our kitchen waste-free as much as possible because we're going to the grocery store less frequently," Kruse said. "We want to maximize the use of the things we do have."
Meal apps and resources

Use a meal app or website for inspiration when you're feeling short on cooking creativity.
Christine Tenekjian, a clinical dietitian for the Duke Diet & Fitness Center, recommends "Doctor Yum" to her clients. The website has a free tool called "Meal-O-Matic" to help you make meals with ingredients you have on hand. 
You choose what style of meal you want – stir-fry, curry, casserole, soup, pasta, salad or grain bowl – and the "Meal-O-Matic" guides you through how to make a flavorful meal with ingredients in your kitchen. 
"Doctor Yum shows you don't have to follow a recipe exactly to get a delicious dinner," Tenekjian said. "It educates you on the basic concept of cooking. It's like a choose-your-own-adventure recipe."
Scott, the LIVE FOR LIFE dietitian, enjoys "Supercook," "Fridge to Table," "Ready Set Eat," "Mealime" and "What's for Dinner." Each resource will provide a list of recipes based on ingredients you have, dietary restrictions and cook time.
"We can get in a rut and tend to use the same recipes over and over again," Scott said. "Sometimes it's nice to branch out and try different things."
Help us share the proactive and extensive work being done by all Duke community members during the COVID-19 outbreak. Send ideas, shout-outs and photographs here or write us at working@duke.edu.