Building Student Community in a Mostly Virtual Campus
In-person gatherings may be limited, but Duke officials and students are determined to create campus connections
As parents of new students started talking with Student Affairs officials, one of the most common questions wasn't about academics, classrooms or even residence halls. They wanted to know: How would their children be able to connect to other students when most coursework and extracurricular activity would have to be done virtually?
The good news is that both Student Affairs and academic officials were already working on this question. One theme during the summer discussions for the new semester was prioritizing the student experience and maintaining the importance of learning through building community with faculty, mentors and student peers.
"When we got that question from parents and students, we told them the truth," said Jordan Hale, director of new student programs in the Office of Student Affairs. "We told them patience is needed. We didn't want them to think it would be business as usual.
"But we also shared that we set up orientation and residential life to provide them with lots of opportunities to get to know each other. Our goal is to connect them in different spaces both in social events and more academic, learning events."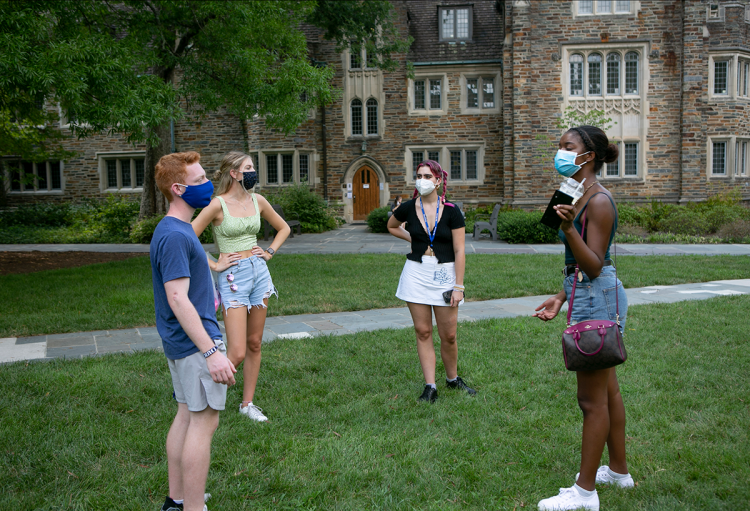 One example: New students were organized into "pods" of 55-60 students, determined mostly by residential hall: Students in Pegram Residential hall would be organized into the Pegram Pod. Some pods would also include new students who are living off-campus.
Student leaders involved with orientation and Weeks of Welcome (W.O.W.) will organize events and discussions for each of the pods to help them both learn about Duke and to get to know each other, Hale said.
There's no question the experience will be different because safety and public health measures place restrictions on the number and size of in-person gatherings.
But many tech-savvy students are already creating their own ways of making connections, Hale added. "Students are often ahead of us on this stuff," he said. "They communicating over Facetime and other tools."
"We are also focused on making sure students off-campus have all the information they need to be involved," Hale said. "We want them to know their peers on campus are participating and they want you to join."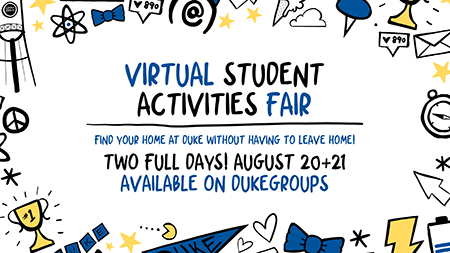 The virtual events have already started. Hale said more than 50 students joined in a Speed Dating Night event Sunday. The next several weeks will see a variety of streaming movies, wellness programs from Zumba to mindfulness, arts showcases, special Q&As and the Virtual Student Activities Fair on Aug. 20 and 21.
Other events will connect to intellectual life on campus, include a virtual talk by Chanel Miller, author of the summer reading book "Know My Name."
"We're doing social things, but there are also plenty of opportunities for academic engagement," Hale said. "As a university, we're always going to be doing these events. As the students come here to build community, we also want to show them what this university community is about."
Meanwhile, student groups are coming up with their own channels through which to connect to students. In fact, many are taking up the challenge with some enthusiasm.
Mi Gente, Duke's Latinx student association, is facing the loss of its meeting and event space in the Bryan Center. President Carlos Diaz told the Duke Chronicle the space was important for students to connect to other Latinx students and to feel safe in raising issues of concern to them.
"For many, myself included, this space was one of the only spaces on campus I felt completely comfortable," Diaz told the Chronicle. (Read story here.)
Diaz said Mi Gente is making plans for an active schedule of fun, inclusive virtual events, including game nights and movie nights. "While we recognize the importance of difficult conversations, we also hope that by incorporating some more lighthearted, fun programming, members will be able to find a break in their tough schedules to share a laugh together."