Keeping the Music Flowing in a Pandemic
COVID-19 threw the Music Department challenges, but students, staff and faculty stayed in tune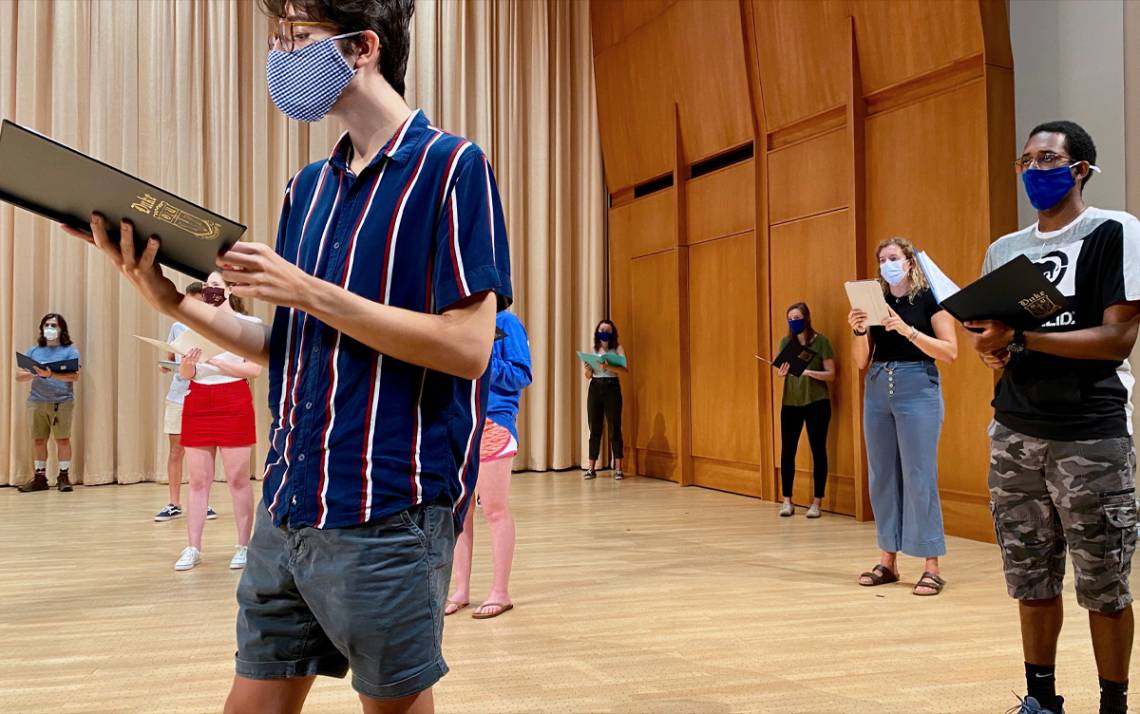 One evening this fall, Jonathan Bagg was walking on East Campus when he heard the music of a brass quartet coming from somewhere under the trees.
With the threat of COVID-19 pushing the student musicians out of rehearsal spaces in the Biddle Music Buildings, the outdoor serenade was a reminder that life in Duke's Music Department has been especially different.
"Clearly they were having the greatest time being outside," said Bagg, professor of the practice and chair of the Music Department .
Performing music outdoors is perhaps the most visible example of how the department is adjusting. Under normal circumstances, musicians practice in enclosed spaces so their sound can be contained. String instruments, percussion and pianos can still be played indoors with proper physical distancing, but wind instruments, which can spread virus-carrying aerosols, are especially problematic.
That's why students and faculty now practice wind instruments in a large open-sided tent near Baldwin Auditorium or, like Instructor of Music Susan Fancher and her saxophone students, outdoors underneath the Biddle Music Building's arches.
Fancher said her students, who are used to practicing with saxophones in private rehearsal rooms, have adjusted to playing their classical and jazz riffs within earshot of passers-by.
"Sometimes we're working on one thing, so we're not just playing a piece all the way through," Fancher said. "We might be doing something five or six times and kind of nitpicking it. That's not always the most fun thing to listen to. But nobody's complained."
Choral groups presented the biggest challenge for the department because singing together in enclosed spaces safely is difficult.
But on a recent Thursday evening, the 50 members of the Duke Chorale gathered virtually for a Zoom rehearsal, each box on the screen giving a peek into apartment living rooms, small dorm rooms and childhood bedrooms.
While most members were in Durham, others are scattered in places such as California and Singapore. It was well past dark in Durham, but one member had bright sunshine pouring through their window.
When the COVID-19 pandemic began, professor of the practice Rodney Wynkoop, who oversees the Duke Chorale, was unsure when he'd be able to work in-person with a choral group again. For most of the fall semester, Zoom rehearsals were as close as he could get.
"It's quite surreal," Wynkoop said. "Virtually every singer I know will say it's nothing like singing in person. But it's way better than doing nothing."
Because of its slight delay, Zoom doesn't work for group musical performances, where precise timing is essential. So, after warmups, when the group began working on songs, everyone was muted. Only Wynkoop's voice was heard as group members sang to only themselves.
"Singing on your own, you just have your own voice, you don't have anyone to harmonize with," said Duke Chorale member Julia Leeman. "In a choir, you feel so supported. You're able to tell a story together and I really enjoy that. Not being able to hear everyone is a little disheartening, but everyone is being optimistic."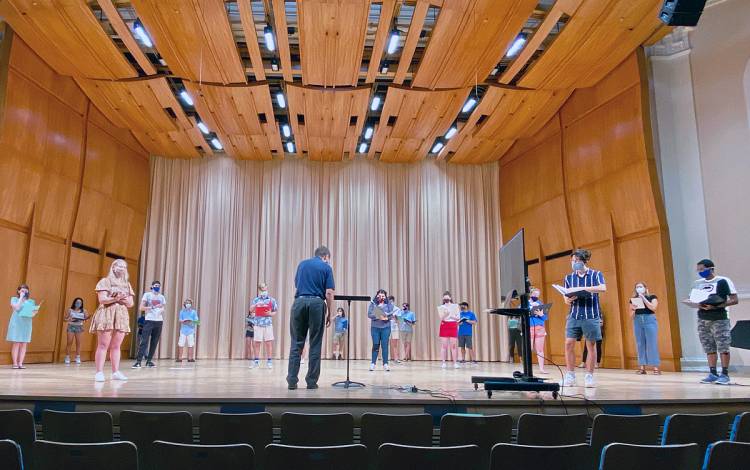 In early October, the Durham-based members of the Duke Chorale gathered for their first in-person rehearsal on the Baldwin Auditorium stage – with tight-fitting masks and standing 10-feet apart – to prepare for the virtual Family Weekend concert. When Wynkoop had them launch into the song "Peace I Leave With You," the beauty of the voices and the power of the moment left him awestruck.
"It was incredibly, incredibly moving," Wynkoop said. "And it didn't hurt that they sounded gorgeous."
While music has continued to flow from the members of the department, getting an outside audience has been a priority.
In a regular academic year, the department hosts around 100 performances of student and professional musicians. With campus events going virtual due to the pandemic, the department has created the Best of Biddle series of videos. With new ones released each Friday evening on the Department of Music's website, the series showcases performances by the department's students and faculty.
"I think it's really important," Bagg said. "Taking away our ability to perform is like taking our voice away. It's not just how we connect with the public, it's also how we connect with each other."
Help share the proactive and extensive work being done by all Duke community members during the COVID-19 outbreak. Send ideas, shout-outs and photographs through our story idea form or write working@duke.edu.