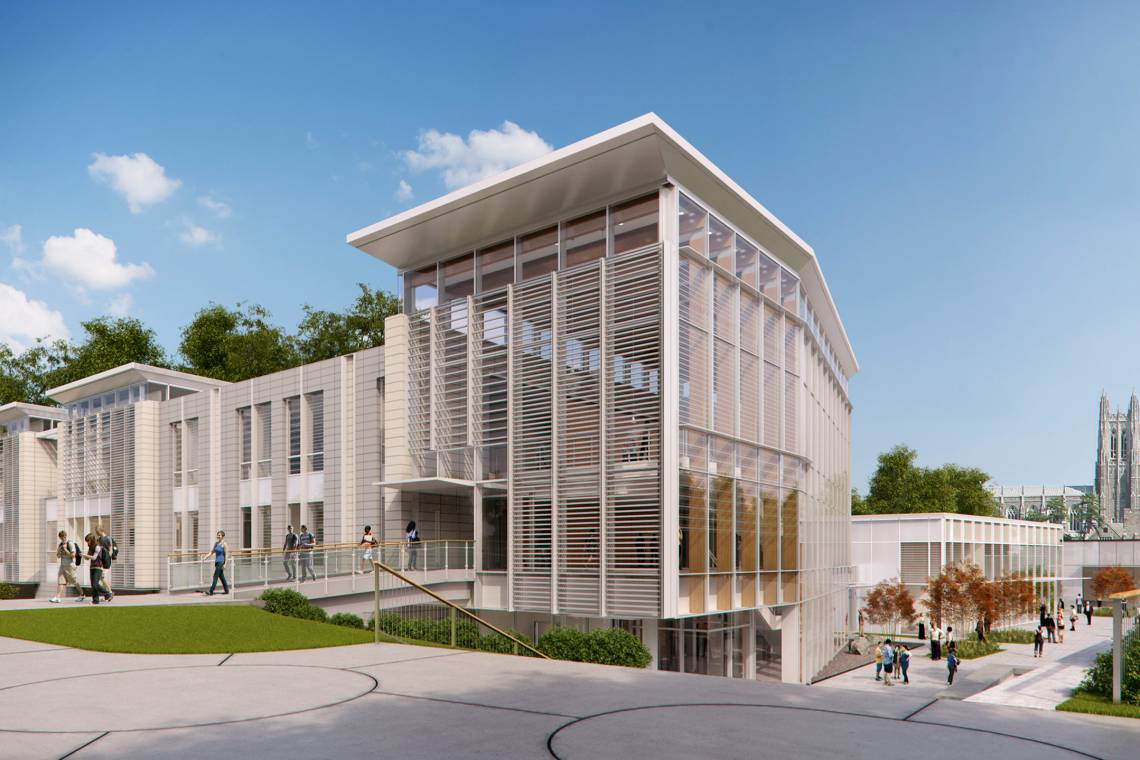 The newly constructed Duke Student Wellness Center opened its doors to students Tuesday, Jan. 10, on the corner of Towerview and Union, next to Penn Pavilion on Duke's West Campus.
At this time, Student Health on the second floor and Counseling and Psychological Services (CAPS) and the physical therapy unit on the third floor are open for business. The atrium, first floor and other areas of the building are still under construction and are scheduled to be completed by the end of January. At that time, DuWell, DukeReach, Nutrition Services, the Oasis Campus Center and the new campus pharmacy are expected to be ready for business. A meditation garden will open in March.
"This is the first time we've been able to consolidate all the student wellness resources and services in one location," said Sue Wasiolek, dean of students and associate vice president of student affairs, who oversees the resources housed in the new center.
The Student Wellness Center is capable of supporting broad and varied student needs, promoting self-care and providing students access to a comprehensive, integrated and simplified array of wellness options.
"With all of our health units in one place, we can now provide a holistic approach to student wellness," Wasiolek said. "Before, with units scattered across campus, it was much more difficult for students to get what they needed. This new building streamlines wellness for students."
CAPS Director Danielle Oakley echoed Wasiolek's comments. "If a student comes to CAPS, for example, but turns out to need a student health professional or a nutritionist or a service provided by DuWell, we can walk them down and make that happen on the spot," she said. "It's a very exciting advancement for serving students' full wellness needs."
The building was purposefully designed to create a positive physical environment that's both inviting and reflective of the wellness mission.
"The Duke Student Wellness Center is not just a place to go when you're sick. That's a mindset we want to change," said John Vaughn, director of student health. "This is a place to go—where you want to go—and learn to live well, take a yoga class or mindfulness course, continually expand your knowledge of how to care for yourself, interact with professionals or other students, or just hang out in a comfortable space."
"It's not your old doctor's office. It's a destination," he added.
The Student Wellness Center serves undergraduate, graduate and professional students throughout the building, and adds faculty and staff services at the pharmacy and physical therapy unit. Right in the heart of West Campus, the entire student community can receive expert care for current needs, access resources and counseling that promote ongoing wellness, and work together to support health and happiness for all.
For more information, visit studentaffairs.duke.edu/health-and-wellness.