Duke faculty, graduate students, community activists and SLIPPAGE artists conveyed a message about inequality, redlining and gerrymandering through dance and multimedia Friday and Saturday.
The group came together during a special presentation at the brand-new Rubenstein Arts Center that was a part of Moogfest 2018. With the use of custom-designed "live-feed sonification" and wearable technologies, the dancers delivered an emotion-filled Afro Futurist experience to the audience.
SLIPPAGE Director Thomas DeFrantz, a professor of African and African American studies, said the dancing, music and use of technology coincides to animate the story they want the audience to feel.
"We're thinking about very serious issues that focus around political gerrymandering, racial divisions and redlining. We're able to deliver the messages on how we hear and can learn from each other to create a better future."
-- Tommy DeFrantz
"The music gives us the energy and inspiration we need while dancing," DeFrantz said. "We're thinking about very serious issues that focus around political gerrymandering, racial divisions and redlining. We're able to deliver the messages on how we hear and can learn from each other to create a better future."
The dancers were inspired by Sabar: a traditional dance in Senegal, black social dances, post-modern dances and other forms of neo-African dance.
The atmosphere filled with an eerie tension underscored by the roar of African drums and dark, dense music. Blue, green and red lights draped the walls of the room as the mood shifted between performances.
Quran Karriem, a Duke PhD candidate in the Computational Media, Arts and Culture graduate program, was in charge of the music and building the devices dancers wore to be in sync with the lights.
Karriem said the technology mimicked the sensors in a cell phone that alert users when they're turning their phone.
"I don't have name for the devices yet, but they're basically an accelerometer and gyroscope, which are the same kind of sensors in your phone that lets you know you're turning it," said Karriem. "It's connected to an internet transmitter, so I can track their movement in real time and translate that to sensitized sound."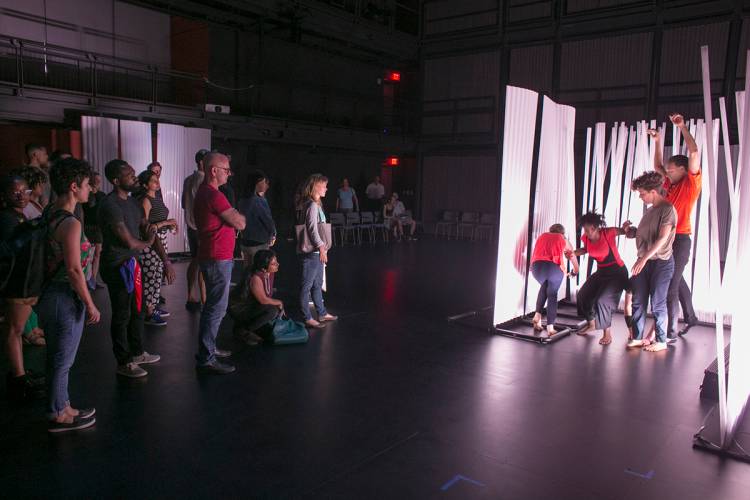 One of the performances included participation from audience members who were asked to stand up and reflect on an image of themselves.
Live video footage mirrored the crowd on tall movable panels that were used to section off different areas of the room. Each section involved dancers who used emotions such as sorrow, happiness, and fear to help illustrate racial division. Confusion glazed across many faces as the dancers placed audience members in their designated spots.
After an instantaneous survey on how the overall performance made them feel, 33 percent of them said they did not expect the performance to go the way it did.
"I had no idea it would go like this," said an audience member who identified herself as Jeannelle. "I didn't expect it. Some of the interactive stuff was a little awkward, but I enjoyed the involvement."
Two students who wandered into the program explained the vibe they received from the messages left them feeling "unsettled and alarmed" but engaged. They said they'll come back next year.
This is the first time a Duke campus event has been included in Moogfest, the multi-day music, art and technology festival that occurs every year in Durham. You can sign up to find additional details about next year's festival here.
In addition to the two performances at The Ruby, DeFrantz and Duke students also participated in two panel discussions during the festival that were created in partnership with the Hayti Heritage Center and the Franklin Humanities Institute. Saturday morning's session was called "Interfaces: AfroFuturism, Performance, Technology," a series of lightning talks and discussion around questions of performance and technology. In the afternoon, "Building Wakanda: Afro+Futures of Durham and Beyond" brought together planners, artists, scholars and activists to explore a vibrant future "brimming with Black creativity in the Durham of 2068 and beyond!"
Five Duke graduate students also presented informal "pub talks" in a Moogfest series called "Duke Research Café" on Friday and Saturday at the Bullpen ATC, a brand-new brewpub next to the Durham Bulls Athletic Park. Topics touched on were bacterial engineering, embryonic development, rhythms of the brain, regenerative medicine and electrical brain interfaces. (In the video above, Duke student Ashley Williams makes her presentation.)
In a separate session, Duke Professor Mark Anthony Neal interviewed rap legend KRS-One.