Blue Devil of the Week: Leading Safety for the Human Vaccine Institute
Scott Alderman ensures employees and students are safe when handling potentially infectious materials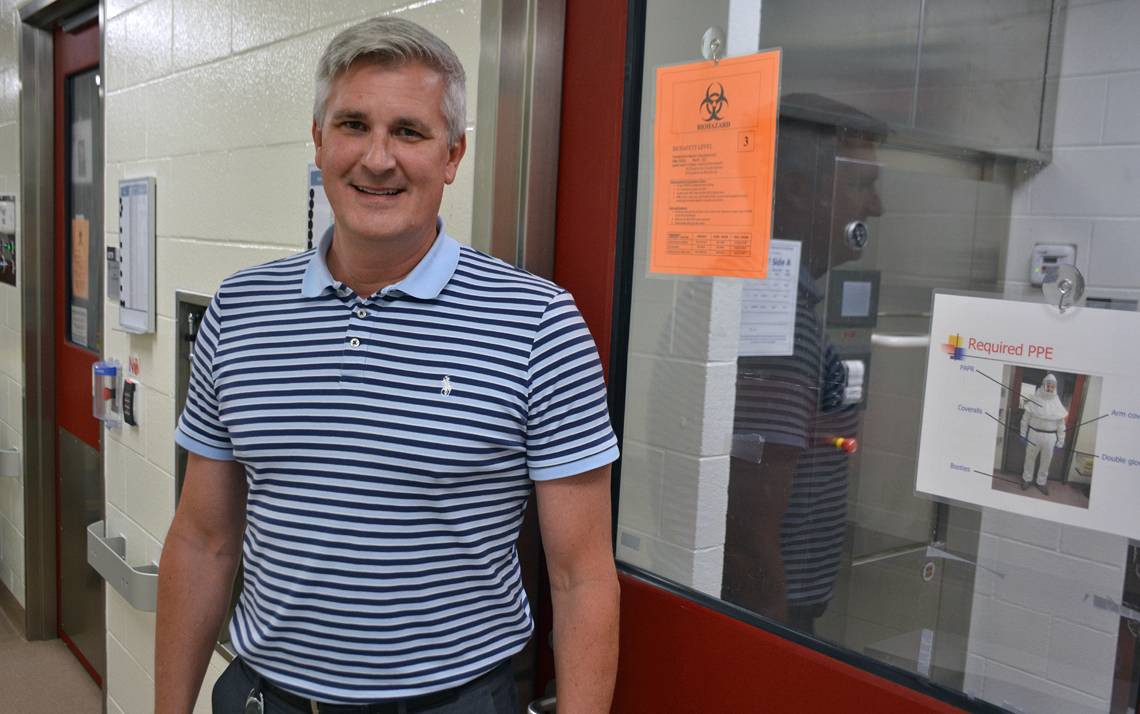 Name: Scott Alderman
Title: Director of Safety for the Duke Human Vaccine Institute
Years at Duke: 26
What he does: Alderman is responsible for overseeing the Duke Human Vaccine Institute's safety program, which is scattered throughout six on-campus buildings and includes approximately 240 employees.
Much of Alderman's work is in the Global Health Research Building, Duke's only research facility that is approved for work involving infectious agents that require biosafety level-3 containment, meaning work involves microbes that can spread through inhalation.
Alderman manages a team of seven people who monitor safety compliance throughout the Duke Human Vaccine Institute on a daily basis to make sure tools are properly disposed and cleaned, hallways are clear of obstacles and safety materials are correctly worn.
He also oversees the training process for new employees, who are required to demonstrate proficiency in handling harmless materials like saline before handling infectious agents in the lab.
"I was drawn to safety in the academic setting because I enjoy working with professionals and students from many different disciplines coming together to discover ways to better health, " Alderman said. "I enjoy playing a role in that process."
What he loves about Duke: Alderman greatly appreciates the continuous advice and mentorship he's received during his years at Duke.
Wayne Thomann, director of Duke Occupational & Environmental Safety, and Barton Haynes, the Frederic M. Hanes Professor of Medicine, taught Alderman to always encourage employees to report minor mistakes and accidental breaches from safety protocol.
"Even something as simple as accidentally spilling a small amount of material down the side of a test tube, we can use that example as a teaching opportunity to prevent something more serious occurring in the future," Alderman said.
A memorable time at Duke: Alderman remembers his oldest son Drew, now 17 years old, being born at Duke University Hospital on Oct. 7, 2001.
"There were so many emotions that day, including anxiety about being a first time parent and tears of joy after hearing him cry out loud for the first time," Alderman said. "All the nurses and physicians were so skilled and incredibly caring."
Favorite object in his office: Situated above Alderman's desk is a poster of Dean Smith.
"I grew up a Tar Heel fan and got my master's degree from UNC," he said. "I get a lot of grief throughout the year but especially during the basketball season."
Best advice received: "My parents taught me from a young age to treat others fairly and with respect," Alderman said. "Even if someone's actions might be upsetting."
First-ever job: Alderman worked as a clerk at a Texaco Food Mart in Hillsville, Va.
"The store was located right off I-77 and was really busy during the summer months," he said. "I didn't make much money, but it taught me to always be polite and patient when working in customer service."
Something most people don't know about him: Alderman loves to travel.
His family took a trip to Rome, Florence and Venice last summer.
"I ate pizza and pasta every day, but never got sick of it," Alderman said. "I really appreciated the quality of the food."
Nominate a colleague to be the next Blue Devil of the Week.