Blue Devil of the Week: Learning How Bodies Function Under Pressure
Role with Duke's hyperbaric medicine program takes Richard Moon to great heights
Name: Richard Moon
Title: Professor of Anesthesiology, Professor of Medicine, Pulmonary, Allergy and Critical Care Medicine, Medical Director of Center for Hyperbaric Medicine and Environmental Physiology
Years at Duke: 35
What he does: Moon said he's long been fascinated by how the human body functions in extreme high- and low-altitude environments. When exposed to swings in pressure, the blood and tissue behaves differently in ways that can harm and heal.
Moon has spent nearly four decades at Duke studying how and why that happens. In addition to his role as an anesthesiologist at Duke University Hospital, Moon spends a few days every month working with patients at the Center for Hyperbaric Medicine and Environmental Physiology in the basement of Duke Clinic.
The 50-year old facility treats patients with stubborn wounds by exposing them to high-pressure, oxygen-rich environments. The treatment results in more oxygen in the bloodstream and thus potentially improved healing capabilities.
"I'm responsible for seeing them before and after the therapy," Moon said.
He also does research. Among the recent topics he's tackled are refining procedures for dealing with decompression sickness while at a high-altitude and developing safety systems for divers using rebreathing systems which infuse oxygen into exhaled carbon dioxide so it can be breathed again.
He also helped with an experiment that studied climbers on Mount Everest. As part of the study, he twice traveled to Mount Everest's base camp, which is 17,000 feet above sea level.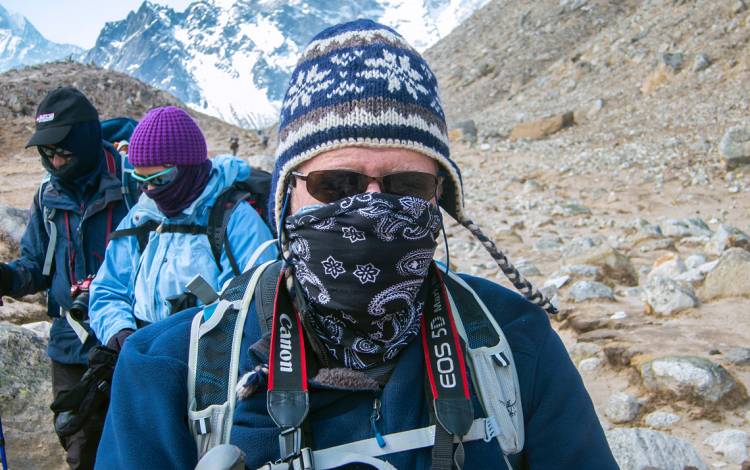 "It was a lot of fun," Moon said of the experience. "It's hard to move without getting short of breath. What would not be a problem at sea level takes a lot of effort there."
What he loves about Duke: Moon's history with Duke dates to the 1970s, when he had the first of two fellowships with the Duke University School of Medicine. When he was offered a spot on the faculty in 1983, he gladly took it.
A major reason he jumped at the opportunity was that he'd seen how Duke treats research.
"What I love about Duke is the total dedication to science and the whole institution being built around both patient care and pushing the barriers of knowledge," Moon said. "It's very easy to do research here. The environment is conducive to doing it."
A memorable day at work: In 1980, a young Swiss woman arrived at the Center for Hyperbaric Medicine and Environmental Physiology for treatment after a diving accident left her paralyzed. Decompressing too quickly had damaged her spinal tissue.
After receiving roughly 200 hours of treatment in the hyperbaric chambers, she was eventually able to walk again.
For Moon, who was a fellow at the time, it underscored the facility's potential.
"I had no part in her care, but I was eager to learn about it," Moon said.
Meaningful objects at work: With seven hyperbaric chambers the F.G. Hall Laboratory, home to the Center for Hyperbaric Medicine and Environmental Physiology, is an impressive space. Filled with steel chambers that look like a combination of submarines and spacecraft, the technology can simulate environments as extreme as 2,000 feet below sea level.
The opportunity to use the chambers for treatment and research is something Moon doesn't take for granted.
"You can't do the stuff we do anywhere else," Moon said.
First ever job: Moon's first job came when he was a medical student at the University of Toronto in the early 1970s. He assisted in an immunology lab at Toronto's Princess Margaret Cancer Centre, collecting and analyzing blood from leukemia patients.
The particular avenue of research he was helping with eventually hit a dead end. But he still thinks of the experience often.
"That was where I realized what it took to investigate something and answer a question," Moon said. "You can't just come up with an idea and think it's going to work."
Something most people don't know about him: When he was in college, Moon learned to scuba dive. It was a hobby he hoped one day to enjoy with his wife, Helen. But Helen never picked up a taste for it.
That didn't end up being a problem, since the two eventually found an activity they can enjoy together in cycling.
"We like to ride around the neighborhood and on the American Tobacco Trail," Moon said. "That's a lot of fun."
Is there a colleague at Duke who has an intriguing job or goes above and beyond to make a difference? Nominate that person for Blue Devil of the Week.