Large Representation of Duke Students, Alumni at Clinton Global Initiative University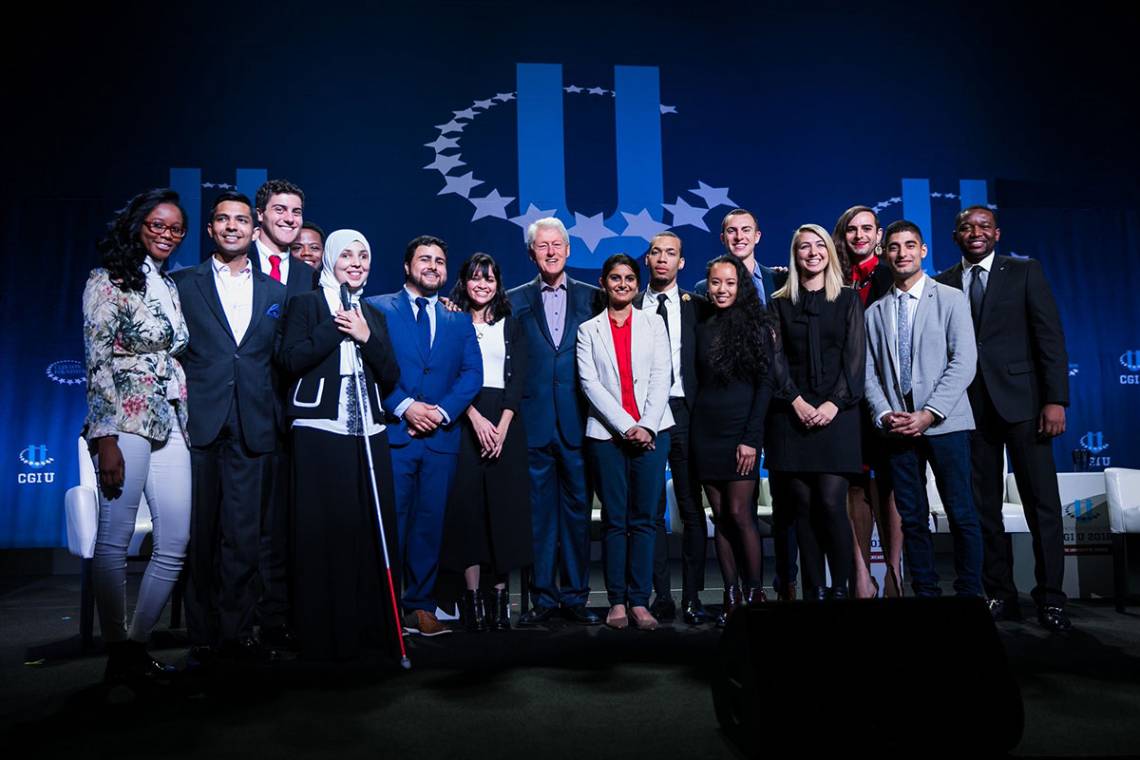 Duke students and recent alumni participated at the 11th annual meeting of the Clinton Global Initiative University (CGI U), which took place Oct. 19-21 at the University of Chicago. The meeting, hosted by Former President Bill Clinton and Chelsea Clinton brings students together to meet with university representatives, topic experts, and others to discuss and develop solutions for pressing global challenges.
The Clintons launched the Clinton Global Initiative University in 2007 to engage the next generation of leaders on college campuses around the world. Through the CGI University Network and other opportunities, more than $750,000 in funding was given out to selected CGI U 2018 students to help them turn their ideas into action.
This year, 12 Duke students were accepted after applying with their Commitment to Action and nine were able to attend the conference/meeting. Here are some of the highlights from the weekend:
Three of the 15 outstanding CGI U alums selected for CGI U Honor Roll were from Duke:

Christine Schindler, E'15 is helping break the glass ceiling for women in STEM fields. She spoke on stage about for her work in promoting girls in STEM fields with the national nonprofit Girls Engineering Change.
Suhani Jalota '16 for her work as the founder of the Myna Mahila Foundation, which employs women from urban slums in Mumbai to manufacture and sell affordable sanitary pads back into their communities for the purpose of improving menstrual hygiene, providing stable employment and building a trusted network.
Jacob Tobia '14 spoke on stage about their inspiring activism for the LGBTQ community across the nation. They highlighted his "Run for Shelter" and why they ran across the Brooklyn Bridge in high heels.
At one meeting session, Tobia had a sit-down interview with Bill Clinton in which they discussed their work for the LGBTQ community.
Jalota presented on a panel for a working session called "Keeping Adolescent Girls in School". Her Myna Mahila foundation was the only non-British charity that Megan Markle listed for wedding donations. Jalota also is on the Forbes 30 under 30 list in Asia for social entrepreneurs. She also recently received the Mother Teresa Award, which recognizes individuals and organizations promoting peace, equality and social justice.
Two alumni, Jay Sullivan '16 and Yitaek Huang E'16 were invited to attend the meeting as commitment mentors to the Duke students.