Duke Chapel to Hold Four Christmas Eve Services
Services also broadcast live on chapel website, YouTube and Duke Hospital TV system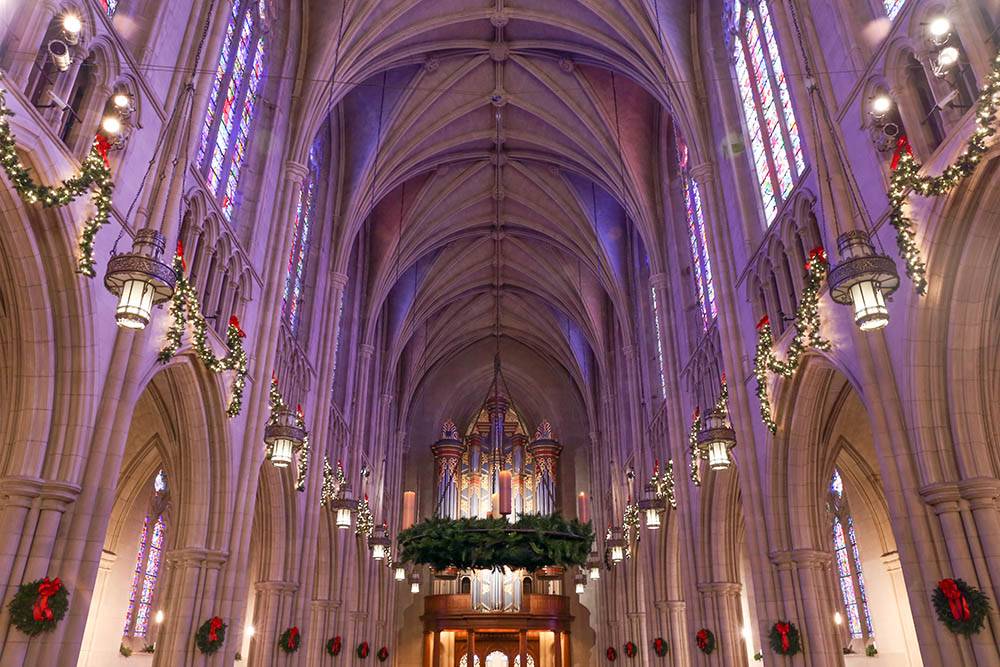 Duke University Chapel will hold Christmas Eve worship services at 2 p.m., 4 p.m., 6 p.m. and 11 p.m. on Monday, Dec. 24.
All the services are free and open to the public. Free parking is available in the Bryan Center Parking Garage with overflow parking in the Chemistry Lot; ADA parking and drop off will be available in the Bryan Center Parking Lot.
Attendees are asked to enter the chapel from the main front doors or else the handicapped entrance facing the Divinity School. They should plan to arrive early as seats often fill up and no overflow seating will be available.
"Christmas is a celebration characterized both by grandeur and intimacy, transcendence and immanence," said the Rev. Luke A. Powery, dean of Duke Chapel. "We boldly celebrate the glory of the eternal Word who 'became flesh and lived among us,' but who did so by drawing near to us as a tender little baby born to peasant parents who were far from the center of political and religious power.
"At Christmas, we are reminded that in Christ, we meet the grand intimacy of God and touch the tenderness of transcendence," Powery said.
The chapel services on Christmas Eve are:
-- 2 p.m. A family-friendly Christmas Eve Service for Children with hymns and storytelling;
-- 4 p.m. A worship service that includes the Durham Children's Choir and a sermon from Powery;
-- 6 p.m. A worship service with Holy Communion that includes the Amalgam Brass Ensemble and a sermon from Powery;
-- 11 p.m. The chapel's Service of Lessons and Carols that includes a community choir, Scripture readings and Christmas carols.
The final Christmas Eve service at 11 p.m. will be broadcast live on Spectrum News on channel 14.
A live sign-language interpreter will be present at the 4, 6 and 11 p.m. services, with seating reserved in the front-right of the main sanctuary for people using sign language.
For those who wish to participate in the Christmas Eve community choir that sings during the 11 p.m. service, there is a required open rehearsal at 9 p.m. on Monday, Dec. 24.
Duke will show all four of the services live on the Duke Chapel website and YouTube channel, as well as on channel 12 of the Duke Hospital TV system. The 11 p.m. service will be broadcast on WDNC Radio 620 AM.
Additionally, UNC-TV will rebroadcast last year's Lessons and Carols service on its channels in the days leading up to Christmas. Check the UNC-TV program guide for specific days and times.
The chapel is open to visitors daily from 8 a.m. to 10 p.m. until Christmas Eve. The chapel is closed on Christmas Day. After Christmas, the chapel will keep these hours: Dec. 26-30 open 8 a.m.–10 p.m., Dec. 31 and Jan. 1 open 8 a.m.–5 p.m., Jan. 2–4 open 8 a.m.–8 p.m., Jan. 5 resume regularly daily schedule of being open 8 a.m.–10 p.m.
Please note that the chapel is sometimes closed for private events, including most of the day on Saturday, Dec. 29. Before planning a visit to the chapel, please confirm the building schedule at chapel.duke.edu or by calling (919) 681-9488.