At Duke's MLK Celebration, a Vision for a Society Free of Sexual Violence
'Me Too' movement founder Tarana Burke draws inspiration from women pioneers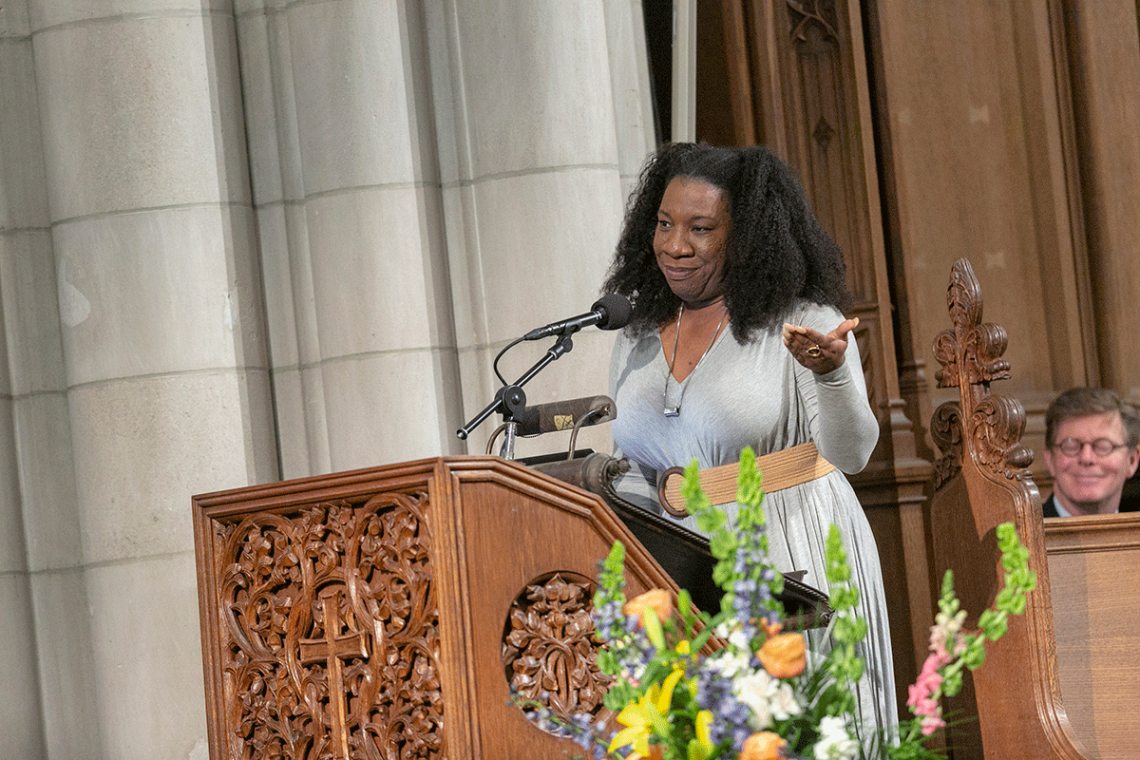 "Me Too" movement founder Tarana Burke told a rapt Duke Chapel audience of about 1,200 people Sunday that women's contributions to the civil rights movement, often left out of retellings, have inspired her vision for a movement to "interrupt sexual violence wherever it rears its head" and put the focus back on survivors and on the healing of communities.
In her keynote speech at Duke's annual Martin Luther King Jr. commemoration service, Burke shared the stories of women like Amelia Boynton Robinson and others who were "actively creating the space" for what was to come. Robinson wrote the letter to King urging him to come to Montgomery to lead the bus boycott. Rosa Parks was "most importantly a peer to Dr. King," as well as an early anti-rape activist, Burke noted.
"Although we lionize him now … but he was selected for leadership – selected by black women," Burke said. "He could not have done what he did without women's leadership."

It was a lesson in American history that Burke is well-suited to tell, having spent time in Alabama listening to the stories of civil rights "foot soldiers," working at the National Voting Rights Museum in Selma and serving as a consultant for the 2014 Hollywood movie "Selma."
Burke also shared some of her own history laying the groundwork for a movement that was initially created to help young women of color who survived sexual abuse and assault. She said she was 22 years old when she heard a 13-year-old girl tell her about being abused by her stepfather. "All I could think to say was 'this happened to me, too.'"
"We won't survive if we don't do everything we can to change society's relationship to and understanding of and complicity with sexual violence."
-- Tarana Burke
Burke, the senior director at Girls for Gender Equity, coined the phrase "me too" in 2006 to raise awareness of the pervasiveness of sexual abuse and assault in society. It grew into a broader movement following the 2017 use of #MeToo as a hashtag after the Harvey Weinstein sexual abuse allegations.
She said 2018 was a marquee year with "me too" going viral, but noted her concern that people's commitments to civil rights might flag after several milestone anniversaries, including the 50th anniversary of King's assassination.
The theme of this year's Duke commemoration, which continues this week, is "Why Words Matter: From Dissent to Dialogue." Burke invoked King's words in her response to the question: "When will we go back to normal."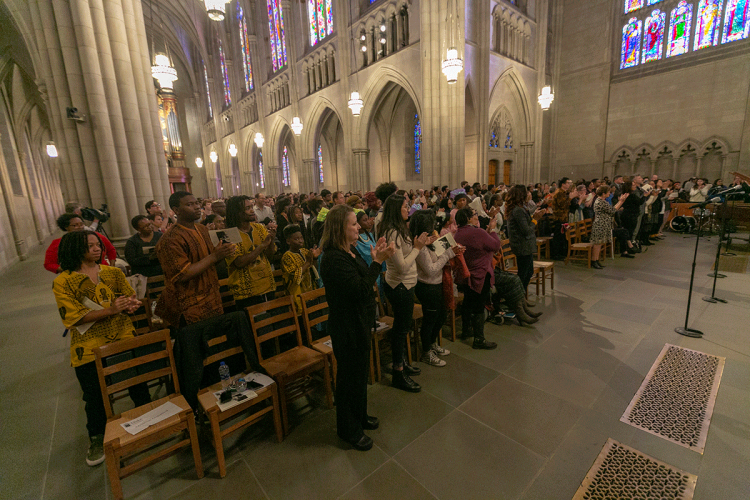 Burke said many people don't understand what being a survivor of sexual assault feels like. "We carry the trauma of survival in our bones," she said.
The #MeToo movement is trying to address a complex knot of law, private behavior and workplace conduct.
"We won't survive if we don't do everything we can to change society's relationship to and understanding of and complicity with sexual violence," she said to loud applause.
Duke sophomore Resilience Williamson of Duke Spoken Verb received a standing applause after she shared lines of a poem lamenting why a woman "is always a canvas for a man's plans" and voiced a plea for "reclaiming my narrative."
Duke President Vincent E. Price, in remarks opening the service, called on the audience to recommit to serve their communities, and highlighted the contributions of Duke students and the nearly 200,000 graduates "from Kinston to Kuala Lumpur" who are working to make the world a better place. "We're called upon to reflect on our role in the world in these troubled and troubling times," he said.
Durham Mayor Steve Schewel thanked Price for his decision to remove the damaged statue of Robert E. Lee from the entrance to the chapel and said it was compelling to be standing in "a site of conscience" in the long civil rights struggle. He also congratulated UNC-Chapel Hill Chancellor Carol Folt for her "courageous action" to remove the base of the Silent Sam Confederate monument on her campus.
Schewel said he was proud of the process that led to a committee's unanimous recommendation to place Durham's toppled and crumpled Confederate statue inside a room of the old county courthouse where no one is forced to see it again. He said the city's upcoming 150th anniversary celebration is the perfect time to consider how best to "honor our civic values" with new monuments. "Let's apply a racial equity lens to all public decisions," he said.
Alexus Roane of Carrboro, a recent UNC graduate who came early to make sure she would find a seat, said afterwards that she appreciated Burke's acknowledgement of the work of black women leaders and "the importance of seeing that these movements are always a part of something bigger, which is working for a better society to live in."
Sarah Briggs, a Duke junior from Sanford, N.C., said it was incredible to hear Burke and was pleased to see so many students turning out for her speech. "I'm really glad that Duke brought her to campus," Briggs said, adding sexual assault is a problem at Duke.
The chapel service, archived here, is part of a week-long commemoration that also includes a talk on Tuesday by musician and Emmy-Award winning producer Pierce Freelon at the Duke Clinical Research Institute, a talk on Wednesday by writer and civil rights activist Shaun King and an event to package 100,000 meals for the Inter-Faith Food Shuttle.
For more details, click here.