Meet the Greeters at Campus Landmarks
Duke community members at front desks are encyclopedias and can-doers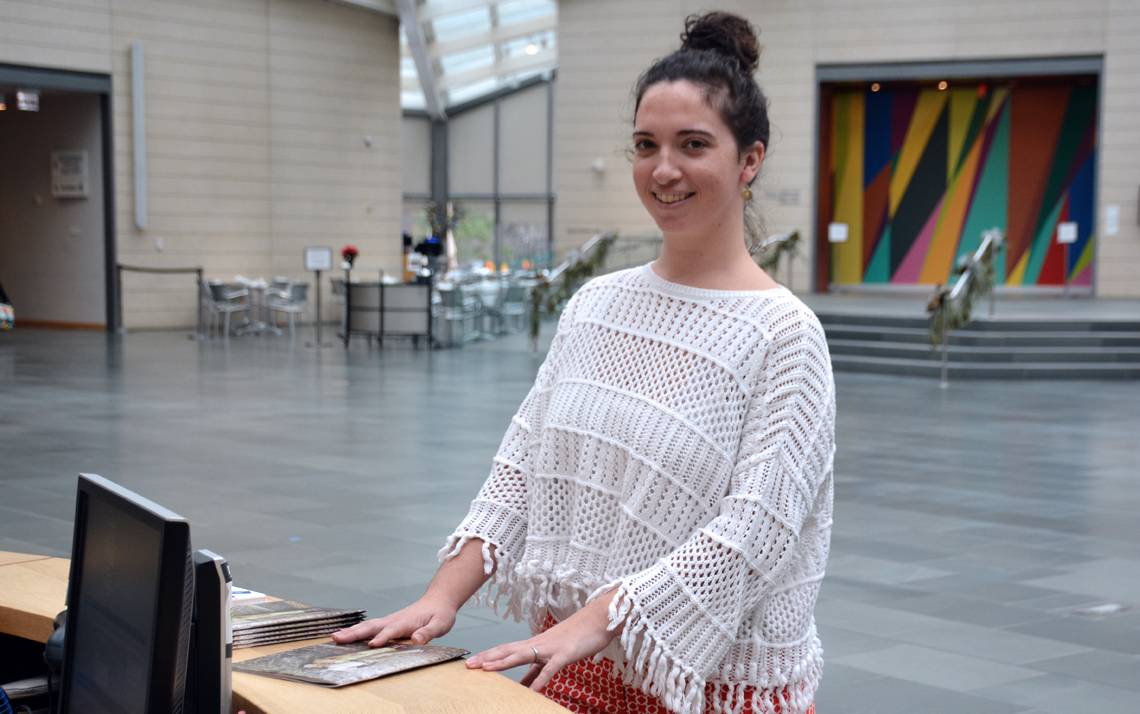 On a cold December morning, Myra Weise turns her attention from her computer to a mother and young child at the entrance of the Nasher Museum of Art.
Weise stands, greeting them with a warm smile.
"Would you like to go on a scavenger hunt?" she asks the boy.
It's Weise's job as visitor services manager to anticipate the needs of the 60,000 guests who visit the Nasher Museum annually. If she sees a visitor with a child, she offers a family guide with a scavenger hunt to find paintings.
She's among the Duke community members who work the front desk at Duke's campus landmarks. They are a Swiss Army knife of psychics, encyclopedias and greeters. Whether it's the towering Duke University Chapel, the busy waiting room at Lenox Baker Children's Hospital or Sarah P. Duke Gardens, the people at front desks ensure visitors have a positive experience.
"One of the main responsibilities of this job is to be one step ahead of needs and questions," said Weise, visitor services manager for the Nasher Museum. "We don't want anything getting in the way of guests experiencing the artwork."
Meet some other campus greeters.
Wanda Cobb
Visitor Relations Assistant
Duke University Chapel
Wanda Cobb's eyes dart to the narthex of Duke University Chapel as four guests enter. Her fingers move almost as fast as her eyes as she clicks a small silver counter four times bringing the total sum of visitors so far that day to 107.
Sitting at a front desk, positioned slightly to the right of the entrance, Cobb maintains constant vigilance around the number guests entering the Chapel during her shift. About 250,000 visit the Chapel each year.
"This is not only a sacred place but a very active tourist spot," said Cobb, visitor relations assistant. "People are coming from all over the world. It's important to make sure everyone's experience is unforgettable, no matter if they're coming here to worship or view the architecture."
During her time at the desk, Cobb answers questions about the height of the Chapel (210 feet) and keeps pews orderly. She waters flowers and reminds visitors to be quiet and respectful as guests often visit for reflection.
She recalled speaking to a woman who visited the Chapel in 2018 after seeing it from her husband's room at Duke University Hospital.
"It was such a relief for her to get away from the stress of the hospital," Cobb said. "I try to remember that every time I interact with someone who walks through the door. A smile and a kind greeting structure can go a long way in helping someone find sanctuary during a chaotic time."
Patrick Hatch
Patient Service Associate
Lenox-Baker Children's Hospital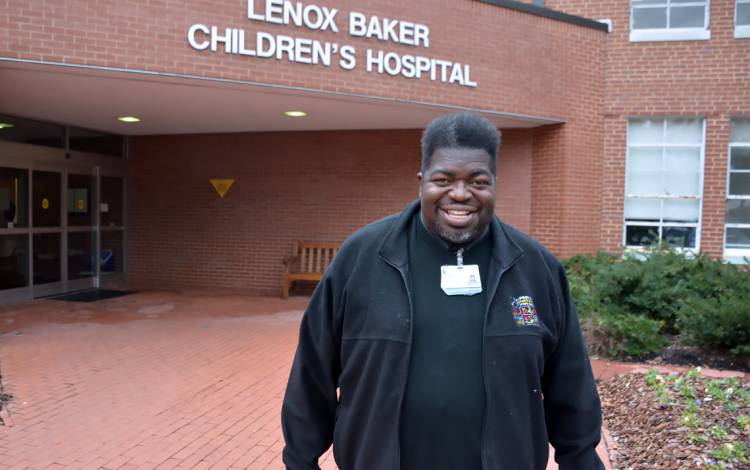 As Patrick Hatch checked a patient in at Lenox Baker Children's Hospital, the girl's mother asked him if did anything special for New Year's Eve.
"I had every intention of staying up," Hatch replied. "My nephews kept saying 'You can do it, Patrick. You can do it.' I was out like a light by 7 p.m."
His short story elicits chuckles from the patient and mother. Over the next hour, he continues to greet anxious patients and families with a smile.
"Hi, I'm Patrick, how can I help you?" he asks.
Hatch is the first point of contact for anyone walking into the hospital, so he wants everyone to feel welcome and safe.
"A lot of people are very tense and frustrated when they come in," said Hatch, who has worked at the hospital for 10 years. "It goes a long way to make eye contact with people as they come in the door and to come across like you're happy to see them and want to help."
Hatch's greetings extend to the children who often stand behind their parents at the front desk. He makes eye contact with each guest and changes the inflection of his tone. He says children are more responsive to his voice in a higher octave.
Hatch also sees patients off. He schedules their follow-up appointments and finds the contact number when patients are referred to another clinic.
"I don't have medical credentials," Hatch said. " I can't do what some of these wonderful nurses and doctors can do, but I can support patients with information and kindness. It is extremely gratifying to see how providing a warm and receptive environment can change a person's day."
Amy Lambert
Desk Receptionist
Sarah P. Duke Gardens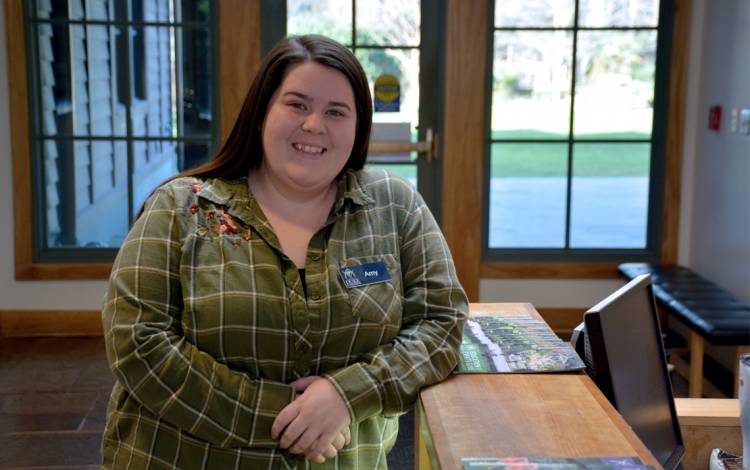 Amy Lambert has become somewhat of an expert on what's in bloom at Sarah P. Duke Gardens.
She knows the vibrant red winterberries are on display in January, the pink of the cherry blossoms in April and the multi-hued waterlilies in summer and fall. Her knowledge of flora is a side-effect of working the information desk at the Doris Duke Center in Duke Gardens, which sees about 375,000 visitors each year.
"Every day I'm asked by visitors what's in bloom," said Lambert, a second-year graduate student in the Duke University Divinity School. "I try to familiarize myself with as much of what's going on in the gardens as possible so I can quickly point guests to areas of interest."
Lambert grew up gardening with her family in Mooresville and gravitated toward the Gardens shortly after starting graduate school in 2017. She knew a work-study job at Duke Gardens would be a perfect fit for her green thumb.
At the start of each shift, Lambert checks the gardens' calendar to see if any major events are taking place and stocks the front desk with maps and visitor guides. The rest of Lambert's day is filled with questions about Doris Duke, directing guests around the Gardens and telling people what's in bloom.
"Duke Gardens is an oasis for people to forget about everything else going on in the world," Lambert said. "If I can contribute to that by having a bright attitude and smiling face then it's a great day for me."
Got another campus greeter in mind? Let us know here.
Have a story idea or news to share? Share it with Working@Duke.