Duke Chapel Student Preacher Feb. 17 to Connect Scripture to U.S. Border Trip
Janie Booth is an art history major from Charlotte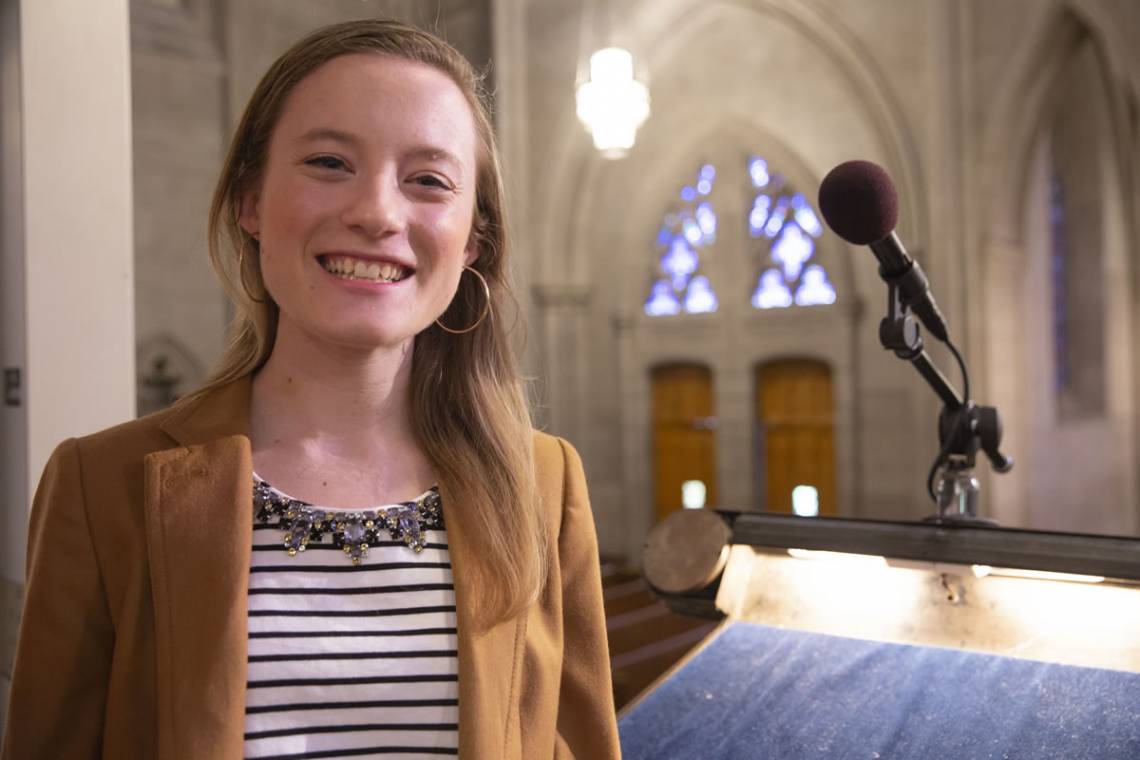 Duke senior Janie Booth is this year's Duke University Chapel Student Preacher.
Booth, an art history major from Charlotte, will deliver her sermon during Duke Chap
el's 11 a.m. worship service on Sunday, Feb. 17.
Her sermon is based on a section of the sixth chapter of the Gospel of Luke, which describes Jesus coming down from a mountain to proclaim a series of blessings and woes.
"Jesus gives us instructions that turn our lives upside down," Booth said about the sayings of Jesus that include "Blessed are you who are poor, for yours is the kingdom of God" and "Woe to you who are rich, for you have received your consolation."
As part of the Sunday morning worship service, Duke will broadcast the sermon live on YouTube, WDNC Radio (620 AM), channel 12 on the Duke Hospital TV system and channel 110 of the Duke Campus Vision TV system.
Booth was selected to be the 2019 Student Preacher by a committee convened by Duke Chapel.
"Janie's sermon is thought-provoking, well composed, and, ultimately, faithful to the Scriptures and to the calling of Jesus," said the Rev. Bruce Puckett, assistant dean of Duke Chapel. "She invites those listening to pay attention to how Jesus turns our expectations upside down while meeting us in the everyday, level places of our lives."
For Booth, there is significance in the context of Jesus coming down a mountain to deliver his Sermon on the Plain.
"It makes me think of my own experiences coming down from mountains, so I leaned into that," she said.
At the beginning of January, Booth and other students in the Duke Wesley campus ministry visited the U.S.-Mexico border outside of Tucson, Arizona. While there, they walked a mountainous desert trail traveled by migrants. Along the way the students left jugs of water at humanitarian aid stations. During another part of the trip, which was funded in part by Duke Chapel, they met with migrants who had made the trek and heard about the hardships and hopes of their journeys.
"If the message of the Sermon on the Plain were delivered by Jesus today, it would take place in the land around the border," Booth plans to say in her sermon. "Like the crowds assembled on the plain in Luke's Gospel, these immigrants had assembled on the mountain in order for their wounds to be healed and to hear promises of good news."
Booth is the student pastor for Duke Wesley and a Duke Chapel Scholar. She is also president of Duke Chorale and a member of the student board of the Nasher Museum of Art.
Building on her experience with the Nasher and her art history major, Booth is seeking to gain further experience in the museum field after graduating this spring.