Blue Devil of the Week: The Leading Role at Full Frame
Deirdre Haj leads the Full Frame Documentary Film Festival, which runs April 4-7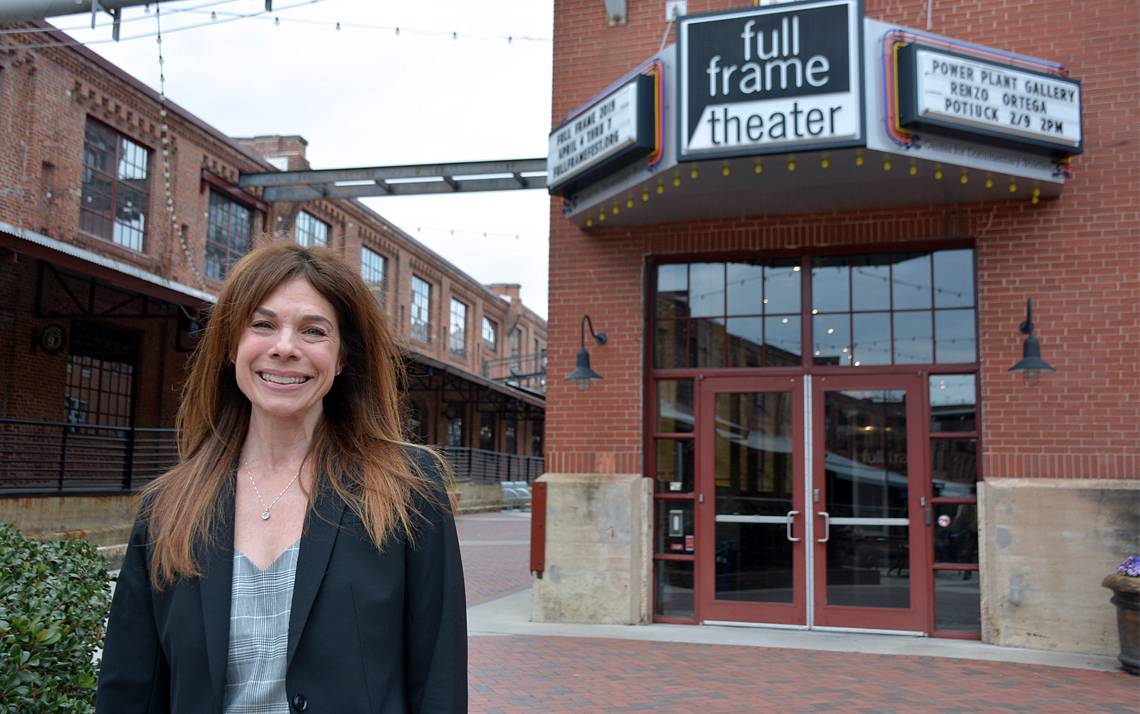 Name: Deirdre Haj
Title: Director of the Full Frame Documentary Film Festival and Senior Adviser on Film and Television for Duke University
Years at Duke: 9
What she does at Duke: Deirdre Haj divides her work with the Full Frame Documentary Film Festival into two seasons: The week of the festival and everything else.
The Full Frame Documentary Film Festival, which is a program of Duke's Center for Documentary Studies, occurs every year during the first Thursday-Sunday of April. In the month leading up to the festival, Haj confirms sponsors attending the festival, watches all the films and makes recommendations of what to see to longtime friends of the festival. She also secures participants for the festival's Speakeasy venue, where debates and discussions between professionals working in the field occur in front of an audience.
The festival week begins with Haj talking to local and national news sources, stuffing Full Frame's complimentary tote bags with devoted volunteers and visiting each theater to observe sound and technical checks.
Haj kicks off the festival on Wednesday night with a champagne toast at a party to honor donors and filmmakers. Thursday through Sunday, she moderates panels, introduces films and is in a constant stream of conversation with filmmakers, donors and guests from 8 a.m. to 1 a.m.
This year's April 4-7 lineup in Durham presents 83 documentary films. Of these, 67 are new works from 28 countries, selected from nearly 1,700 submissions to screen in the NEW DOCS and Invited Programs.
"Once the festival starts, I am first and foremost a host," Haj said. "You've come to my home, and I want you to have the best time possible. I always try to be eight steps ahead of what's happening."
The rest of Haj's year is a mix of traveling to film festivals, fundraising and meeting with students. She travels often to events like the Sundance Film Festival, to see films that may screen at Full Frame and stay in touch with colleagues in the field.
Haj recently initiated training and research sessions with Duke's Office for Institutional Equity. Full Frame works with OIE to work with her team to build better awareness around equity at the festival.
"We want everyone to feel welcome to this festival," Haj said. "No matter your race, gender, sexual orientation or whatever your background is, we have a film for you."
What she loves about Duke: Haj enjoys hosting students from Duke and other universities with the Full Frame Fellows Program.
The program hosts 150 students interested in documentary filmmaking during the Full Frame Festival. Students attend film screenings and attend master classes led by filmmakers like D A Pennebaker, director of documentaries like "Bob Dylan: Don't Look Back" and "The War Room."
"We see these wide-eyed students rubbing elbows with legendary filmmakers," Haj said. "The students' excitement is infectious."
Her legacy: Under Haj's leadership, Full Frame started the "School of Doc."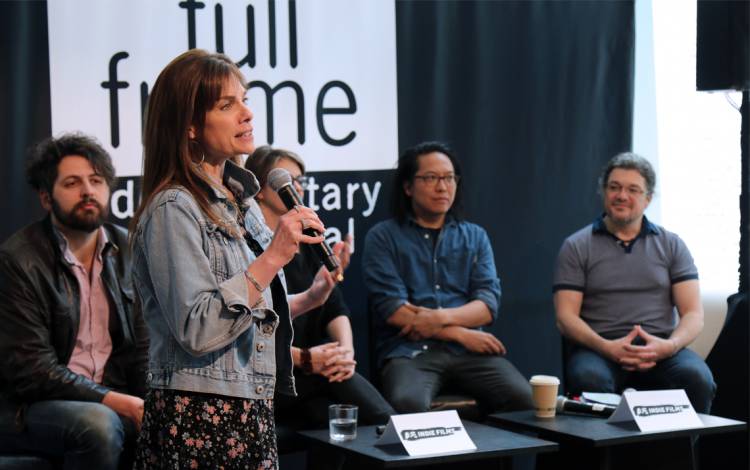 High school students in Durham attend the five-week program over the summer and in the fall. They take intensive courses taught by professional filmmakers where they learn how to shoot, edit and produce a documentary film. The program is free and funded in part by the Academy of Motion Picture Arts & Sciences.
School of Doc graduates have gone on to start their own production companies and screened documentaries at the Full Frame and other prominent film festivals.
"This program touches students who maybe didn't know they could be a filmmaker, didn't plan to go to college or didn't plan on leaving Durham," Haj said. "The School of Doc changes lives. I hope this program is what I people will remember me by."
Memorable day at work: Full Frame had the honor of presenting the world premiere of Nancy Buirski's "The Loving Story." The HBO documentary told the story of Richard and Mildred Loving and the seminal supreme court ruling making interracial marriage legal. It was Buirski's, the founder of the festival, directing debut.
"It was a packed house, and after introducing her I looked back and saw everyone on their feet," Haj said. "It was truly such a special moment to honor our founder in such a meaningful way and bring such an important story to Durham."
Special object near her office: Haj loves seeing the Boiler Room in the Power Plant Building at the American Tobacco Campus, the location of the Full Frame office.
The lobby features the building's original 1930 three-story water boiler.
"It's a documentary building. You can see the bones of what this building originally looked like," Haj said.
Best advice received: When Haj considered moving to Los Angeles from New York City after graduating from college, her older sister, Deborah, told her, "Very few things are undoable."
"She encouraged me to take the leap into the unknown.," Haj said.
First ever job: Haj worked as a cashier at a drug store in Stamford, Conn.
"Interacting with customers helped me develop people skills," she said. "I learned how to interact with people of all walks of life. A smile and 'How are you doing' go a long way in making someone's day better."
Something most people don't know about her: Haj met her husband, Joseph, at the Classical Theater Lab in Los Angeles in 1990.
"Turns out moving to Los Angeles was the right move," Haj said.
Is there a colleague at Duke who has an intriguing job or goes above and beyond to make a difference? Nominate that person for Blue Devil of the Week.