The People Behind Duke's Tall Tasks
For these employees, caring for campus means navigating lofty heights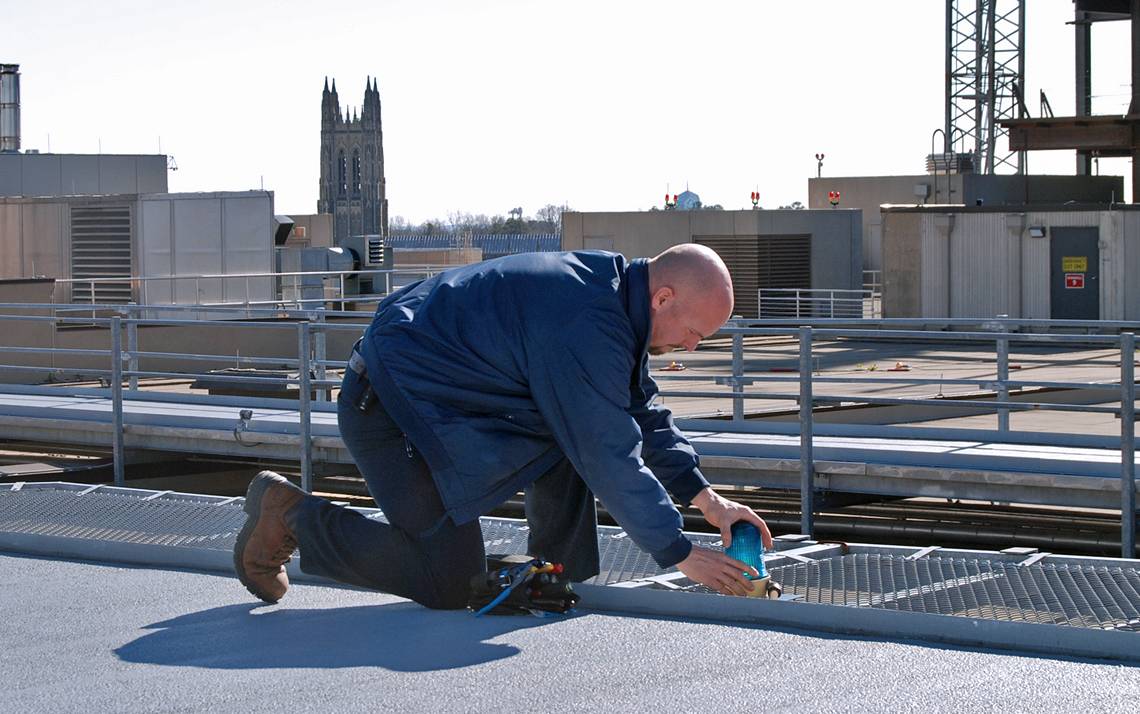 After riding up 10 floors in an elevator and walking through a few locked doors, staff who tend to equipment on the roof of Duke University Hospital are usually greeted with sunshine, a stiff breeze and blue sky that seems close enough to touch.
High-rises stare back at eye-level while the skylines of Chapel Hill and downtown Durham poke up from the horizon. Cranes and construction workers fill out the skeleton of the hospital's new bed tower, slowly obscuring a view of Duke University Chapel.
This is where you'll find the helipads for the Duke Life Flight helicopter and the tangle of mechanical and electrical equipment that brings workers from Duke University Hospital's Engineering and Operations unit to the roof for occasional repairs.
"The view's not bad from up here," said Bill Cole, electrical foreman with Duke University Hospital Engineering & Operations.
For employees who take care of the University and Health System campuses, there are no shortage of duties that involve impressive heights. From the hard-to-reach spaces of Duke University Chapel to poles that illuminate campus at night, meet the people who handle Duke's tall tasks.
Keep Shining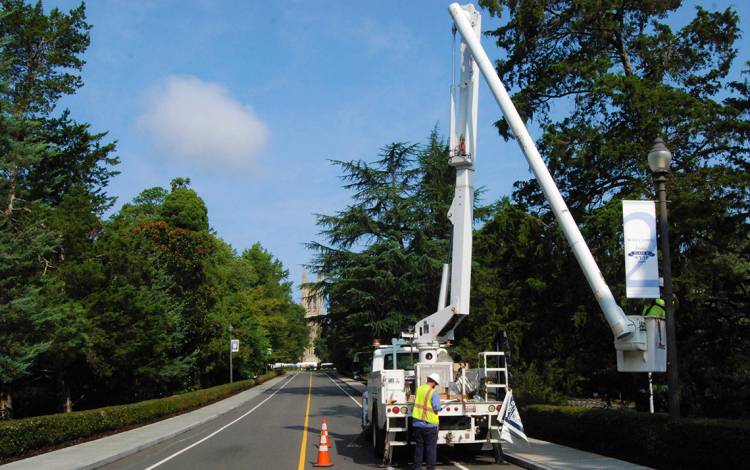 On most nights, a rotating crew of Duke Facilities Management Department employees cruise all corners of campus, looking at the thousands of lights that illuminate Duke's buildings and grounds. If one is out or malfunctioning, they write the location down and get wheels in motion to get it fixed.
More than likely, Senior High Voltage Electrician Steve Sanford will be the person who ends up fixing it.
Sanford has been on the Duke staff for 29 years. Over the past 20 or so, he's been the member of the High Voltage Team who spends the most time in the back of Duke's bucket truck, positioning himself high above the ground to bring light back to poles that have gone dark.
"He's worked with those light for years," said High Voltage Supervisor Donald Elliott. "He just knows them."
Most lights on Duke's campus are around 30-40 feet tall. There are a few near Duke University Hospital that are in the 50-foot range. With the extendable arm of the bucket truck allowing Sanford to go as high as 55 feet in the air, he fixes them all.
"There's always something to fix," Sanford said. "There are a bunch of lights on campus."
By now, Sanford thinks nothing of doing his job high above campus. But he admits that at first, when he was still trying to figure out how to work the system of control levers he uses to position his basket, he had some stomach-churning days.
"I don't care too much for it on windy days, of course," Sanford said. "Even on still days, once you get some altitude, the wind starts blowing."
Cleaning on High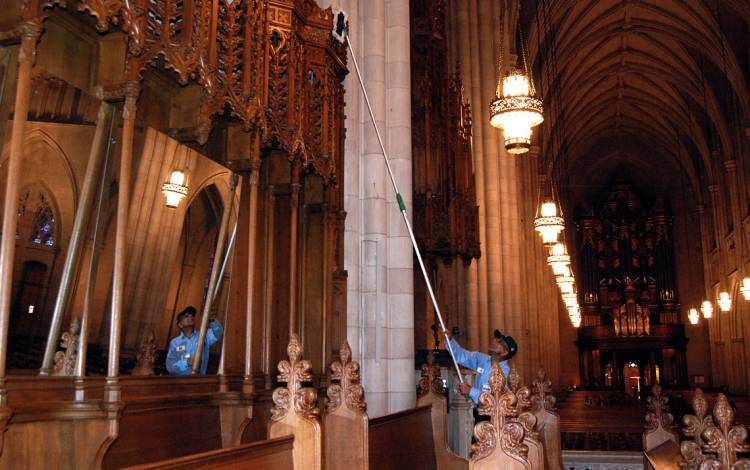 In addition to being one of the people tasked with keeping Duke University Chapel pristine, Oscar Dantzler is also the campus landmark's unofficial greeter, often chatting with awestruck guests.
For Dantzler, a utility worker for housing operations who has tended to the Chapel for 21 years, he's often asked how he cares for the intricate pieces of wood and stone that climb the soaring walls.
"I like to tell them that Duke got me a mini-helicopter," Danztler said.
The truth is that Dantzler uses a more efficient, albeit less exciting, method to clean those spaces.
In the tucked-away maintenance closet off to one side of the altar, Dantzler has three extendable poles with soft, knobby dusting cloths on the end. With these, he and co-worker Beverly Jordan can wipe dust off of the woodwork and stone walls that tower above the Chapel's sanctuary.
"I use it all the time," Dantzler said, holding one of his poles. "This is one of the best things I've gotten over the years."
In addition to the wood around the altar and organ, the poles come in handy when cleaning the outside of the buildings. The most outdoor common task he tackles with his poles is knocking spider webs out from among the ornate stonework above the Chapel's front entry and covered walkways.
Danztler said he wants to make everyone's experience with one of the most beloved buildings on campus flawless.
"When we have weddings on Saturdays and that's where they take a lot of pictures," Dantzler said. "You don't want a bride looking up there and seeing a spider."
Steely Nerves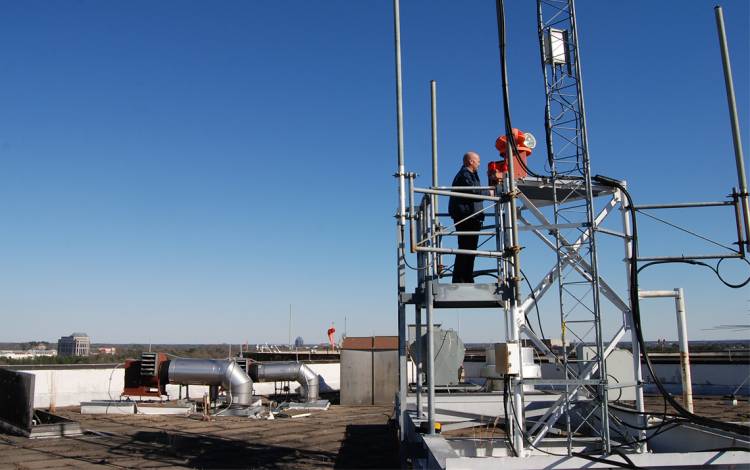 The work of tending to the exterior lighting of Duke University Hospital has members of the Engineering & Operations electrical team leaving the ground often.
The lights on the roof of the hospital – which both guide the Duke Life Flight helicopter to its landing spot and alert other aircraft to steer clear of the high-rise buildings – can't afford to be down long. Whether it's the helipad lighting or the Federal Aviation Administration's required beacon of rotating green, red and white lights, if anyone reports them malfunctioning, they need to be fixed immediately.
"I came in one night at 1 o'clock in the morning to fix that light," said Larry Clasey, a general maintenance foreman who used to work in the electrical shop. "A fuse holder had burned up and it wouldn't turn. But when they're flying, they need those lights. You have to get them running."
Fixing those lights it usually fairly easy. The lights on the helipad can be repaired by popping off a cover and replacing a bulb. To fix the beacon, a worker must climb a small ladder to a platform about 10-feet above the roof and open the device's orange metal casing.
The trickier lights to fix are found in hospital's parking garages. There, any repair effort must be done while also accounting for the traffic that flows in and out of the garages around the clock.
The best way the team has found to fix the lights safely is to forgo any ladders or lifts and instead have a technician stand in the back of a truck, providing a little more security as garage traffic will continue to flow.
"Everyone's trying to get in and out as quickly as possible," Bill Cole said. "It's like working in the middle of the Indy 500."
Have a story idea or news to share? Share it with Working@Duke.