PUBLISHED
The Nasher Provides a Creative Space for People with Dementia and Alzheimer's
Reflections program stimulates conversations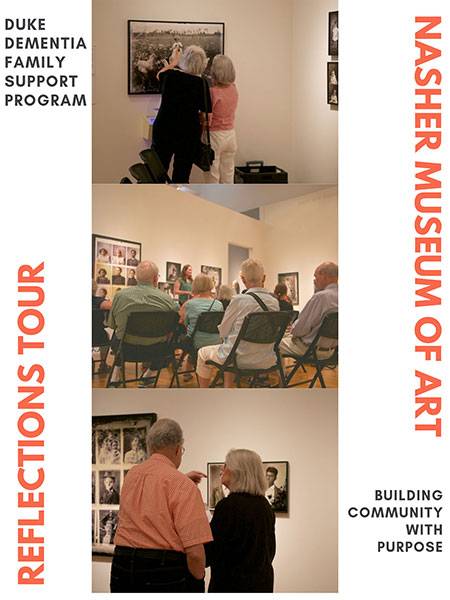 Duke's Nasher Museum of Art has become more than a beacon for creativity, it is also a positive space for people with dementia and Alzheimer's.
The Nasher's Reflections program provides interactive museum tours for visitors with Alzheimer's disease and related dementia and their care partners. Most of its attendees are elders within the early and mid-to-late stages of Alzheimer's.
These specially designed tours provide an interactive experience. Every fourth Tuesday, visitors enjoy guided discussions through galleries, live musical performances and hands-on art activities.
"I think having engaging tours is what really brings people back," said Jessica Ruhle, Nasher's education and public programs director. "It would not be compelling if I were just telling them about the artists and artwork."
Upon entering, the group is warmly greeted by their tour guides and split into teams to explore the latest installments.
In one of Nasher's current exhibitions, seated visitors happily gazed at photographed portraits from the late self-taught Durham photographer Hugh Mangum.
Unlike traditional museum visits, attendees make observations about the images presented as Ruhle openly asked questions. Guests excitedly used their imaginations as one activity called to describe the background story of one of Mangum's photographed subjects.
The tour also included the Nasher's first bilingual exhibition, "Pop América, 1965-1975" with Latin-American infused vintage pop art. Visitors were intrigued by the unique wall-mounted prints as they learned more about the exhibition's origins.
Another colorful exhibition, "Christian Marclay: Surround Sounds," was a synchronized, silent video installation of onomatopoeia, words that are also sounds. In a dark room, many marveled as comic-book style words in fun fonts flashed throughout the walls. The group gathered around for another fun game of turning Marclay's words into a poem.
The tour serves as a place for visitors to use their senses to pick up on details which may often spark an instance of memories. Tour guides make sure these visitors are able to use creativity while voicing their thoughts aloud.
"It allows everyone to bring their own interpretations by looking at the photographs and thinking about the stories there," said Ruhle. "It makes the tours a lot more personal, and a lot more interesting."
Even so, these activities have been shown to aid in slowing down the progression of some memory loss. In a recent report from AARP's Global Council on Brain Health study, researchers found greater mental health leads to greater overall brain health in older patients. These new reports showcase how seeking normal activities such as volunteering, connecting with people and even expressing emotions can improve your mental well-being.
"For people with dementia, talking about artwork can be easier than other conversations," said Ruhle. "It's mainly because the objective of the conversation is directly in front of them."
Most importantly, visitors form bonds within a newly found community. Many have become regulars within the Reflections program.
"It's been wonderful," said Nancy Walters, a Reflections regular. "We look at pictures totally different now as we sit around and have discussions."
For three years, both Nancy and her husband, Duke alum Lou Walters, have attended the Reflections tours. These Durham natives are also part of Memory Makers, an 8-week summer course which educates and supports those affected by early-diagnosed dementia. Memory Makers are one of the 100 support groups from the Duke Dementia Family Support Group Program.
"We love the tour guides," said Mrs. Walters. "They're just wonderfully well-informed, and they encourage all of us to speak up."
Nasher's tour guides are specially trained by both Duke Nursing with involvement from the Dementia Alliance of North Carolina.
Nasher modeled its program after the Meet Me at MoMA tour at New York's Museum of Modern Art (MOMA). MOMA was one of the first institutions to introduce tours exclusively for people with dementia and Alzheimer's.
In 2014, Reflections launched through a partnership between Nasher Museum educators and the Duke Dementia Family Support Program.
Reflections tours were originally geared towards early-stage Alzheimer's patients.
However, the program expanded to include mid- and late-stage patients in 2017.
Since its debut, Reflections has served over 2,000 dementia and Alzheimer patients including care partners. There have been over 150 tours led by 13 gallery guides at the Nasher.
If there is one thing that has remained constant, it's the importance of accessibility within the community.
Programs like Reflections create new opportunities for people with cognitive conditions to partake in more artistic activities. Ruhle hopes the success of Reflections will lead to similar programs throughout the city's institutions like downtown's Carolina Theatre.
"Any program should be accessible, and any community should be able to engage around the artwork," said Ruhle. "This type of programming works, and having arts engagement for folks with memory loss is really successful."
For more information about Reflections Program tours click here.