PUBLISHED
An Exhibit That Places Indigenous Artists Front and Center
Nasher Museum showcase looks to widen recognition of contemporary art
The latest exhibit of the Nasher Museum of Art is continuing its tradition of opening the museum to artists and genres of work that rarely get a showing in mainstream art.
"Art for a New Understanding: Native Voices, 1950s to Now," which opens Aug. 29, is the first exhibition to chart the development of contemporary Indigenous art in the United States and Canada.
"This rich and groundbreaking exhibition presents work by some of the most important Native American artists over the past 70 years," said Sarah Schroth, Mary D.B.T. and James H. Semans Director of the Nasher Museum of Art.
"We are proud to bring these powerful works to North Carolina for the first time. In keeping with the mission of the Nasher Museum, Native Voices challenges the way the mainstream art world thinks about contemporary American art and society."
"Art for a New Understanding: Native Voices, 1950s to Now" takes its title from a series of sculptures that artist Brian Jungen made between 1998 and 2003. His "Prototypes for New Understanding" take consumer items like Nike Air Jordans and transform them into sculptures that reference Indigenous Northwest Coast masks.
Jungen's sculptures call attention to the ways stereotypical images in popular culture shape the dominant culture's understanding of Indigenous peoples.
For generations, Native North American artists have exhibited work mostly outside of mainstream art institutions. "Native Voices" begins to remedy that division, presenting approximately 60 works of art in a wide variety of media by Native American artists from many nations and regions.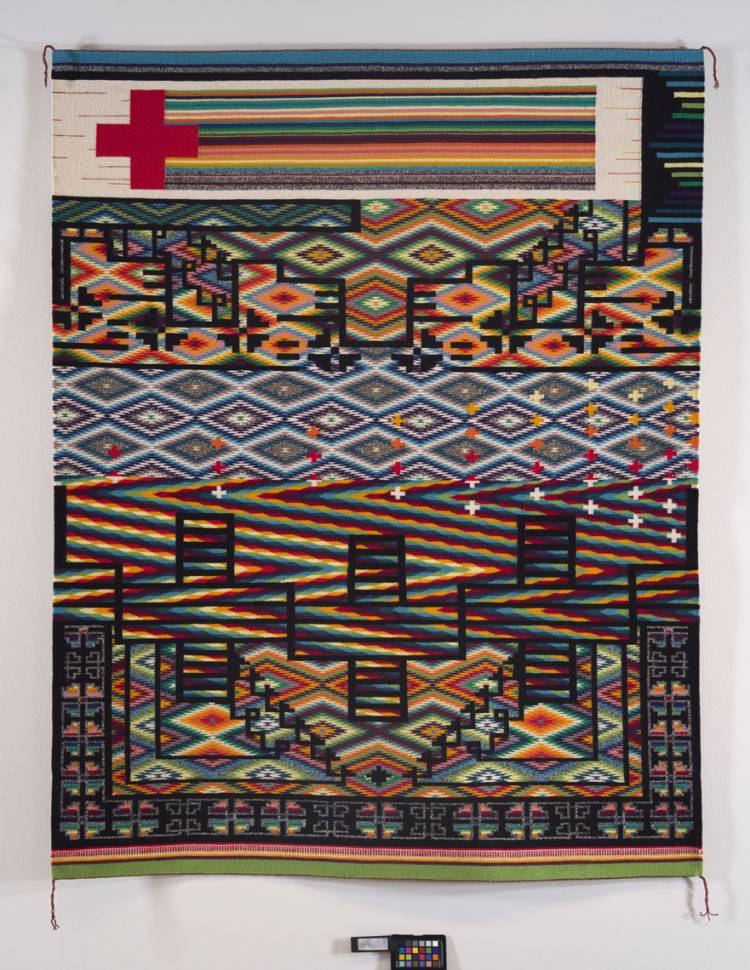 The exhibition examines the practices and perspectives of the most influential Native artists and their important contributions to American art, thus reassessing the place of Indigenous art within art's historical canon.
The exhibition connects themes across time. It begins in the 1950s and 1960s with the works of George Morrison, Daphne Odjig, Fritz Scholder, and many others who challenged conventional representations of and by Indigenous peoples, marking the emergence of contemporary Native American art.
In the 1970s and 1980s, artists such as James Luna, Edgar Heap of Birds, and Jolene Rickard were aligned with Civil Rights activism and made visible in the American Indian Movement (AIM). These artists grappled with the navigation between all tribes' different histories and traditions, while acknowledging an overarching need to recognize a stereotype-defying pan-Indian identity. Their work brought a reconsideration of how Indigenous culture and material production is contextualized in museums and in popular culture.
By the 1990s, the decidedly political work of Rebecca Belmore, Zacharias Kunuk and Lawrence Paul Yuxweluptun and others confronted colonial legacies in video, television, sound, performance and installation.
A new generation of Native artists emerged after 2000, some using traditional practices in radically new ways: as a means to represent psychological states, to question the circulation of signifiers of Indigenous identity and to visually represent the reclaiming of Indigenous languages.
Andrea Carlson, Sonya Kelliher-Combs, Jeffrey Gibson, Brian Jungen, Kent Monkman, Marie Watt are among those who challenge inherent biases and upend dominant art history by reversing the paradigm of an Anglo-European narrative.

The exhibit also attempts to use the art to create a conversation about the issues raised by the artists. It includes "Kindship & Belonging," an interactive quiz on a 20-foot wall in the museum's Great Hall, where visitors can learn more about the history and culture of the Indigenous peoples who live and work in North Carolina.
In addition, the museum has posted an acknowledgement of the Indigenous peoples who consider parts of North Carolina to be their ancestral lands -- the Coharie, Eastern Band of the Cherokee Nation, Haliwa-Saponi, Lumbee, Mehrrin, Occaneechi Band of Saponi, Sappony, and Waccamaw Siouan peoples -- as well as an acknowledgement of "the many Indigenous people who live and work in the region today."
Finally, the exhibit also includes information about a little-known part of Duke University history. In 1880, Trinity College admitted 12 children from the Eastern band of the Cherokee nation into a special "Cherokee Industrial School." The boarding school taught Native American children, some as young eight years old.