Blue Devil of the Week: Fuqua's Advocacy-Building Guru
Blue Devil of the Week Steve Dalton helps students find a career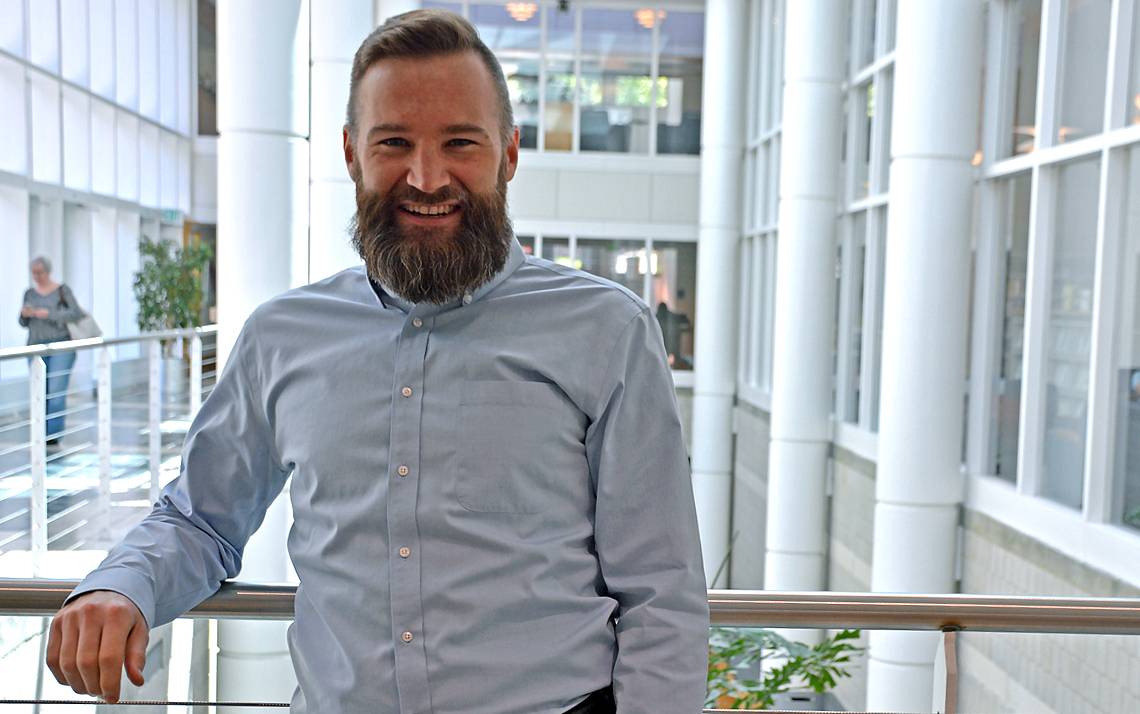 Name: Steve Dalton
Title: Program Director for Daytime Career Services, Fuqua School of Business' Career Management Center
Years at Duke: 14
What he does at Duke: Steve Dalton is the advocacy-building guru at the Fuqua School of Business' Career Management Center.
Dalton meets with students one-on-one about developing professional relationships and advocates, guiding students on how to find contact information for a job, using LinkedIn effectively and calling or sending an email to someone to ask for time to chat.
Many of Dalton's tips are relevant to people already in the workforce.
"A resume or cover letter is much more likely going to stand out if the person reading them has an idea of the personality behind the name," he said. "Don't spend hundreds of hours working on your resume. It doesn't matter as much as making the connection."
Dalton teaches a job searching course every fall for full-time Master of Business Administration students. The course lays out a framework for students to secure internships and jobs. Dalton goes over writing introductory emails, interviewing, searching for career opportunities, among less-traditional topics like life design, cultural intelligence and finding contacts.
He pulls lessons from his 2012 book "The 2-Hour Job Search: Using Technology to Get the Right Job Faster." In class and in the book, Dalton explains how to wade through information on the Internet and create a list of target employers.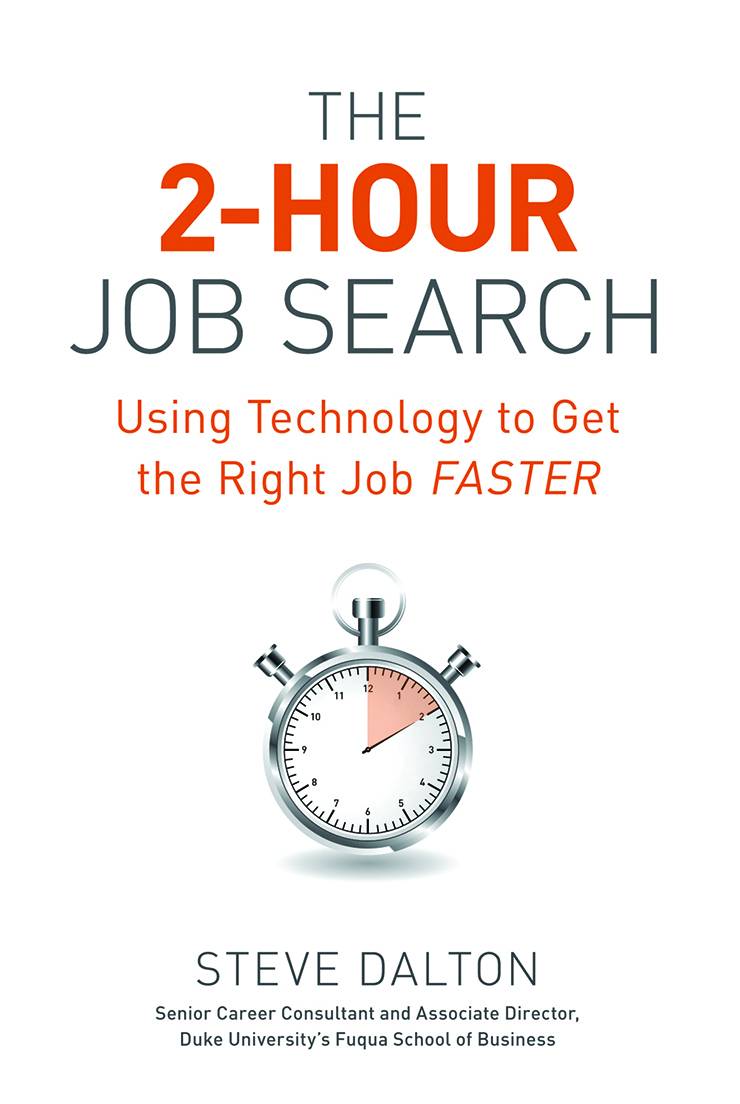 He's currently working on another book to help job seekers with resumes and cover letters and negotiating and choosing a career.
"If you're teaching someone to cook, you don't just hand them a list of ingredients," Dalton said. "That can be overwhelming. You hand someone a recipe. I'm trying to provide students a step-by-step recipe for finding their career. "
What he loves about Duke: Dalton appreciates Fuqua's willingness to experiment with new ideas.
About 10 years ago, Dalton and some colleagues proposed that Fuqua students only interview with companies that visit campus to if the student completed the job searching course. The idea was meant to ensure students were prepared for job and internship interviews.
Taking the "Career Management Center Class" remains a requirement for Fuqua students to seek on-campus interviews with companies that visit campus to recruit. Dalton said the class helps student secure employment not just during their time at Fuqua, but for the rest of their careers.
"That was a calculated risk," Dalton said. "We wanted to make sure students were meeting a series of checkpoints so they could positively represent themselves and the school when meeting with companies who take the time to visit Duke."
Meaningful object in his office: Dalton keeps a plain white hard hat on his wall.
The hat is a callback to Dalton's days obtaining a bachelor's degree in chemical engineering at Case Western Reserve University in Cleveland, Ohio. Dalton, a naturally analytical person, liked problem solving but didn't enjoy spending his days testing out manufacturing procedures for food, pharmaceuticals and chemicals. He prefers talking with people about their passions and helping them overcome professional obstacles.
"I've never had to work so hard to be so mediocre at something," Dalton said. "I learned when you keep your head down and don't ask questions you will completely fail at hitting the target. You can't stay silent and assume people are going to help put you back on course."
Best advice received: A former manager told Dalton that at some point in his career he'll need to build a proverbial rocket ship and won't know how to do it. Step one will always be to find someone who's built a rocket ship before and ask them how they did it.
Dalton remembers that advice when he encounters a problem. He asks colleagues for help. His willingness to seek help came in handy when writing "The 2-Hour Job Search."
"My colleagues were willing to pitch in by taking on some of my meetings with students and giving me a lot of hugs," Dalton said.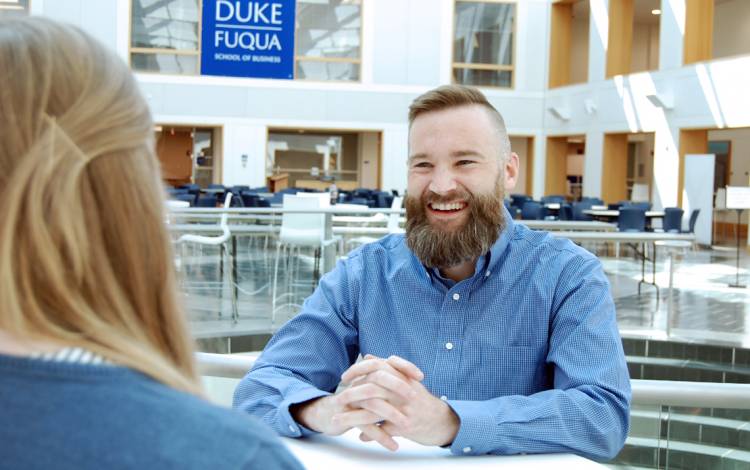 Memorable day at Duke: Dalton met with a student who lost a full-time job opportunity during the Great Recession in 2008. He suggested she reach out to her contacts.
"She interrupted me and asked, 'Well how do I come up with a list of contacts,'" Dalton said. "I didn't have an answer."
Dalton revamped his career coaching process to focus on how to build contacts and advocate for yourself.
"Without that meeting there would be no book, no determination and no innovation," Dalton said. "It's not a fun day to think about, but I've been trying to make it right."
First ever job: Dalton scooped ice cream at Baskin-Robbins in Woodridge, Illinois, a Chicago suburb.
"I remember having one ripped forearm," Dalton said.
His favorite ice cream? Mint chocolate chip.
Something most people don't know about him: Dalton is a big music nerd. He loves going to shows at Cat's Cradle in Carrboro and Motorco Music Hall in Durham.
He's currently listening to rock band Vampire Weekend's new album, "Father of the Bride."
"Their music is perfect for any mood," he said. "No matter if I'm feeling excited or melancholy or need to focus, I can find a Vampire Weekend song to match my mood."
Is there a colleague at Duke who has an intriguing job or goes above and beyond to make a difference? Nominate that person for Blue Devil of the Week