PUBLISHED
Hock Plaza Will Light Up to Mark 9/11 Anniversary
All flags lowered on campus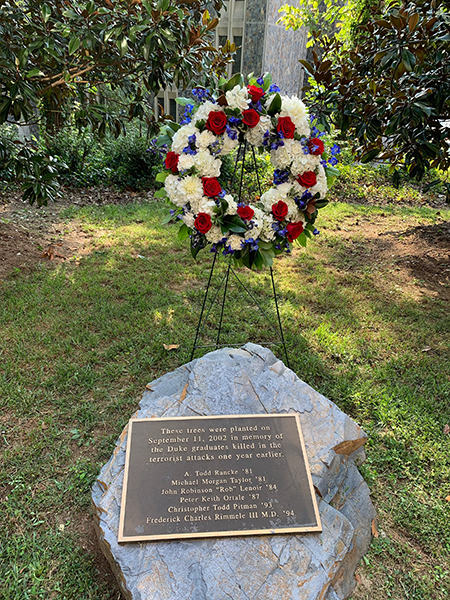 On the 18th anniversary of the September 11 terrorist attacks, Duke University is marking the occasion in several ways today.
All US, state and Duke flags on campus will be placed at half-mast.
Duke Alumni Affairs will have a ceremony laying wreaths at the 9/11 memorial behind Keohane Quad. The memorial is a grove of six trees, one planted for each of the six Duke alumni who died in the attacks: J. Robinson Lenoir '84; Peter Ortale '87; Christopher Todd Pitman '93; Todd Rancke '81; Frederick C. Rimmele III MD'94; and Michael Morgan Taylor '81.
The 12-story Hock Plaza, home to many Duke University and Duke Health offices will mark the date with a new display that will light the exterior in red, white and blue animation during the nighttime hours.