Books That Will Take You Away This Summer
Duke staff and faculty share books that send them to destinations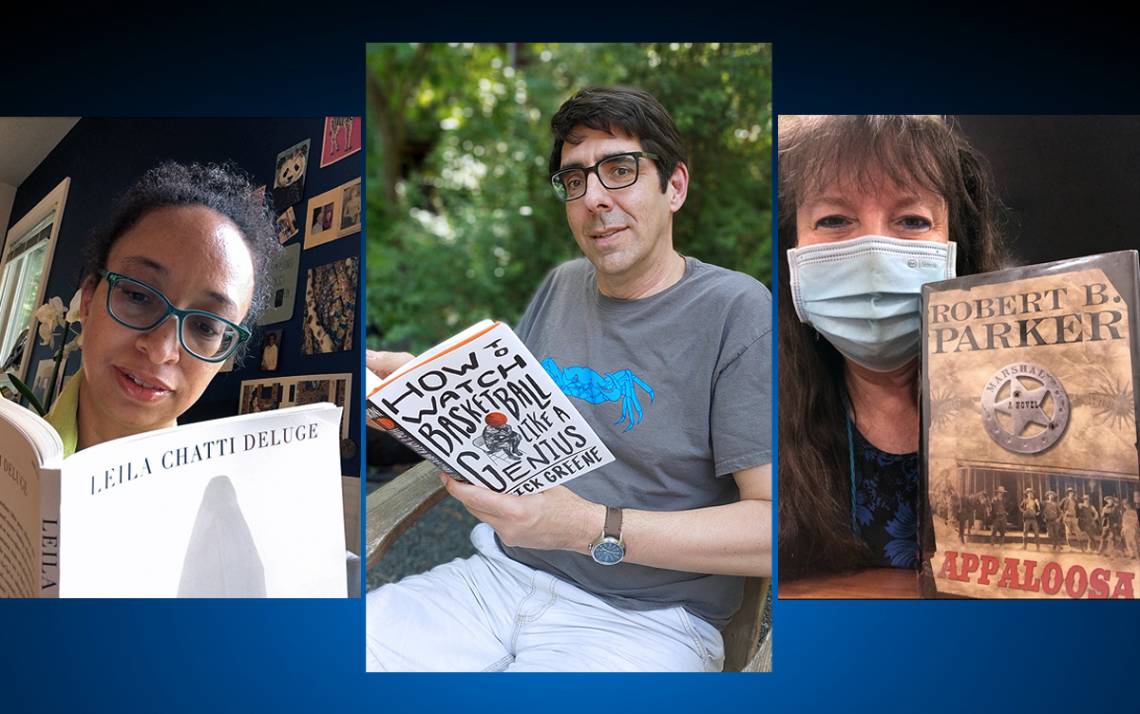 By way of a novel, Sherry Harrell is traveling to the western United States this summer with the Robert B. Parker book, "Appaloosa."
The western follows two men trying to restore order in the New Mexico Territory in 1882. Parker's writing allows Harrell to visualize dusty streets and hear a noisy saloon as the main characters try to save the region from an evil rancher.
"'Appaloosa' is such a page-turner," said Harrell, an administrative clerk for the Duke Microbiology Lab and COVID-19 Kit Room. "I find myself completely tuning out the rest of the world when I read it. I can't wait to read the next book in the series."
We asked Duke staff and faculty to share books that send them to a new destination.
California islands and basketball arenas
Mark Borsuk, associate professor of civil and environmental engineering, is balancing two books this summer that align with his academic and personal interests.
Borsuk is reading "When the Killing's Done," a novel by T.C. Boyle about a National Park Service biologist who is working to eradicate the feral rats that are destroying the ecosystem of a California island. Her actions spark retribution from animal rights activists who do not agree that attempting to restore a defunct ecosystem justifies the killing of sentient animals.
While Borsuk enjoys the novel for its detailed descriptions of the people and wildlife of coastal California, he's also interested in the depiction of ecological management.
My research focuses on environmental protection," Borsuk said. "The book reveals the underlying tension between active human management and the fundamental resilience of natural systems."
For lighter fare, Borsuk is reading "How to Watch Basketball Like a Genius." Each chapter of Nick Greene's book relates how experts on psychology, cartography, ballet and other subjects perceive basketball.
"I'm a huge Duke and Boston Celtics basketball fan, so any sort of basketball content I can consume while not being able to go to games is great," Borsuk said.
Arctic research labs
Already, Alpha Esser has traveled to the beaches of Rio de Janeiro, the English countryside and Svalbard, an island close to the North Pole.
Esser arrived at these destinations through "The Midnight Library," a novel by Matt Haig about a woman who is given infinite choices to relive her life as a rock star, swimmer and scientist studying glaciers.
"I love anything that takes me to a location I haven't explored before," said Esser, a technical trainer for Duke Clinical Research Institute. "My wind-down time is traveling to a new world through a good book."
Revisiting a favorite actor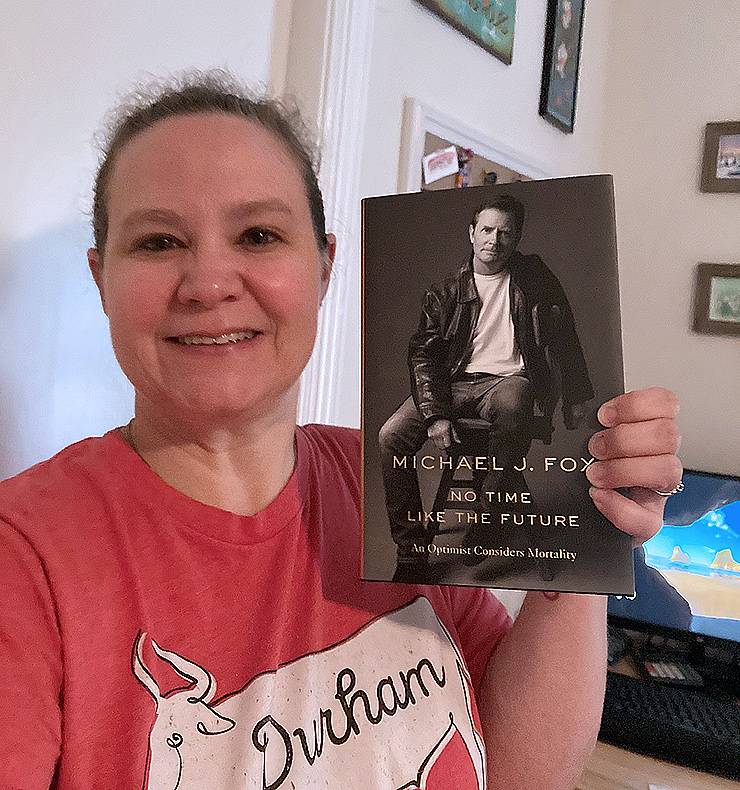 Christine Naylor grew up watching actor Michael J. Fox portray a son who clashes with his parents in the comedy "Family Ties" and the adventurous Marty McFly in the "Back to the Future" film series.
Naylor is revisiting the 1980s by reading Fox's memoir, "No Time Like the Future: An Optimist Considers Mortality." Fox shares stories about making "Back to the Future" and "Family Ties" as well as living with Parkinson's disease, a disorder that leads to shaking and difficulty walking.
"It's so sad what he's going through with Parkinson's, but he always manages to find a hopeful or funny anecdote to share," said Naylor, staff assistant for Duke Biology.
The Wild West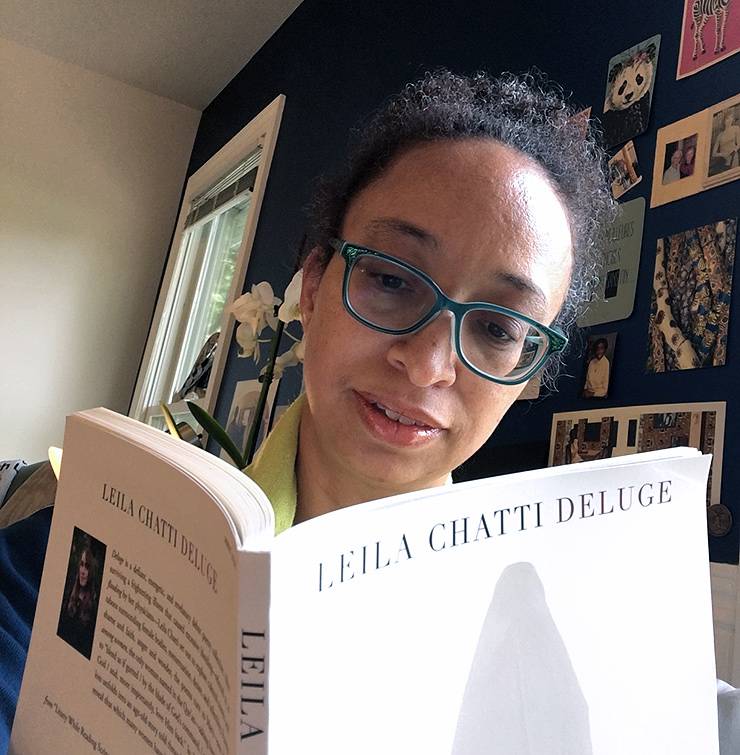 Tsitsi Ella Jaji, who is exploring the literary world through two African writers, is enjoying reading for pleasure and work.
Jaji, an associate professor of English, is reading "Cinéma" by the Guinean writer Tierno Monénembo. The book about two teenage friends who reimagine their life as cowboys in an American western movie.
"It's a lot of fun," she said. "The writer uses a playful style of French, full of slang and innuendo."
Jaji is also reading the poetry book "Deluge" by Leila Chatt, a Tunisian-American poet who writes about her experiences dealing with a serious medical condition.
"I love poetry because every word is layered with meaning and references," Jaji said. "Think of 'deluge.' It's most obvious meaning is a heavy rainstorm, but for the author, it also evokes being overwhelmed by the unstoppable rush of waters, hemorrhaging, tears and memories. The language is absorbing because it makes you feel what it portrays."
Fishing around the world
"The Optimist: A Case for the Fly Fishing Life" is adding more fishing destinations to Bill Gregory's travel list.
"The Optimist" is a nonfiction book by David Coggins who writes about his experience fishing in Canada, Argentina, New York City and Maine.
Gregory, who is an avid fisher, appreciates the detail in which Coggins describes how he catches everything from salmon to striped bass to bonefish.
"The book is getting me amped up to get on a plane and go somewhere," said Gregory, visual arts program coordinator for Arts & Health at Duke. "If I can't be in the wilderness hiking or fishing, then at least I can read about it."
A mysterious place
Kim Krzywy, registrar for the Policy, Journalism & Media Studies certificate program and staff assistant for the Duke DeWitt Wallace Center for Media and Democracy, often felt unmoored reading the novel, "Piranesi."
She also couldn't put it down.
"Piranesi" is a fantasy novel by Susanna Clarke about a house filled with an infinite labyrinth of rooms. The narrator and much of the plot is a mystery until a major revelation occurs.
Krzywy read the book in a day.
"It's engaging and confusing and strange and you're trying to puzzle together what exactly this world is that you're reading about," Krzywy said. "You dive in and only come up for air."
A historical suspense
Tanula Starks, a medical lab scientist for Duke Clinical Laboratories, swaps daily responsibilities with the fictional suspense of a mystery novel.
Starks is reading "Reflect: The Complete Perspective" about Larry Harris, a man in the present who discovers a connection to the Civil War in his yard. Umar Muhammad and Mark Janas, both professors at Saint Augustine University in Raleigh, wrote the novel.
"The authors have blended history with a modern-day suspense," Starks said. "I always like mysteries because it takes my mind away from the present. I focus on the story in front of me."
New Mexico
Sue Mathias and her husband, Matt, are avid travelers who have been to Japan, China, and the western coast of Australia.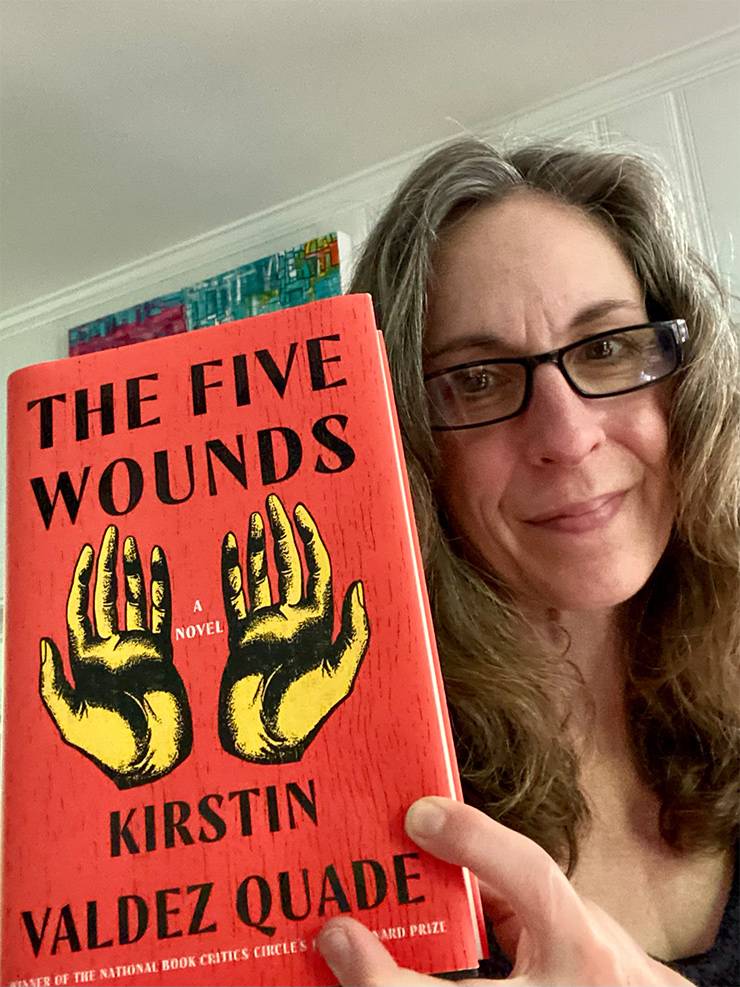 Mathias, a communications consultant for the Pratt School of Engineering, also likes to explore new cultures by reading. Mathias often chooses books translated to English or written by authors who grew up in different cultures. Some of her favorite novels are "The Wind-Up Bird Chronicle" by Haruki Murakami, "The Hole" by Hiroko Oyamada and "Transcendent Kingdom" by Yaa Gyasi.
Mathias is reading "The Five Wounds" by Kirstin Valdez Quade. The novel is about three generations of a Mexican-American family in New Mexico grappling with an unexpected pregnancy.
"I always like to read about places and people that aren't familiar to me," Mathias said. "There's so much to learn about people and culture, even in fiction."
Looking for a book? Be sure to use Duke University Libraries. You can borrow a print book or download an e-book or audiobook from OverDrive. Also, check out the "Low Maintenance Book Club."
Let us know what you're reading in the Facebook story below:
Send story ideas, shout-outs and photographs to Working@Duke through our story idea form or write working@duke.edu.