Duke Awards 13 First-Year Students With Karsh International Scholarships
Award given to intellectually and civically engaged students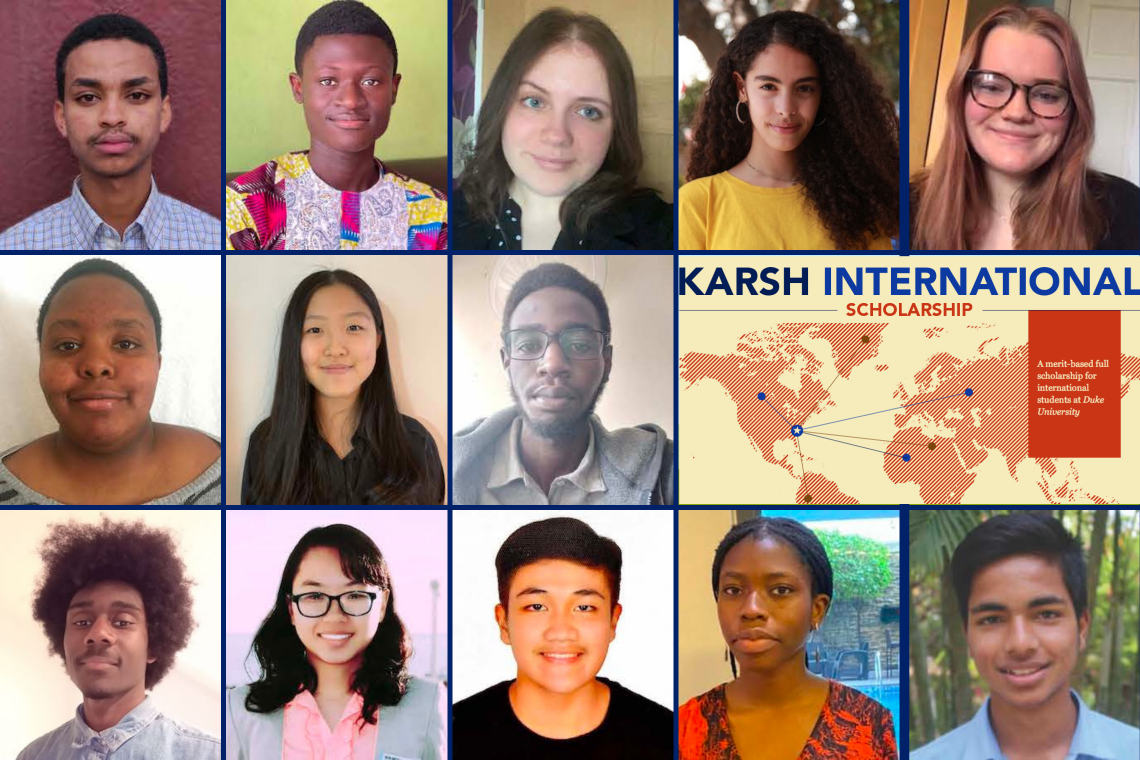 DURHAM, N.C. -- Thirteen incoming first-year students have been awarded the Karsh International Scholarship to pursue their undergraduate studies at Duke University.
The scholarships are awarded to an intellectually and civically engaged cohort of international students who promote interdisciplinary inquiry, academic research and scholarship in the service of society.
The Karsh International Scholarship covers the full cost of tuition, room, board and mandatory fees for four years of undergraduate education. In addition, Karsh International Scholars have access to generous funding for domestic and international experiences, including opportunities for independent research both in the summer and during the academic year.
Based on estimated tuition rates over a four-year period, the scholarship is worth approximately $315,000.
The Class of 2025 scholarship recipients are:
Akram Abdulaziz from Addis Ababa, Ethiopia, a graduate of St. Joseph High School
Bright Aboah from Accra, Ghana, a graduate of West Africa Senior High School
Rebecca "Becky" Ball from Chatham, England, a graduate of Fort Pitt Grammar School
Hiba Benjeddou from Sidi Yahya El Garb, Morocco, a graduate of Bennis & Terrab High School
Kate Flanagan from Cleckheaton, England, a graduate of Heckmondwike Grammar School
Ann Kariuki from Nakuru, Kenya, a graduate of Sacho High School
Yujin Kim from Seoul, South Korea, a graduate of Seoul Foreign School
Caleb Kiprono from Eldoret, Kenya, a graduate of Friends School Kamusinga
Emmanuel Knight Granger from London, England, United Kingdom, a graduate of Dame Alice Owen's School
An Le from Ho Chi Minh City, Vietnam, a graduate of Waterford Kamhlaba United World College of Southern Africa
Edrian Paul Liao from Cauayan City, Philippines, a graduate of Philippine Science High School, Cagayan Valley Campus
Egoagwuagwu "Ego" Maduafokwa from Anambra, Nigeria, a graduate of Louisville Girls High School
Naveen Siva of Tamil Nadu, India, a graduate of Shanti Bhavan Residential School.
For more information about the Karsh International Scholarship, visit https://www.ousf.duke.edu/page/Karsh.