Photo from Family Reunion Earns a Duke Time Off Prize
Through Aug. 9, staff and faculty are invited to share summer fun photos for a chance at prizes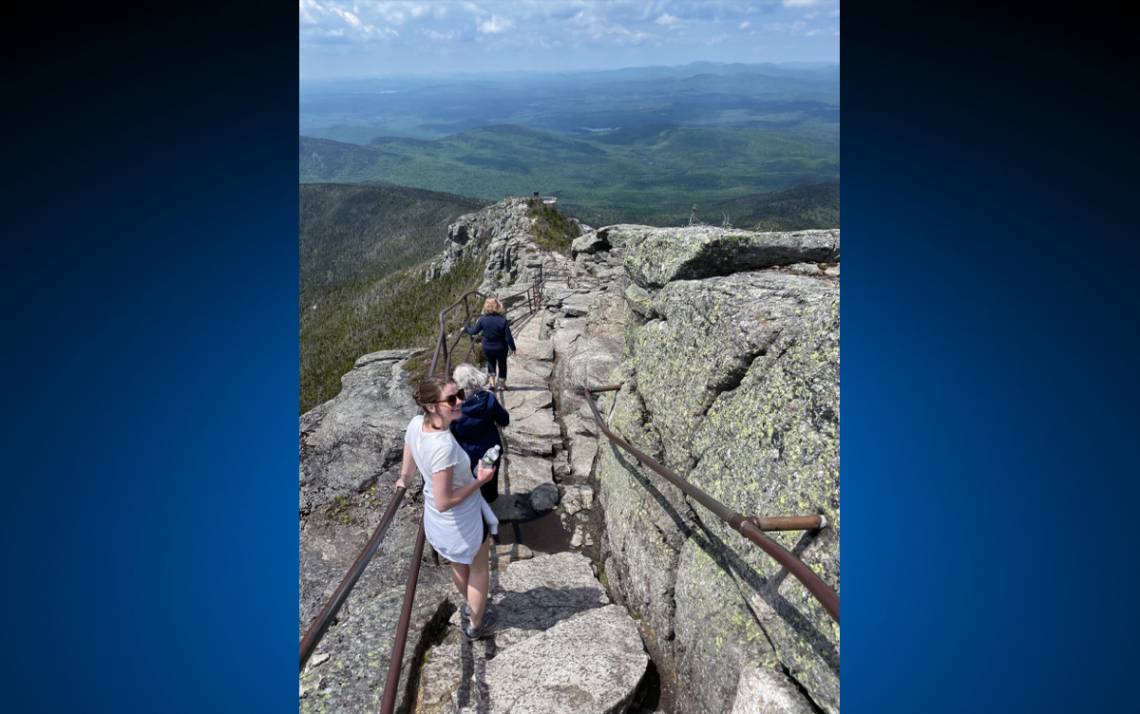 A long-awaited reunion gave Sarah McGreevy a chance to see her extended family for the first time since the pandemic began.
McGreevy traveled to Lake Placid, N.Y., where she paddled, hiked and enjoyed time with 21 family members, including her parents, aunts, uncles and cousins. The reunion was delayed for a year due to coronavirus.
While enjoying a mountain hike on a 70-degree day, McGreevy's brother took a photo, capturing her, their mom and aunt with the Adirondack Mountains in the distance.
"A trip like that, with amazing weather and people, is perfect," said McGreevy, development associate for Duke Alumni Engagement and Development. "It was nice to slow down away from my phone and spend time with family members I don't get to see often."
McGreevy is the second winner in the #DukeTimeOff photo campaign, which highlights fun times, hobbies, special moments and summer adventures during personal time off work. She received a Duke beach towel courtesy of the Duke eStore. So far, at least 43 pictures have been shared.
To be eligible for prizes, photos must be taken between May 26, 2021, and Aug. 9, 2021, and shared by current University and Health System staff and faculty during the same time period. Share photos on social media using #DukeTimeOff or upload here.
Check out photos from the past week.

Michael Palko, learning and performance specialist for Duke Health Access Services, captured a summer snack growing in his backyard. His first bushel of blackberries emerged in early June.
"Time away from work is sweet," Palko said.

Katelynne Durrant, her 4-year-old daughter Riley and 7-year-old son Keegan go on "Adventure Time" almost every weekend in the summer. The family explores the Eno River, Graham Regional Park and Gold Park in Hillsborough.
During a recent "Adventure Time," she took the kids to Firefly Farm in Hillsborough, where they picked wildflowers and met a family of donkeys.
"Time off is all about getting outside and enjoying uninterrupted time with my family," said Durrant, a staff specialist with the Department of Anesthesiology.
How to share your 2021 summer pictures:
Post your photo on Twitter, Instagram or Facebook with #DukeTimeOff. Tell us what you're doing with your time away from work. Remember: include #DukeTimeOff in your post, so we can find your snapshots on social media;
Post your photo and caption on the Working@Duke Facebook page: facebook.com/workingatduke;
Or upload your photo: hr.duke.edu/DukeTimeOff2021
We know your vacation plans will look different this summer due to COVID-19. And that's okay. We welcome pictures of your special moments and adventures that capture a reprieve from the stress of these challenging times, as long as you follow CDC guidelines to travel safe.
During the campaign, the Working@Duke editorial team will award some Duke-themed merchandise from the Duke eStore. Grand prizes at the end of the campaign include:
Overnight stay with breakfast for two at Washington Duke Inn, courtesy of the Washington Duke Inn
$100 gift certificate to the Durham Performing Arts Center
A virtual painting package for one household with their favorite lemur species. This package includes a custom-edited video of your painting session, and the winner will receive the best paintings of the bunch along with a beautiful photo of the artist(s) for display – all courtesy of the Duke Lemur Center
Got a story idea? Send ideas, shout-outs and photographs through our story idea form or write working@duke.edu.