Getting a Little Help to Go the Distance
Stories of endurance sports inspiration as Duke Run/Walk Club registration opens
When Amber Beckley first started training with the Duke Run/Walk Club, the walks around East Campus, which were broken up by short sprints, weren't exactly easy. Especially pushing a stroller with her 3-year old daughter Fiona in it.
But Beckley and her fellow participants found humor in the structure.
"We joked that if there was a zombie apocalypse, and the zombies were slow, perhaps the running burst would be enough to get away," said Beckley, 36, a post-doctoral fellow with Duke Psychology and Neuroscience.
While the zombie theory hasn't been tested yet, Beckley's work with the Duke Run/Walk Club paid off when she completed the Bull City Run, Walk and Roll 5K in May, her first such race.
"It was just really fun to participate in something and feel that sense of accomplishment," Beckley said.
Registration for Run/Walk Club, which is organized by LIVE FOR LIFE, Duke's employee wellness program, is open to Duke staff and faculty at all fitness levels. The free, 12-week program runs from Aug. 14 to Nov. 1. Groups meet on East and West campuses at 5:30 p.m. on Monday and Wednesday, as well as at Duke Raleigh Hospital. Participants can log exercise online if they are unable to make it to the sessions.
For those thinking of joining, here are small doses of inspiration, from colleagues who, like Beckley, conquered fitness goals with the help of Duke's employee wellness resources.
Making time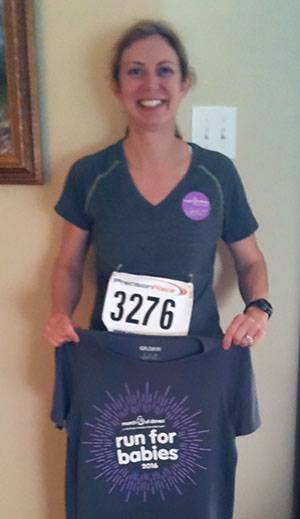 For clinical research nurse Jennifer Ferrara, finding motivation to run wasn't a problem. Finding the time was.
Before working at Duke, Ferrara, 41, joined a Raleigh-based running club. But when her son was born and life got busier, she found she no longer had time to participate.
Not long after moving into her job with Duke University School of Medicine, Ferrara found out about the Run/Walk Club.
She joined the club's advanced run/walkers group in the spring of 2016. Twice a week, the group completed a loop of the hilly, 2.9-mile Al Buehler Trail. Ferrara said it wasn't easy, but she enjoyed the camaraderie with the other runners and the mix of accountability and flexibility she found with the format.
A few weeks after she started, her clinic decided to take part in the March of Dimes' March For Babies 5K race.
"Let's see what we can do," Ferrara said of her attitude heading into the race. "I had already been doing the Run/Walk Club at that point, so I said 'I think I can do it.'"
With help from a friend who ran with her, Ferrara made it around the course in 31 minutes without much trouble. She stuck with the Run/Walk Club and ran the same race again this year.
Ready to sign up for the Run/Walk Club again, she said more races are in her future.
"Between work and home, there's lots of things going on," Ferrara said. "So you do what you can."
Finding community
Duke Associate Provost Noah Pickus had been a runner all his life. But in his mid-40s, he decided he was ready for something different.
In 2009, Pickus decided to give triathlons a shot. The mix of running, swimming and cycling would be a welcome challenge. It also proved to be a daunting one.
The tough part about getting in cycling shape was finding the time to devote to training rides that can take hours. Swimming, though, proved to be brutal.
"When I first got in the pool, I thought, 'I learned how to swim as a kid, I'm in good shape, how hard could this be?'" Pickus said. "I was completely floored. … It was humbling."
Pickus, 53, completed his first triathlon in 2009 in Pinehurst. After that, he did around three or four a year.
As part of his training, he joined the Duke Triathlon Club, where he's become the faculty advisor. The group, which is primarily undergraduate and graduate students, welcomes staff and faculty as well.
These days, Pickus, who added the role of Dean of Curriculum and Faculty Development at Duke Kunshan University, doesn't have time to compete in as many triathlons as he'd like.
But with a plan to restart his training in the fall and compete in an event this spring, it's a habit he's not ready to kick.
"It's just exhilarating," Pickus said. "… It was like a drug. I was absolutely hooked."
Staying on track
Denise Snyder said her life-long love of running began when she got over a case of childhood asthma. Little did she know there would be plenty more obstacles to come.
In April, Snyder, associate dean for Clinical Research for Duke University School of Medicine, ran the 26.2-mile Boston Marathon, ending a trying journey to a goal she'd set years earlier.
"It was such a moving experience," Snyder said.
Snyder, 46, had done several half marathons before running her first marathon at 38. After knocking 12 minutes off her time in her second, competing in Boston became a realistic goal.
But a 2011 hamstring injury sidelined her for four months. Before she could compete in her next marathon, the combination of her daughter's diabetes diagnosis and a promotion at work pushed her focus elsewhere.
In 2015, with her body healthy and her mind clear, she ran in the Richmond Marathon and beat the Boston Marathon qualifying mark by nearly 12 minutes, earning a spot in the race.
But a bone spur in her foot, derailed her training late in 2016. Unable to run for a month, Snyder took advantage of her family's Duke Recreation membership and stayed in shape by doing Pilates and spinning classes at Duke's on-campus facilities.
While she had surgery on her foot in May, she was buoyed by the still-fresh memory of crossing the Boston Marathon finish line.
"It was still really meaningful," Snyder said of her thoughts during the race. "You qualified. You had a great race time. You know you belong here."