Meet the Growers at Duke Farmers Market
Local farmers sell olive oil, microgreens and produce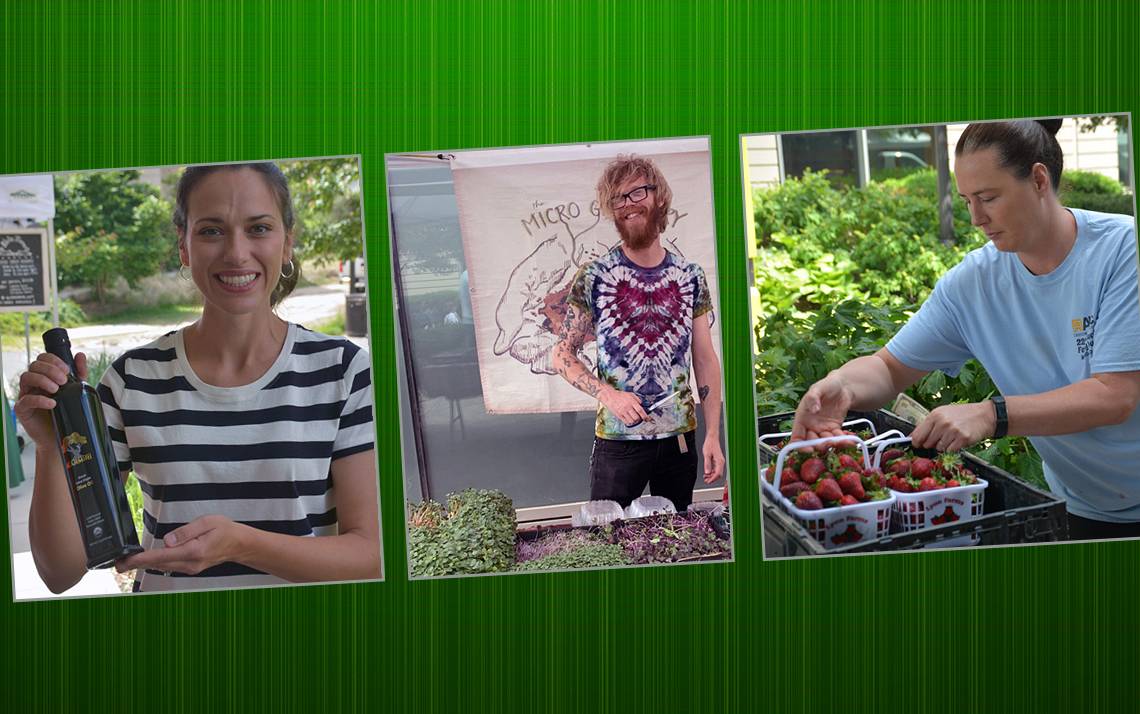 Dana Powers had her hands full with Indian food, strawberries and shortcake as she made her way through the Duke Farmers Market.
It didn't seem like she could carry anymore, but she had one more stop: the Karmiri olive oil stand.
"How can I not enjoy the Farmers Market?" asked Powers, a program coordinator for Duke Gastroenterology. "I get to stock up on delicious food and chat and learn about new recipes from the farmers."
About 10 farmers and vendors set up shop from 11 a.m. to 2 p.m. every Friday at the Duke Medicine Pavilion Greenway, outside of the Trent Semans Center for Health Educational. In between juicy peaches, mini mustard greens and olive oil, they keep up a steady stream of conversation with Duke employees and other farmers and vendors.
"Our vendors bring so much excitement and love to the market," said Harshpreet Walia, staff specialist with LIVE FOR LIFE, Duke's employee wellness program. "The passion they have for what they do is infectious. It keeps customers coming back."
Meet some of the farmers at the Duke Farmers Market.
Shannon Cole
Lyon Farms
Years at Duke Farmers Market: 19

Lyon Farms has been at the Duke Farmers Market for 19 years, and Shannon Cole has been part of that for 15 years.
Cole is identifiable by her hair – always pulled into a tight bun – and her quick smile when she helps customers buy colorful bell peppers, large bundles of asparagus and bright red tomatoes.
"The Duke Farmers Market is always one of the most enjoyable moments of my week," Cole said. "Everyone is super nice and excited to shop."
Cole's grew up in a home one mile from the farm in Creedmoor, and she babysat the owner's child. As Cole grew up, she saw her role expand from babysitter to occasional berry picker to full-time associate.
Lyon Farms' employees split tasks of planting, harvesting, and selling produce at markets in the region. Cole attends the Duke and Durham markets every week and works the stand at Lyon Farms, which lets customers pick their own strawberries, blueberries, blackberries, tomatoes and peaches from April to mid-August.
"People can barely wait a minute after buying the fruit to start eating it," Cole said. "It's healthy and sweet. That makes it very popular for customers."
Rick Miller and Sarah Baker
The Microgreenery
Years at Duke Farmers Market: 2

Rick Miller and Sarah Baker, co-owners of The Microgreenery, are easy to spot. They wear tie-dye shirts, and Miller sports tattoos, including one of a sixteenth note on his neck.
You'll find them chatting with customers and wielding scissors, snipping microgreens, 10 to 12-day-old mini vegetables that pack nutrients. Microgreens can be eaten as a salad, in sandwiches and as a topping for a grain bowl.
Every Friday, Rick and Sarah bring a selection of sunflower, beets, broccoli, radishes and a variety of salad mixes. If you can't make it to the market, Rick and Sarah also deliver trays of their vegetables to your home.
The couple, who opened The Microgreenery in 2017, converted a spare bedroom in their Durham home into a vertical garden. They built two six-foot-tall cabinets, put in about 35 plastic trays and installed T5 fluorescent lights to help the plants develop.
Microgreens have higher amounts of nutrients because they are harvested shortly after the first leaves emerge on the plant.
"Our produce takes up less space than normal crops, uses less soil and consumes less water," Rick said.
Sophia Papadeas
Karmiri Olive Oil
Years at Duke Farmers Market: 4
Sophia Papadeas is passionate about improving a person's health, but the neuroscientist never thought she'd be doing it with olive oil.
Papadeas sells Karmiri Olive Oil at the Duke Farmers Market, where she talks with guests about the benefits of olives, which contain antioxidants and anti-inflammatory properties.
Papadeas grew up visiting her grandparents farm in the Kalamata region of southern Greece and watched them tend to centuries-old olive trees. Shortly after moving to North Carolina in 2011, her grandparents passed away, and she inherited the farm.
In the years that followed, she learned farm management, organic certification standards, international trade and marketing. Her family helped with web design and created the logo, which includes a silhouette of Greece and location of the farm. She named the olive oil after her grandparents, Panagiotis and Sophia Karmiri.
Luckily, Papadeas says the farm doesn't need a lot of management. The olive trees are not watered or sprayed with fertilizers. She visits in late summer to ensure everything is in order and again in November to harvest olives with her family.
"It means the world to keep the family tradition alive of making high-quality extra virgin olive oil," Papadeas said. "I'm so happy I get to share it with loved ones and customers in Durham."
Have a story idea or news to share? Share it with Working@Duke.