How to Beat the Winter Doldrums
Maintain your well-being and energy with these healthy habits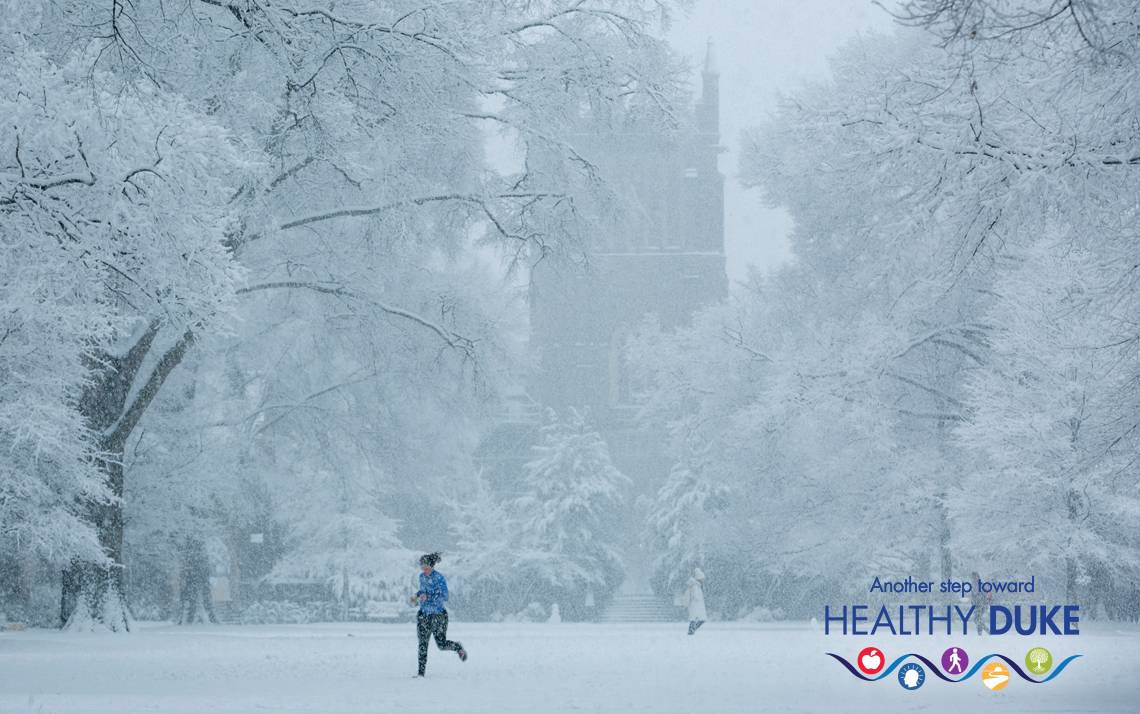 Winter season, with its less light and colder temperatures, is here through February, but you can boost your mood and energy by embracing "Healthy Duke" resources.
The Healthy Duke campus initiative addresses five core themes: Physical Activity and Movement, Food and Nutrition, Environment and Culture, Fulfillment and Purpose and Mental and Emotional Well-Being.
"Health is more than an ideal goal weight or following through a diet," said Julie Joyner, program coordinator for Healthy Duke. "It's about the total picture of how you feel physically, spiritually and emotionally."
Feel your best this winter by making positive changes in your life with resources targeting each Healthy Duke theme.
Physical Activity and Movement

Working out is a mental game for Felicia Tittle, who prefers to do strength and cardio exercises outside.
Tittle, executive director of Recreation & Physical Education and physical activity and movement co-convener for Healthy Duke, visualizes how she'll feel after a workout to muster up energy to workout.
"It's hard to find motivation when it's raining, overcast and cold," Tittle said. "You should try to focus on how good it'll be to finish the workout. Remember that feeling."
Physical activity and movement involves exercise and mobility activities like walking, biking, lifting weights and playing sports.
Tittle said physical activity isn't about setting big goals. Pick small challenges and find a friend for accountability and support. At your desk, stand up every hour and stretch for 10 minutes. Find a path near your office or pick a large indoor space like the Bryan Center or Duke South to take a walk break.
"Any sort of movement can uplift your mood and help sort out your thoughts," Tittle said.
Join the Get Moving Challenge, Duke's annual fitness contest for employees and students.
Mental and Emotional Well-Being

On most winter days, Jonathan Bae arrives at work before sunrise and leaves after sunset.
He steps outside his office in Duke South for 15 to 30 minutes each day to soak up fresh air and sunshine. By taking care of his mental and emotional well-being, Bae feels more resilient.
"From a psychological standpoint, going outside for a couple of minutes to see natural light can make a positive difference on your outlook," said Bae, Associate Chief Medical Officer for Patient Safety & Clinical Quality and mental and emotional well-being co-convener for Healthy Duke.
Sunlight increases serotonin, a hormone in the brain associated with boosting moods and helping people calm down, according to Psychology Today.
"Duke employees are lucky because we have access to many beautiful places," said Bae, who likes to walk or enjoy lunch on Abele Quad. "Take advantage of it."
Take a break on the path around East Campus or Al Buehler Trail.
Food and Nutrition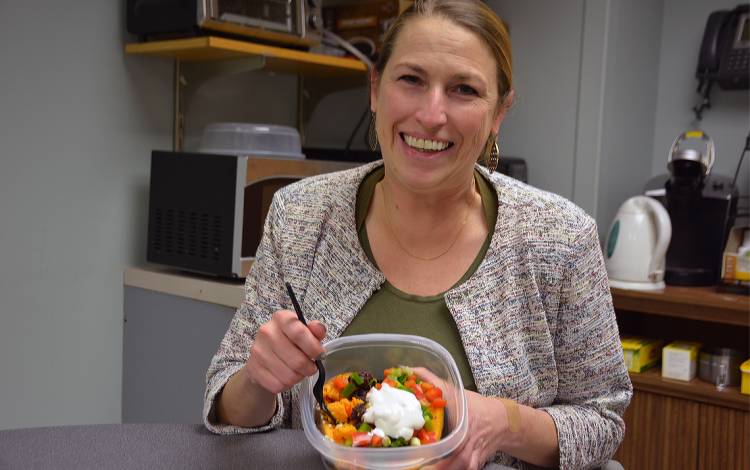 Esther Granville, manager of health coaching and nutrition programs for LIVE FOR LIFE, Duke's employee wellness program, and a Healthy Duke committee member, combats winter lethargy with a diet high in fiber. Fiber slows the absorption of sugar and fat after eating, which lengthens the amount of time we feel satisfied following a meal.
Granville said fiber-rich foods like collard greens, sweet potatoes, chickpeas and broccoli are perfect for a wintertime diet because they are in season and common ingredients in stews and chilis.
"Fiber is great in the winter because it's a common ingredient in foods that are very filling," Granville said. "We all crave heavy stews and crockpot dishes that heat is up when it's cold."
Developing a nutrition plan can increase energy, protect against chronic diseases and help you maintain a healthy weight. See a list of nutrition resources here.
Environment and Culture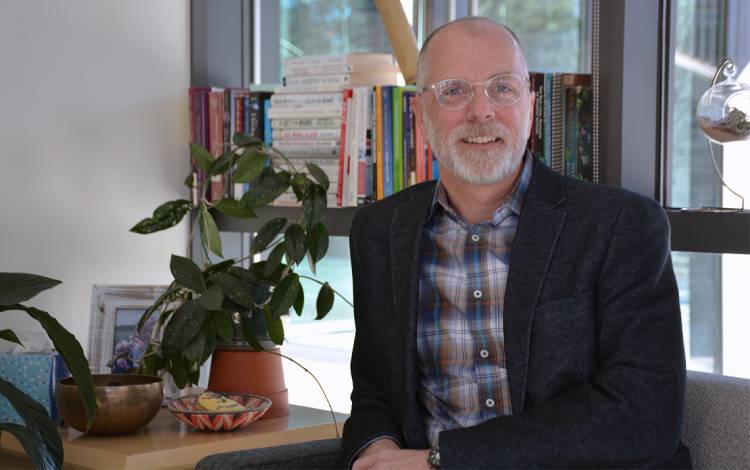 Tom Szigethy embraces the coziness of winter.
On cold nights, he lights a fire, buries under blankets with a hot cup of tea and enjoys a book. He's currently reading "The Power of Moments" by Chip and Dan Heath.
"We treat winter as this time to push through difficult conditions," said Szigethy, associate dean of students and director of Duke's Student Wellness Center and environment and culture co-convener for Healthy Duke. "Instead, use the season to relax and indulge in the comforts of home and Duke."
Environment and cultural well-being consider how natural spaces, buildings and a sense of place contribute to quality of life. Duke has plenty of spaces to promote well-being.
Oasis West, in the Student Wellness Center, has a massage chair, materials to make aromatherapy sprays and coloring books. Oasis Perkins, located on the fourth floor of Perkins Library in Room 418, contains a small couch, lounge chair, coffee table and space to do yoga while basking in a steady stream of sunlight and views of Abele Quad. The Duke Cancer Center's Quiet Room provides a quiet haven to reflect and relax.
Fulfillment and Purpose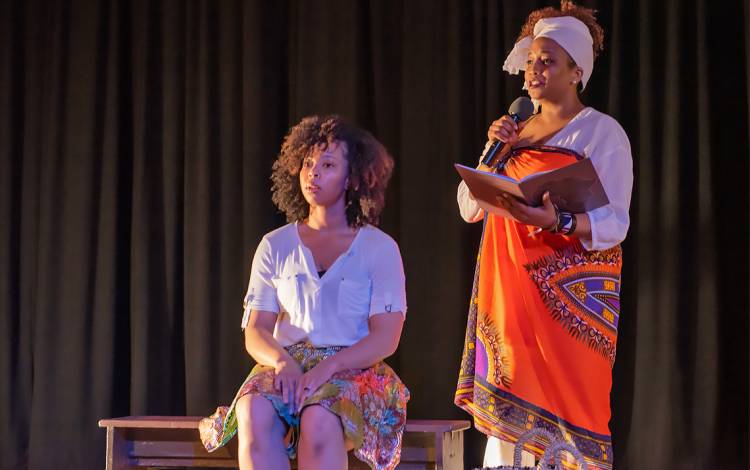 Najla McClain is jumping into fulfillment this winter – literally.
McClain, who has Bachelor of Arts in dance, is taking modern dance classes for the first time in nearly three years.
"Dance fulfills me as I do it with all my heart," said McClain, a program director for Duke's School of Nursing and fulfillment and purpose co-convener for Healthy Duke. "I feel nothing but love when I dance."
Fulfillment and purpose help individuals develop a sense of purpose and long-lasting satisfaction. Fulfillment can come from work, the arts, worship, service or connection with others.
"Since it comes at the start of the year, winter is the perfect time to be reflective and find fulfillment," McClain said. "Challenge yourself to find resources or activities that interest you in 2020."
Fufillment and purpose resources on campus include Duke Performances shows, Arts & Health at Duke and the Nasher Museum of Art.
Have a story idea or news to share? Share it with Working@Duke.